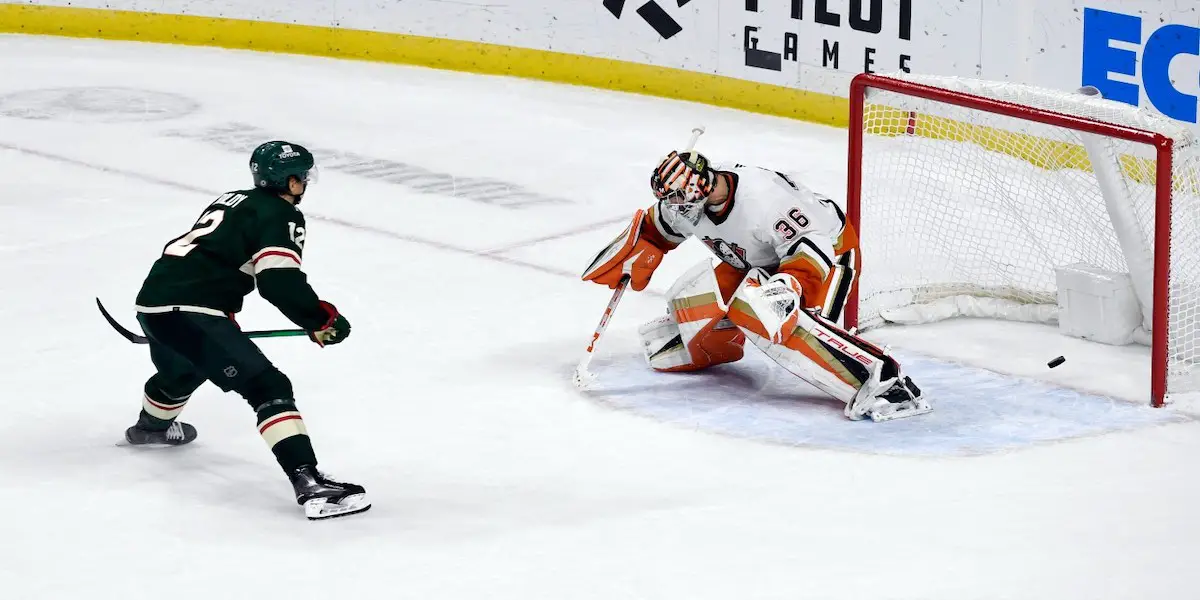 The Anaheim Ducks traveled to Minnesota to take on the Wild for a rare matinee showdown in their 3rd game of a 4-game Central Division road trip on Saturday. Thus far, the trip has been a disappointment (or a wild success from the "team tank" perspective) as the Ducks had only managed to grab 1 of 4 points and were being outscored 7-1 in two games before entering play Saturday. Before the opening faceoff, it was announced that Isac Lundestrom would miss the next six weeks of action with a broken finger after blocking a shot during Thursday night's 5-0 defeat against the Dallas Stars.
Minnesota entered play in search of their 3rd win in a row with the backup goaltender Filip Gustavsson in net and Kirill Kaprizov looking to extend his 10-game point streak that's seen him tally 6 goals and 11 assists dating back to November 11th. Needless to say, Anaheim was going to have its hands full with #97 in green. A familiar face, Sam Steel, has been centering the top line between Kaprizov and Mats Zuccarello for the Wild over the past five games. He was surely motivated to make an impact in his second game against his former team.
Offense
With Lundestrom out of the lineup, veteran Sam Carrick stepped into his role as 3rd line center between Jakob Silfverberg and Pavol Regenda (who drew back into the lineup after a stretch of healthy scratches dating back to November 25th). That line lasted a few minutes before Regenda slid in on the second line next to Ryan Strome and Frank Vatrano (Derek Grant was moved to the 3rd line). That line got the scoring started for the Ducks to tie the game at 1 when Vatrano whipped a puck to the front of the net that Strome deflected between the legs of Gustavsson.
This was the first game in recent memory where the Ducks offense was able to sustain extended pressure and time in the offensive zone. It started with movement and precise passes in the defensive and neutral zones, which led to an extended cycle time low in the offensive zone. The rush was able to slice through the opposing forecheck, and even if a chance couldn't be generated off the rush, Anaheim was all over loose pucks. The extended cycle time also led to defensemen activating and creating chances in the offensive zone. That constant movement led to opportunities like Trevor Zegras' goal when Cam Fowler and Dmitry Kulikov switched positions along the blue line. Fowler dropped a pass for Kulikov to throw on net and create a scramble in which Zegras could bang home a loose rebound.
The Anaheim powerplay, though still near the bottom of the league in terms of success rate (14.5%), has been much improved since adjusting the personnel and shifting assignments. The top unit (Henrique-Zegras-McTavish-Terry-Fowler) was able to cash in 2 of 3 man advantage opportunities by utilizing constant motion and puck movement to open shooting lanes, create traffic in front of long shots, and jump on loose pucks around the crease. The coaching staff seems to have found something that can be successful in various ways, making their powerplay far more dangerous than we've seen in recent memory.
Mason McTavish has been on a line with Max Jones and Brett Leason for the last handful of games. While the production hasn't been stellar, there's no denying how effective that line has been, denying opportunities in their own zone, getting in on forechecks to disrupt opposing breakouts, and creating chances of their own.
It was refreshing to see newcomers Frank Vatrano and Ryan Strome return to the scoresheet. They may have found some chemistry with rookie Pavol Regenda. The young Ducks stars were once again the best players on the ice, and each Mason McTavish, Troy Terry, and Trevor Zegras earned a pair of points each. Derek Grant left this game with a lower-body injury and is set to be re-examined upon arrival in Winnipeg before tomorrow's game.
Defense
Heading into the game, it was clear the focus of the players and coaching staff was to clog the neutral zone and deny clean zone entries and keep opponents to the perimeter of the offensive zone. It proved an effective strategy as the usual opportunities given up from cross-ice seem passes were greatly limited. Mostly, they displayed much more structure and cohesion as a defensive unit.
Some breakdowns in front of John Gibson still need to be cleaned up. On Minnesota's first goal, Dmitry Kulikov failed to box out Joel Eriksson Ek, allowing him to screen John Gibson for rookie Calen Addison's 2nd of the year. They also failed to box out opponents on a pair of Wild goals (1 on the powerplay), allowing them to get to rebounds and jam pucks into the Anaheim net.
As mentioned before, the structure and cohesion in the defensive zone resulted from greater attention to detail from the entire team as a defensive unit. That is, of course, until the game's dying minutes when Jared Spurgeon activated from the point, causing confusion in coverage which allowed Mats Zuccarello to find (who else) Kirill Kaprizov in the slot for the tying goal to send this game to overtime. This has been the biggest issue for the Ducks defensively, recovering from miscues in dangerous locations on the ice.
Goaltending
John Gibson must be incredibly parched at this point in the season as, once again, his team left him out to dry. He stopped 45 of 49 shots while remaining true to his angles, controlling rebounds, and displaying his trademark athleticism. He faced North of 40 shots for the 7th time this season and 3rd in his last four outings. Despite his performance, Gibson still had a negative GSAx (-0.31 per Natural Stat Trick) shows the issue I have with that metric when evaluating goaltending performance.
Gibson showed his frustration late in the game when Jordan Greenway entered his "no-fly zone." It caused a bit of a skirmish, but no blood was shed. We seem to have reached the point in the season where John Gibson has seen so many shots he wants to get a few of his own off in return.
Summary
Stylistically, this game was a good example of how the Ducks will need to play in order to be successful moving forward. There were plenty of positive takeaways for a team in search of an identity; they moved the puck up ice with intent and cleanliness, fought for every loose puck, and (despite results) they played the right way with a lead late in a game. In the past, when the Ducks had a lead in the 3rd period, they would resort to an ultra-conservative brand where they'd try to protect leads, bunker down, and count the seconds until the final buzzer. In this one, they applied continuous pressure, which limited time in the defensive zone and, in turn, opportunities against.
After 60 minutes of playing flowing and structured hockey, the two teams exchanged leads and ultimately found themselves heading to overtime tied 4-4. Overtime saw the teams total two shots a piece, with the Ducks having the better of the chances (including a Troy Terry breakaway that was broken up by an epic Jared Spurgeon backcheck). Anaheim was awarded a power play but couldn't convert, and the game went to a shootout. We saw a couple of spectacular shootout goals by Trevor Zegras and Kirill Kaprizov, but Matt Boldy scored the game-winner to give Minnesota the two points.
The Ducks will have a short turnaround as they have a 12 pm (pst) puck drop in Winnipeg against the Jets on Sunday afternoon. If Derek Grant is unable to play, the coaching staff will either elect to dress 11 forwards and seven defensemen or be forced to call up a forward from San Diego to make the trip to the "True North." Let's see if the Ducks can return to Anaheim with an extra 2 points on the board.
On this week's chaotic episode of LAP, Jake, Chris, and Lou talk about the Stanley Cup Final, some coaching changes and share some thoughts on the ESPN and TNT broadcasts. They also talk at length abouth why Florida's uniforms need to change and finish things up with listener questions!Follow Late Arrivals Twitter: @latearrivalspodInstagram: @latearrivalspodFollow the hostsChris: @CJKChelConnor: @91_PlutyJake: @_JRobles71Louis: @Louiex37 Intro/ Outro done by Will Rice/ @pastorwillrice