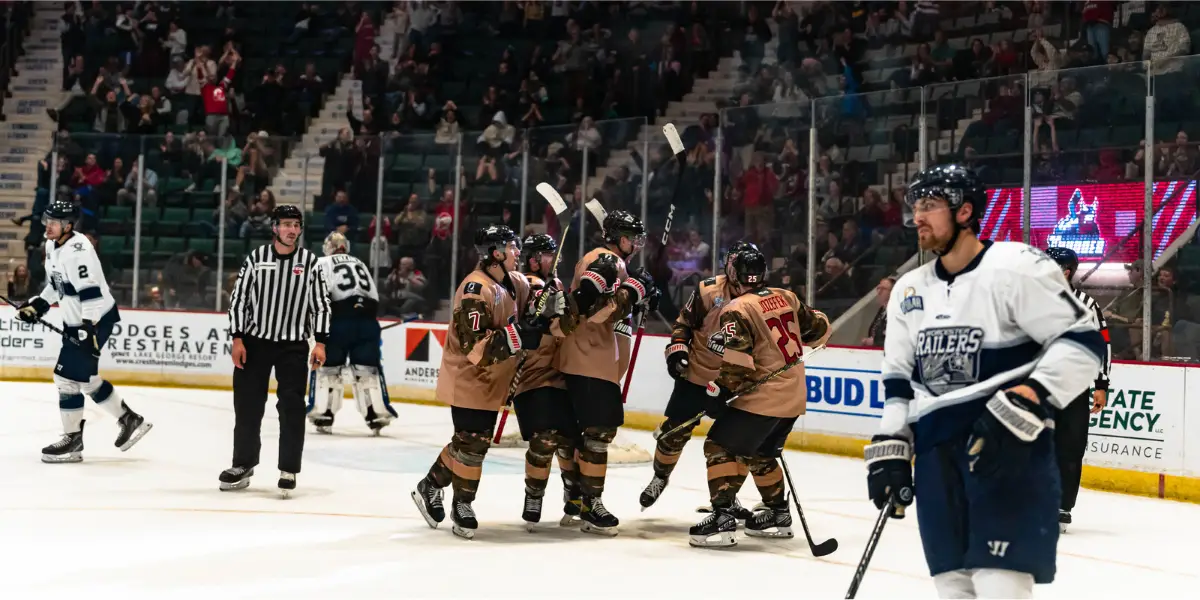 It was a huge weekend for the Adirondack Thunder this weekend, as they were coming off a weekend in Trois-Rivieres, where they took three of four points while picking up their first win of the weekend. Before the weekend series, the Thunder had picked up defencemen Brandon Fehd and Matt Steif to help with some injuries and different looks on the blue line. Goaltender Isaac Poulter was called up to the Utica Comets, and Mareks Mitens headed to IR, so Jake Theut would come in and take over the starting role. The weekend can be summed up in one quote from Head Coach Pete MacArthur, "When an opportunity knocks, open the door." Adirondack would finish this weekend the same as last, as they got three of a possible four points in the standings.
Weller's Storybook Return End's Railers Streak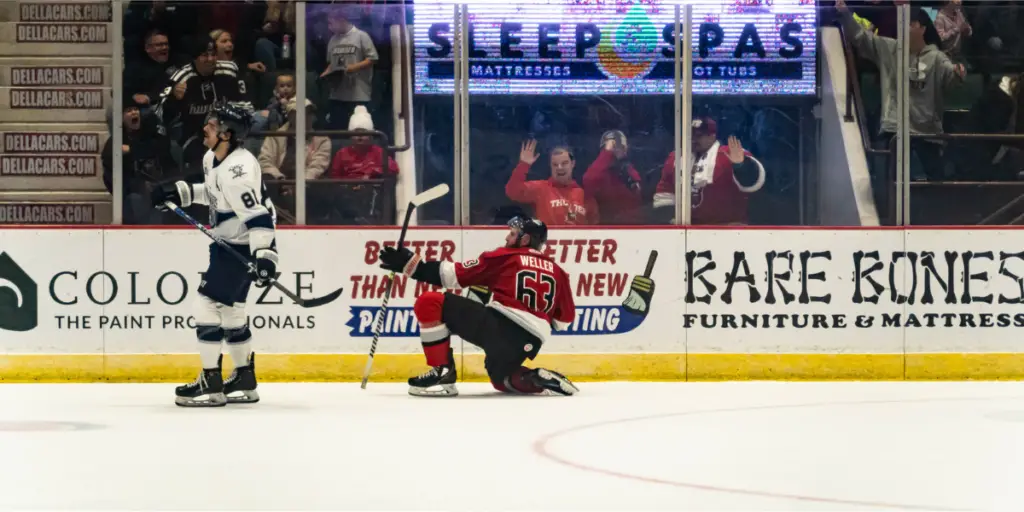 The Adirondack Thunder came into Friday night's game on a bit of a streak as they picked up three of a possible four points against Trois-Rivieres last weekend. Over the past week, Adirondack added three new defencemen to their roster, along with forward Grant Jozefek. Shawn Weller also made his season debut, which would be Adirondack's turning point. The Thunder have struggled against the Railers coming into the weekend series, but tonight would be a different story as the Thunder would snap Worcester's nine-game win streak, which was an ECHL record to start a season. Adirondack had fallen behind by at least two goals in two of the four previous games against Worcester, and tonight would be no exception.
Worcester would get on the board at the 6:18 mark of the opening period as Quin Ryan made a great individual effort getting past the Thunder defenders and putting one past Jake Theut to open the scoring. Despite giving up the first goal, Adirondack looked strong and played a very physical game, as Yanick Turcotte and Noah Corson were hitting anything in a white uniform on skates. Jared Brant would double the Railers lead on a shot from the point that would fool Theut, "That second one was kinda lucky, it was a slider, and I never expected to see a shot come off the stick and angel the way it did, my dad and I always said if they get one of two still gotta go for the win" said Theut.
Adirondack would get a much-needed goal at the end of the first on a shot from Mat Stief that would get deflected by Patrick Grasso and give the Thunder a boost of confidence heading into the second. Shawn Weller made his season debut tonight, and in the second, he would be on display as he took a shot that would barely get past Ken Appleby and was Weller's first goal since October 23rd, 2021. However, that wasn't enough for the Glens Falls native as Ryan Smith would feed him on a two-on-one with 40 seconds remaining in the 2nd; it's pretty special, to be honest, my first game in the lineup tonight. I was just trying to keep it simple, just do whatever I could to bring a little energy and help the guys win, to score that goal, it's a big monkey off my back," said Weller. As previously mentioned, the new kids on the block would make a difference as Grant Jozefek would score against his old team, "It definitely felt good getting the game-winner. I got hurt early last December, so these have been my first regular season games in a while, and I've gotten acclimated quickly. Worcester would keep it interesting as they would score a 6-on-4 goal with 21 seconds left, but the Thunder would hold on as they've now picked up a point in three straight games. Theut made 22 saves for his second straight win, "ya definitely, it's a punch to the face when you get pulled in your first game of the year, but I wanted to show my teammates and coaches that I can respond and wanna give my team a chance to win whenever I can" said Theut.
Theut Shines as Thunder Pick Up Point In Fourth Straight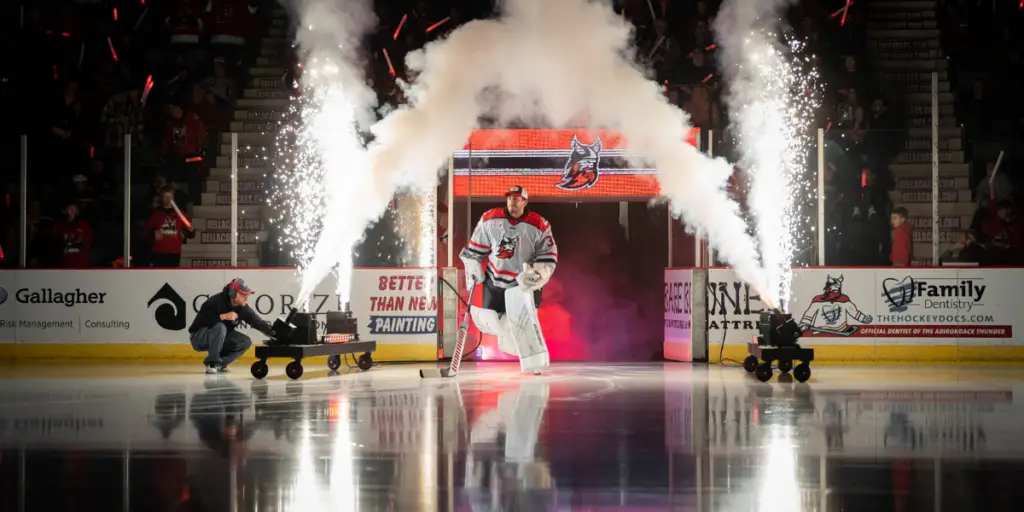 Tonight's game had a little bit of everything for everyone, short-handed goals, fights, ejections, and everyone's favorite free hockey. Coming off a win on Friday Night, the Thunder would get a chance on the man advantage just 3:59 after the opening faceoff as Colin Adams would go off for a high-sticking call after the whistle. However, it would be the Railers who would take advantage of a short-handed opportunity as, for the second straight night, Quin Ryan opened up the scoring as he fired one over the shoulder of Jake Theut. The second period was a relatively quiet period for the Thunder as they didn't get their first official shot until halfway through the period but had a few chances that missed the net early in the period. Yanick Turcotte was throwing his body around all weekend, and you could sense that a fight was coming or a massive hit; however, it would be the ladder, as he threw a massive hit on Railers captain Bobby Butler, that would draw not only a crowd but a fight as well, Turcotte would be given a five-minute major for fighting, and a game misconduct for intent/deliberate to injure. He was suspended on opening night for leaving the bench to join an altercation and was suspended for five games.
The physicality would be on full display for the rest of the game as Noah Corson was one of the main culprits for the Thunder. Heading into the third, Adirondack needed a goal to tie it up, as Henrik Tikkanen was a brick wall for the Railers. At the 4:07 mark of the third period, Grant Josefek threw a back-hander at the net. It would beat the Swedish netminder for his second goal of the weekend against his former team, "Ya, it was huge, I know we had a tough time getting things through him all night, I kinda saw that rebound pop out from the corner and threw it at the net, and luckily it went in" said the former Railer. The Thunder finally had some momentum headed their way. However, just 1:43 after the Thunder goal, it would be Reece Newkirk who would crash the net and put it past Theut to give the Railers a 2-1 lead, however during the celebration, Newkirk would also find himself in the penalty box for roughing, but the Thunder once again couldn't take advantage of being a man up and finished the night 0/2 on the PP.
With 7:53 remaining in the 3rd, Theut ended up getting run by Steve Jandric and wasn't too pleased with it and started throwing punches at Jandric. When asked about the collision, Theut said, "Ya, I got ran, and I tapped him on the back a couple of times, part of hockey." Adirondack once again needed a goal, and they got that from their captain Shane Harper who got a pass from Sebastian Vidmar and buried it to tie up the game with 1:48 left in regulation. It would also be Harper's 400th point. When asked about the feat after the game, Harper said, "That's pretty cool, I didn't know that, I know last year I had my 400th AHL game, but I didn't know what my point total was. I hope someone got the puck" laughed Harper. The seven-minute OT period would provide chances at both ends, but neither team was able to score. It would head to a shootout as Blake Christensen and Bobby Butler would score for the Railers, and Vladislav Mikhalchuk would have the lone shootout goal for the Thunder. "I'm really happy with them, I think if we stay out of the box more, we have a chance to win more, but our PP has been stellar, and we have no quit, and they're building a repour with each other, and that's great to see," said MacArthur. Adirondack killed off all five penalties they committed on Saturday Night. Jake Theut would make 34 saves in the loss.