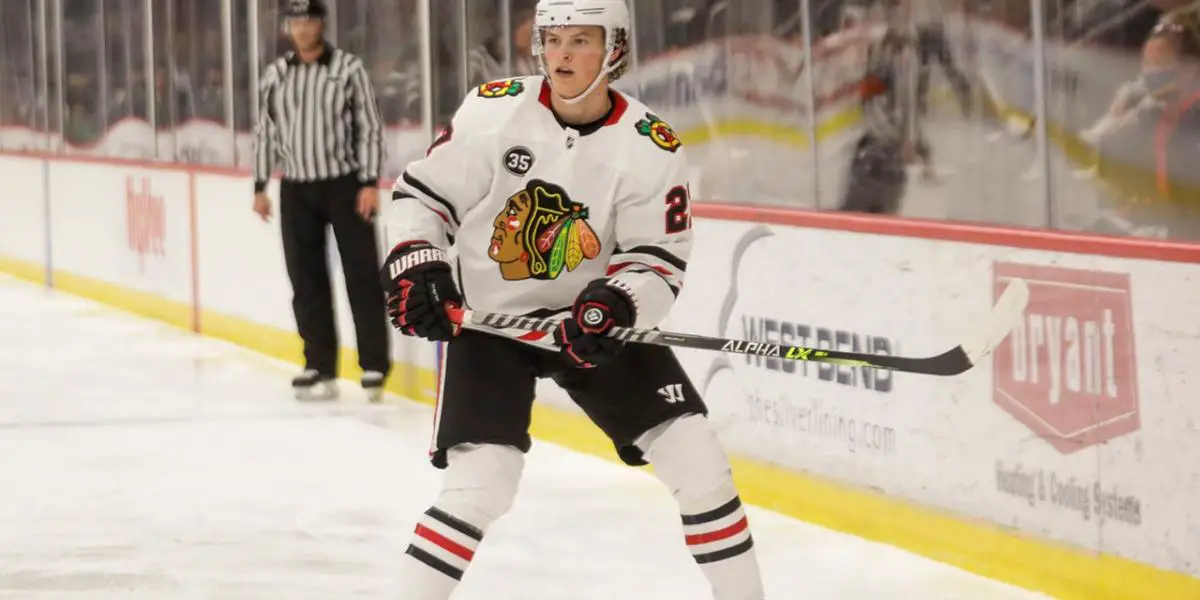 Kyle Davidson is in a precarious position with top prospect Lukas Reichel. If Reichel plays nine National Hockey League games, he will burn this first year of his entry-level contract. Davidson recalled Reichel earlier this week. Lukas has had an impressive start in the American Hockey League. In 49 games played, Reichel has 21 goals and 28 assists for a team lead 49 points. His game transitioned to the smaller North American ice seamlessly. Reichel's success is key to any rebuild in Chicago; he is the only genuine prospect in the pipeline besides goaltender Drew Commesso who is two to four years away from wearing a Blackhawks sweater. 
To burn a year or to not burn a year. 
Cap space is essential for General Managers right now, and a player who can slot into the top six on an ELC is invaluable… to a playoff team. Chicago will not be a playoff team in two seasons if Davidson is true to his word and rebuilds this team the correct way. The most important thing is the development of Lukas Reichel, then you can worry about his contract. The Rockford IceHogs are in the middle of a push for the playoffs, and Reichel is the best player on the team when he's in the Minors. Getting in important AHL playoff games would give Reichel the ability to feel and see the speed of the playoffs. Rockford isn't sitting pretty by any means but should be able to make the playoffs without Reichel. Considering only the bottom two of each division in the AHL make the playoffs, three teams would have to jump Rockford to fall out of a playoff spot. Then Davidson can send Reichel back down for the Playoffs if he lets Reichel play out the season in the NHL. 
The positive side to burning a year or Reichels ELC. 
The cap opens up completely after next season when Kane and Toews come off the books if they even play the remainder of their contracts in the Windy City. Davidson will have to extend Alex DeBrincat that same off-season. (Hopefully, he locks DeBrincat up this off-season when he can extend his contract). After that, Davidson should have no issues resigning and navigating the cap with a blank slate.
If the Blackhawks burn a season, Reichel is also more likely to take a bridge contract. The transition from the AHL and NHL is massive. Reichel will struggle at times in his first few seasons, and the "rookie" mistakes will show their nasty faces. Davidson could look to extend Reichel after next season. Unless Reichel comes in and puts up a point per game, Davidson should be able to get a DeBrincat like bridge deal, signing a two-year to a four-year contract. Bridge deals are less popular as young players are looking to sign their big-money contracts immediately. Unless Reichel takes the league by storm Davidson should be able to get the length of his choosing. 
If Reichel did come in the NHL and put up a point per game, Davidson still has the upper hand in extending him a year earlier, and look at the Devils and Jack Hughes style deal. With the cap not being as important for a rebuilding team, extending a player's contract one year early could pay off massively in the long run. This would be great, but it's unlikely Reichel will light the league on fire. Davidson should prioritize whatever is best for his development, but if he can get Reichel on a more team-friendly bridge deal, that's the path Davidson should take. Chicago is two years at BEST from contending for the playoffs. Realistically Chicago will start competing in three to five years. This is when cap space will be valuable, and bridge deals can be the difference between a Stanley Cup and not. Chicago won all three Cups on Kane and Toews Bridge deals. Davidson's work in Chicago has just begun.