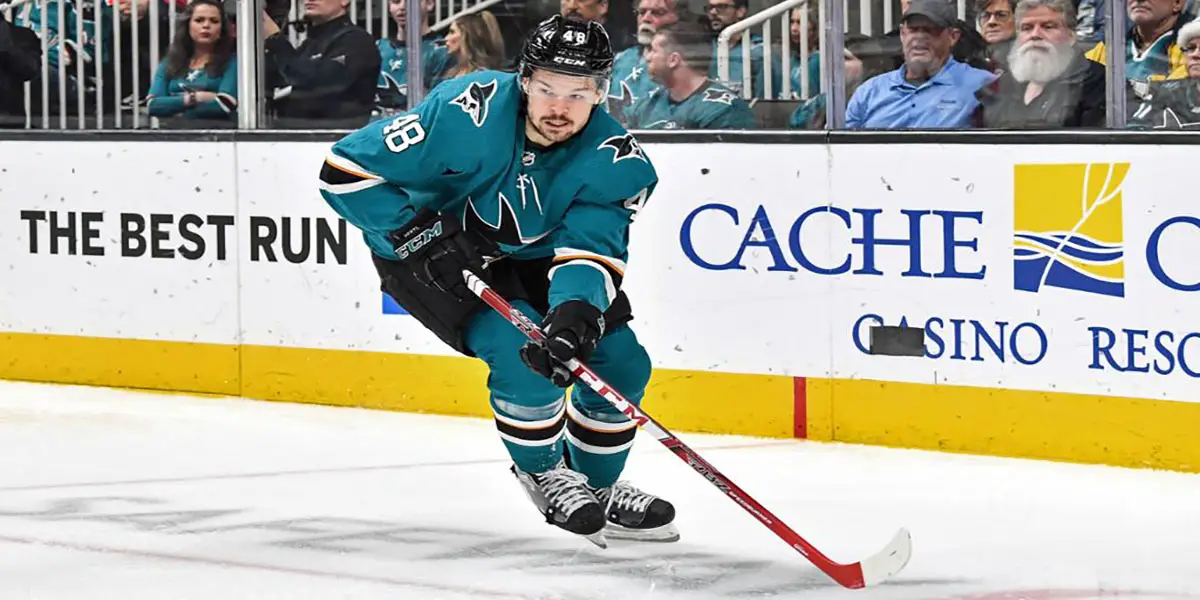 Boston needs an experienced center, and it looks like San Jose might have what the Bruins are looking for. Tomas Hertl is one of the Sharks' biggest stars at the moment, and while the Sharks are looking to rebuild, Boston might come knocking at their door asking about Hertl.
Problem One: Hertl's No-Movement Clause
Tomas Hertl is in the second year of his eight-year contract, worth about $8.137 million a season. Hertl currently has a full no-movement clause until the end of the 2024-25 season. Beginning in the 2025-26 season and running until the end of the 2027-28 season, Hertl will have a three-team trade list. For the final two years of his contract, Hertl will have a 15-team trade list.
This anchors the Sharks if they are looking to trade Hertl, and if Hertl doesn't want to be traded, he has that clause in his contract preventing that from happening. Hertl will be 30 this November and will likely be considering waiving his no-movement clause to compete for a Stanley Cup.
Problem Two: Boston Lacks Assets & Salary Cap Space to Acquire Hertl
Boston is in a sticky situation this season. They have a lot of aging players on their roster, but they're still just off of a record-setting season. The President's Trophy curse can certainly ring true if the Bruins follow up the season with a trip to the Stanley Cup Finals. However, with their center depth being a tough situation to look at, should they find a way to acquire an established forward?
Related: Bruins' Center Ready To Take The Top Spot
Losing Patrice Bergeron and David Krejci in the same season was certainly a tough pill to swallow. Losing more assets after going all in at the 2023 trade deadline would be a bigger deal-breaker for the Bruins. However, Boston won't be walking away in a possible Tomas Hertl trade without giving at minimum three significant pieces.
In the next three years, Boston has a condition on their 2025 first-round pick, they own their 2026 first-round pick and second-round pick. To make things tougher, Boston lacks an eye-catching prospect pool and a player that they can use as a cap casualty.
Problem Three: Boston Is Pushing The Salary Cap Ceiling
As I was getting around to my third problem, Boston is really cutting it close to the salary cap ceiling. Boston is just $430,000 away from being non-compliant, and Hertl makes over $8 million, meaning Boston needs to clear roughly $7.7 million in cap space. However, the Bruins would only need to make this work for this year only. With the potential for the salary cap going up as much as $9 million next season, the Bruins could add a significant free agent next offseason while bringing Hertl in this season.
However, who would be the cap casualty? The Bruins would have to add by subtracting, and in theory, it could work in the Bruins's favor. While the Bruins are looking to make Jeremy Swayman the goalie of the future, Linus Ullmark's $5 million cap hit could be the first cap casualty. To double down on potentially moving Ullmark, he has significant trade value at the moment. While this wouldn't be a one-for-one trade, the Bruins would have to look at adding a cheap backup goaltending option. The Bruins could also go with a young goaltender in their system, like Brandon Bussi, rather than signing a current free-agent goaltender.
The Bruins would still need to clear over $3 million in cap space, and a player like Matt Grzelcyk, who makes under $3.7 million a season, could be the second cap casualty. This also frees up a roster spot for a young prospect like Mason Lohrei to earn a larger role with the Boston Bruins organization. I'm purely speculating now, but if the Bruins want to acquire Tomas Hertl, they need to make some significant roster tweaks sooner rather than later.
Problem Four: This Takes Away Opportunities for Free Agent Signings to Earn a Larger Role
This is definitely the top consideration for Don Sweeney, Jim Montgomery, and the coaching staff at the moment. Do you plug a hole with a potential franchise-altering move, or do you let the new faces show you that they can plug that hole for you? I previously discussed that Morgan Geekie can run with the opportunity to become a massive addition to the Bruins, though it's certainly up to the player right now.
Related: Why Morgan Geekie Is A Naturally Born Boston Bruin
If the Bruins aren't confident that Pavel Zacha, Charlie Coyle, Morgan Geekie, and their other centers are going to plug the hole, maybe bringing in Hertl makes sense. However, as previously discussed, there's a lot that the Bruins need to consider, and they need to do it soon.
Final Thoughts
Like I had previously mentioned, the Bruins have a lot to consider, cap constraints, possibly taking away opportunities from other players, lacking assets, and Hertl's no-movement clause. Don Sweeney has to look at every possible option and outcome before making such a large move. However, losing both Patrice Bergeron and David Krejci in the same offseason may prompt Sweeney to make a move sooner rather than later.
The Bruins are reeling and need to right the ship; their division lead is dwindling. What's wrong with Brad Marchand? Is he starting to decline, or stuck in an early slump? Should the Bruins make a deal now? Potential trade partners discussed. Plus much more!DraftKings Sportsbook – Boston's hometown Sportsbook is LIVE right here in Massachusetts! Bet local on all your favorite sports from the comfort of your own home with DraftKings. To celebrate, ALL new customers will receive up to TWO HUNDRED DOLLARS in BONUS bets when you sign up for DraftKings Sportsbook using code ITR! You can now bet local on money lines, spreads, props, and more with one of America's top-rated Sportsbooks – DraftKings Sportsbook!  Download the DraftKings Sportsbook app and sign up with code ITR to get up to TWO HUNDRED DOLLARS in BONUS bets to use now that mobile sports betting is live in Massachusetts. That's code ITR only at DraftKings Sportsbook. If you or a loved one is experiencing problems with gambling, call 800 327-5050 or visit helplineMA.org to speak with a trained specialist, free and confidentially, twenty four seven. 21+. Physically present in MA. Eligibility restrictions apply. Subject to regulatory licensing requirements. Eligibility and deposit restrictions apply. Opt in required. Bonus issued aree bets. Terms at draftkings.com/MA.