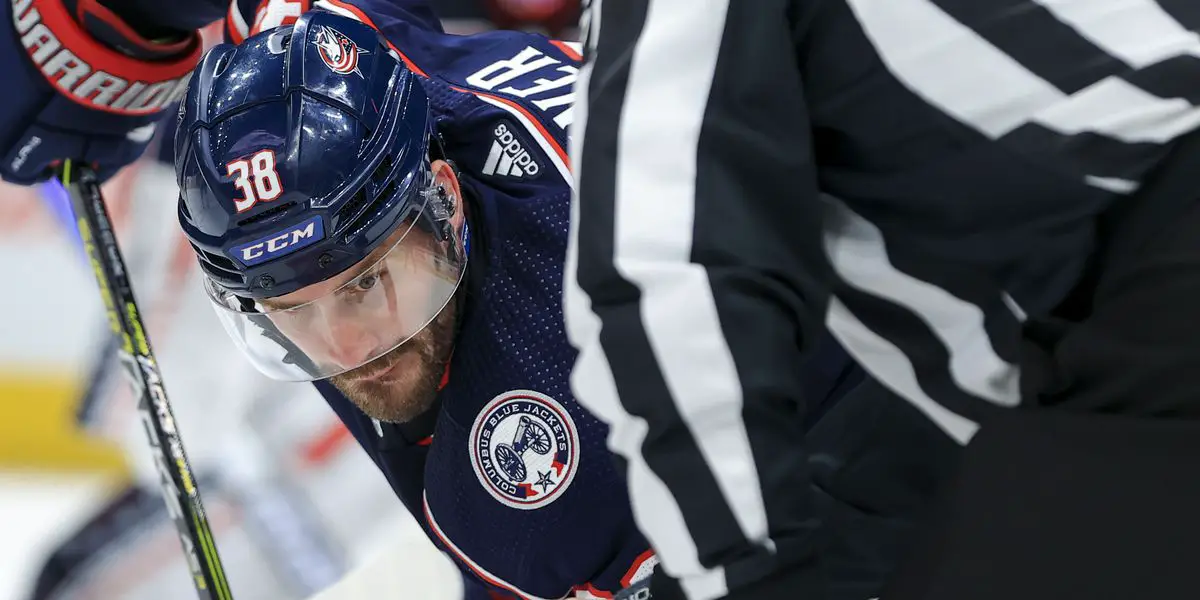 It is that time of the season once again. The trade deadline is fast approaching. For teams, it is time to buy in hopes of making the playoffs or hoping to make a splash in the playoffs. For other teams, it is time to sell and prepare for the next season. Rebuilding teams use the deadline to gain more assets. That is the case for the Columbus Blue Jackets, who are in the bottoming-out season of the organizations rebuild. So who could be moved at the trade deadline? Let's take a closer look.
During his time as GM, Jarmo Kekalainen has made some solid trades, and he is not afraid to make big trades, Anyone remember Pierre-Luc Dubois for Patrik Laine? The odds tell us that Kekalainen will be active as he moves the Blue Jackets rebuild along. Names that not only have popped up but have a good chance of being moved are G-Joonas Korpisalo, RW/C Boone Jenner, LW- Gustav Nyquist, and D- Vladislav Gavrikov.
In the case of Joonas Korpisalo, he is having a very good comeback season. It has been circulating that multiple teams have called the Blue Jackets about the goalie. The questions that Columbus needs to ask itself are; do we think Elvis Merzlikins is just having an offseason and can and will bounce back? Next question, Should the organization keep Korpisalo and trade Merzlikins, and if so, what would be the value of a goaltender who has struggled mightily this season?
Verdict: Korpisalo gets moved for a third or fourth-round draft pick.
As for team captain Boone Jenner, his name popped up recently, and it is known the Boston Bruins are not only interested in Jenner but have spoken to the Blue Jackets front office about him. Boston is said to be seeking a veteran forward for a playoff run. While this would have been laughed off earlier, I believe there is some traction. This is a rebuild, and no player is or should be off-limits.
Verdict: Jenner stays in Columbus; I say that tentatively, as Kekalainen has been known to strike at any time. If he gets the right offer, Jenner would go.
Gustav (Gus) Nyquist is currently out with a shoulder injury. However, Nyquist will be ready right when the 2023 NHL Playoffs start. The Bule Jackets are said to have already fielded calls on the veteran forward in the last year of a three-year contract.
Verdict: Nyquist goes to a playoff team at the deadline, and the return will be a late-round draft pick unless Nyquist is packaged with someone else.
Now we get to the Blue Jackets largest trade asset, which has seen multiple teams call multiple times. D- Vladislav Gavrikov, who is a wanted man. Gavrikov is being linked all over the place; the Edmonton Oilers have called, the Toronto Maple Leafs have called, the Boston Bruins have called, and the L.A. Kings have called. The Blue Jackets have placed a hefty return for Gavrikov. Columbus is seeking a first, second, OR third-round draft pick and a higher-end prospect. Teams appear unafraid to meet the ask as they continue to call.
Verdict: Vladislav Gavrikov gets traded, and the Blue Jackets make out like bandits. This will help push the organization's rebuild forward as the team stockpiles and add to a prospect pool that was ranked #3 the past week.
The Blue Jackets have a bright future. One that will get a push from the trade deadline. The organization is developing prospects and are set to have a high first-round pick. Very soon, the Blue Jackets will contend again for a playoff spot.
Episode 54 is here and the boys break down the Bruins adding Tyler Bertuzzi, Taylor Hall and Nick Foligno Injury updates, and Pastrnaks contract extension. Followed up with a tour around the NHL and breaking down the MOUNTAIN of trades that happened since last episode.DraftKings Sportsbook – Boston's hometown Sportsbook will be LIVE – soon – right here in Massachusetts! Bet local on all your favorite sports from the comfort of your own home with DraftKings. To celebrate, ALL new customers will receive up to TWO HUNDRED DOLLARS in BONUS bets when you sign up for DraftKings Sportsbook using code insidetherink! Soon you'll be able to bet local on money lines, spreads, props, and more with one of America's top-rated Sportsbooks – DraftKings Sportsbook!  Download the DraftKings Sportsbook app and sign up with code ITR to get up to TWO HUNDRED DOLLARS in BONUS bets to use once mobile sports betting hits Massachusetts. That's code insidetherink only at DraftKings Sportsbook.  If you or a loved one is experiencing problems with gambling, call (800) 327-5050 or visit (https://helplinema.org/) to speak with a trained specialist free and confidentially twenty four seven. 21+. Physically present in MA. Eligibility restrictions apply. Subject to regulatory licensing requirements. Eligibility and deposit restrictions apply. Opt in required. Bonus issued as free bets. Terms at draftkings.com/ma.