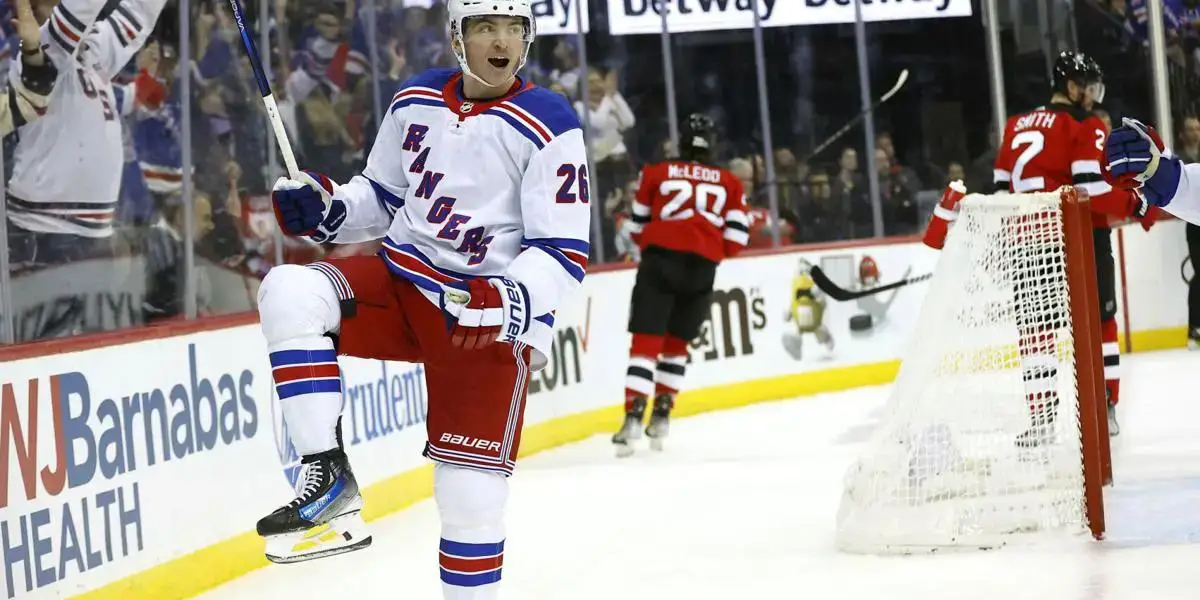 I firmly believe that a team can never truly get any sense of payback or "revenge" for a playoff loss in the regular season. That being said, Rangers-Devils is an intense division rivalry that will see these two teams battling for playoff standing all year in the Metro.  
In that regard, the Rangers came out with an early but important 5-3 victory over the Devils that continued their solid to spectacular play. The game had a little bit of everything, so let's break down the good (Bread), the bad (more negative reviews than Siskel and Ebert), and everything in between (welcome back!)
THAT'S GOOD!
PANARIN
What can you say? A front-runner for the Hart Trophy for sure through these first fifteen games. He started the scoring for a 1-0 lead on a first-period power-play that finished off a beautiful passing sequence. This goal gave him fifteen straight games with a point to open the season, setting the franchise record.  
Even more importantly, down 3-2 in the third, he fired a high-rising snipe off the faceoff that Vanacek is still looking for (I'll be honest, I didn't see it either.) for a huge game-tying goal in the third that energized the whole team. That was just the production aspect. He was once again all over the ice while continuing his newfound aggressive shooting mentality.
This is a bold statement, but Panarin is having the best stretch of his Rangers career.
VESEY
The exploits of Panarin are now to be expected. What defined last night was the influx of secondary scoring, and that was spearheaded by a two-goal burst by Jimmy Vesey. He put the Rangers ahead in the first 2-1 by driving the net and potting a rebound past Vanacek.
He was most impressive in the 3rd period as the fourth line again drove the offensive zone (they were fantastic all night). Vesey was a pest around the net, and this time was in the right place at the right time for a juicy rebound. However, what made it so unique was finding the puck and placing a spinning backhander into a half-open net for a 4-3 lead the Rangers wouldn't relinquish.  
It was a skilled and savvy move from a veteran who is proving again to be a secret weapon in the bottom six.
NO QUIT
I think slogans should have short shelf lives, but it applies here. Last night wasn't some massive comeback. It was a close, back-and-forth game all night from two teams that know each other very well.  
However, the Rangers had every excuse last night to fall, and they did not. They were coming off a bizarre five-day hiatus; it was Igor's first game in over two weeks. They are still without Fox and Chytil while Jack Hughes returned to the ice for the first time. (For complete fairness, NJ was without Hischier and Meier.)
Add to that a 3-2 deficit against a team that knows how to play us; a loss would have stung but been understandable. So, to not only find the tying goal but use that as a catalyst to win in regulation, no less, is a fantastic sign. It's just a continuation of what we've seen from this team on this streak (now 10-0-1 on this game-points streak)
THAT'S BAD.
REVIEWS
"Do you have the time to listen to me whine?" – Green Day
There were still flaws in this game, team-wise and individually, but the only "bad" aspect I'll note here is something out of this team's control. Allow me to be petty for a stretch.
It's getting to the point where every time a decision goes to a booth review, I'll assume it will go against the Rangers.
First, they allowed a goal that was initially called off, citing "continuous play" as the puck trickled through Igor's legs. This, of course, even with the whistle being blown before the puck crossed the line.
Then, later, a five-minute major was called against Lindgren as he was elbowed in the face (drawing blood, by the way). Not only did the booth review take away the major, they determined it wasn't even a penalty.  
Here's the thing. You could make a case for both being correct decisions (even though both are sketchy.) But this continues a curious and downright shady pattern of every booth review going against the Rangers.
More concerning is the inconsistency of the calls. The Rangers have been burned before by the "intended to blow the whistle" rule that has wiped out our goals. Lately, too, we've had goals reversed when they were clearly over the line. Plus, I don't think I've ever seen a review of a major reduced to no penalty at all. I'm waiting for the day they go to review a major against the Rangers and not only say it's not a penalty but give US a penalty for something they discovered in hindsight. (Don't roll your eyes, it's possible)
The hypocrisy and double standards are the most frustrating regarding these rulings. It's almost laughable at this point.
CAN I GO NOW?
It's good to see the hiatus didn't cool off Trocheck as he continues his productive ascent with a three-assist night.
Unfortunately, the time off didn't breathe any life into Mika or Kaako, as they both didn't have much of an impact on the outcome at all.
Impact is Trouba's middle name, as he absolutely flattened Nosek, who had his head down coasting through the crease in the first period. He didn't return. It was the most vicious, but not the only impactful, hit of the game for Trouba, who has been a consistent force this season.
Igor was noticeably rusty in the first period, especially; he usually stops both goals, and there's no excuse for the first one to trickle through. Still, he got stronger as the game went on and was solid when needed.
It was a good night for some much-needed secondary scoring, in addition to Vesey. Pitlick, Jones, and Schneider all got much-needed assists to shine up their stat sheet, and Wheeler made an excellent play at the end for an empty netter that earned him his second goal of the season. All were welcome sights.
It should be a fun tilt on Monday night as the Rangers travel to Dallas to face one of the best teams in the league.  
In this weeks episode it's good all vibes with the Rangers being first in the NHL. We discuss Mika, Trouba, the NHL and more.Thanks for listening! Please rate and review our show on your favorite listening platform. Check out our partner's website at www.insidetherink.com for all your latest hockey news.