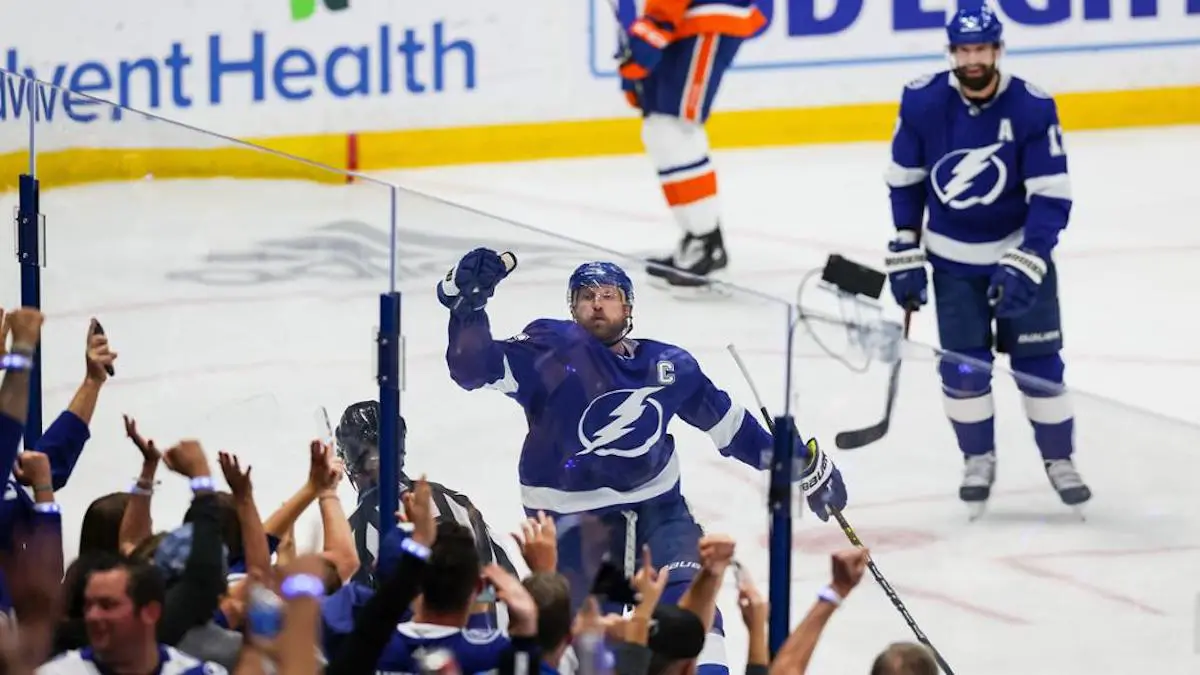 Although the reigning back-to-back champions' start hasn't gone as expected, their Captain Steven Stamkos is off to a scorching start. He currently leads the team in points (12) and has five goals and seven assists in nine games. With his stats for the first nine games of last year's shortened season (four goals, six assists, and 10 points), you could argue Stamkos is already performing better. The reason is the Bolts have played seven different opponents compared to last season's five different opponents (four of those opponents were faced in back-to-back games). He's already had five multi-point games this season, and it seems to be clear that the 31-year-old Captain will not be slowing down anytime soon.
Playoff Success
Excluding the fact that Steven Stamkos earned the honor of hoisting Lord Stanley in back-to-back seasons on home ice, becoming the second captain to win back-to-back Cups in the salary cap era, and with a damn good shot of winning a third, the 2021 Playoffs were Stamkos's most productive to date, statistically and in terms of significance. With a total of eight goals, ten assists, 18 points, and five power-play goals, Stammer was doing his part. The last time we've seen Stamkos have this kind of playoff success in recent years was the 2018 Playoffs where he had seven goals, nine assists, 16 points, and six power-play goals. Although the Bolts would lose to The Washington Capitals in seven in the Conference Finals, it appeared Stamkos was still a significant piece of a potent Bolts offense.
Injury Setbacks leaving Lightning fans in doubt
A long history of injuries such as blood clots, a broken leg, hip issues, and a core muscle surgery right before the 2020 playoffs left Stamkos to only play one game during the 2020 Cup run (let us not forget that memorable goal in game three of the finals that won the Sports Illustrated 2020 Play of the Year Award). However in that game, he re-injured his core muscle and on October 10th, 2020 it was announced he underwent surgery to repair the muscle to get ready in time for the 2020-21 season. On October 4th of this year, it was revealed that Stamkos had minor knee surgery on his right knee before the playoffs. He had a tremendous personal run despite the surgery, and with his hot start to the season I think there's more than enough evidence to show Stamkos is returning to his vintage form.
The Future for Stamkos
As far as his health goes, Stamkos says, "It is the best I have felt in years physically … physically when you are feeling good the mind is in a good place as well" – clearly what he has been doing on and off the ice, this season shows this to be true. In general, many Bolts fans and hockey fans want to count Stamkos out at the start of each season, but for someone with so many setbacks, he continuously proves fans and doubters wrong. My take – watch out for Stamkos this year: I think this might be one of his best regular seasons in a long time that is hopefully capped off with a 3peat (pun entirely intended.)