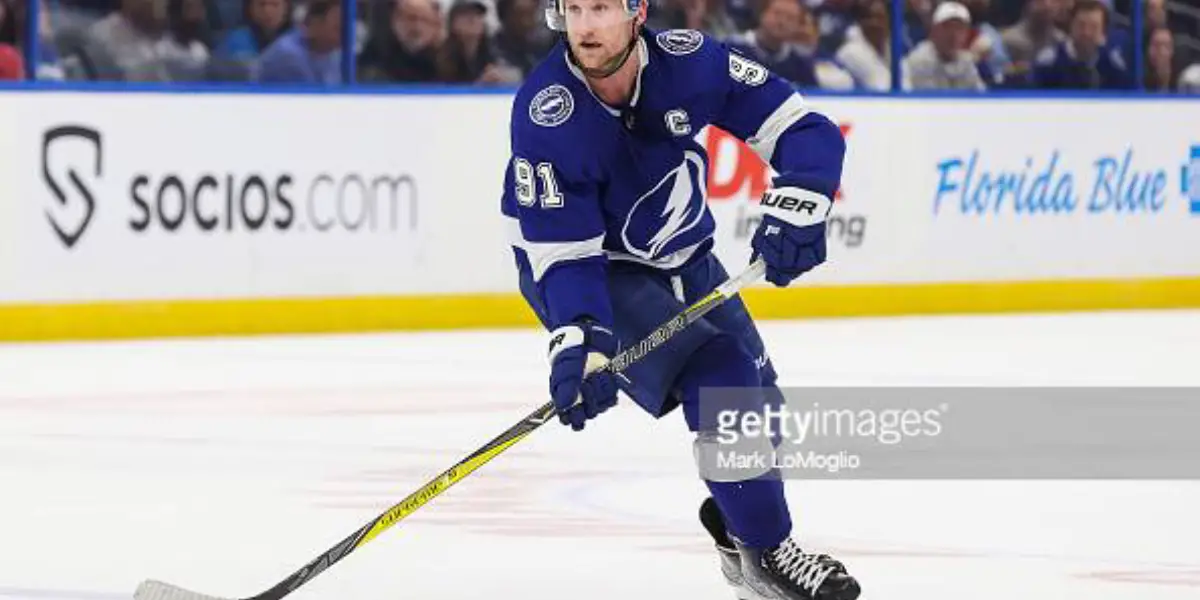 15 years. That's how long Tampa Bay Lightning captain Steven Stamkos has been in the NHL. It's significant for another reason too. It's the year he's reached two of a possible four significant milestones.
First came 500 assists, which occurred recently. Then, on December 1 in Philadelphia, he reached 1,000 points in his illustrious career.
It didn't all come easy, however. Stamkos endured a lot of pain and dark days on his path to greatness.
What exactly?
Let's take a stroll down memory lane to see all the captain has overcome.
2013 – Broken Leg in Boston
Veterans Day 2013. A game that many around the Lightning organization will never forget. That includes fans.
In the midst of a career start to his season, Stamkos was backchecking hard and got tied up with former Boston Bruins defenseman Dougie Hamilton. He went down and slid into the goalpost awkwardly.
After trying a couple of times to stand and skate off under his own power, the former first overall pick went down to the ice in pain. Stamkos was stretchered off minutes later and taken to a local hospital, where he underwent surgery to repair a fracture to his right tibia the following day.
Nearly four months later, he returned to the ice and was named captain after Martin St. Louis' trade to the New York Rangers.
2016 – Blood Clot Costs Stamkos a Playoff Run
As the 2015-16' season came to a close, with the Bolts locked into a playoff spot, the team and their captain were dealt another blow.
Stamkos was diagnosed with thoracic outlet syndrome and scheduled for surgery in early April 2016. His timetable for a return was said to be between one and three months.
On May 26, he returned to the ice for Game 7 of the 2016 Eastern Conference Finals against the Pittsburgh Penguins. Unfortunately, the Lightning lost that game and the series, but it was still heartwarming to see the captain return from a severe blood clot less than two months after undergoing surgery.
2016 – Torn Meniscus in the Motor City
With two severe injuries behind him, Stamkos and the Lightning hoped the injury bug was in the rearview mirror.
Sadly, that wasn't the case. A seemingly innocent fall along the boards in mid-November 2016 tore the lateral meniscus in his right knee. He underwent arthroscopic surgery two days later and was given a four-month recovery timetable. That would have put his return around mid-March.
He worked hard in rehab but ultimately couldn't get cleared before the end of the regular season. The Lightning missed the 2017 playoffs by one point, their only postseason miss in nine years.
2020 – Core Muscle Injury Costs Most of Another Playoff Run
Three years removed from his third serious injury, Stamkos made it through much of the 2019-20 season unscathed. The team was also on its way to another postseason appearance.
March brought bad news, though, as it was announced the captain had a core muscle injury that required surgery. He was estimated to miss at least four months.
Stamkos got extra time to rehabilitate, as the Coronavirus pandemic paused NHL play from mid-March until August. The remainder of the regular season was wiped out, and the playoffs began on August 1.
Unfortunately, Stamkos sustained a setback in his rehab and missed almost the Lightning's entire 2020 run to the Stanley Cup.
He returned to the ice for Game 3 of the Stanley Cup Final versus the Dallas Stars and scored a goal on his only shift before exiting the game. That galvanized the team, as they captured their second Cup in franchise history.
Stamkos, meanwhile, underwent a second surgery after the 2020 playoffs and was ready for training camp a couple of months later.
Concluding Thoughts
The captain's journey to 1,000 points has been nothing short of remarkable. He's overcome numerous obstacles and persevered, proving that hard times and pain are merely stepping stones to greatness.
The boys are back after a long break but have plenty to talk about as the playoffs are in full swing. We go series by series, looking at how teams have fared so far and who will come out on top. Thanks for listening! Please rate and review our show on your favorite listening platform. Check out our partner's website at www.insidetherink.com for all your latest hockey news.