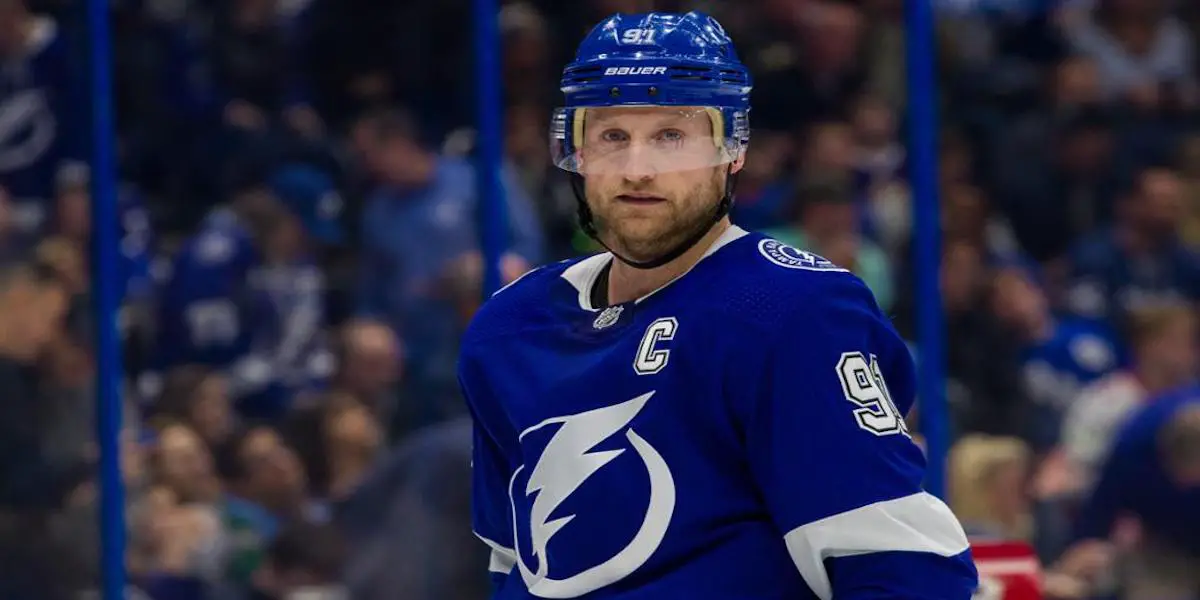 Heading into the 2022-23 season, the Tampa Bay Lightning had high expectations after falling just short of capturing their third consecutive Stanley Cup.
While they struggled late in the regular season and even during the playoffs, there were definitely things to celebrate.
Going forward into another difficult offseason, it's important to remember the good times from this past season.
The biggest accomplishments came from captain Steven Stamkos. The longest-tenured Bolt reached 500 assists, 1,000 points, 500 goals, and 1,000 games at various points. The team held ceremonies to honor him for reaching both the 1,000 point and 1,000 Game plateau.
Nikita Kucherov recorded 113 points, the second-highest total in franchise history. That's only behind his insane 128 point season in 2018-19. He also tallied 83 assists, second in both Lightning history and the entire NHL. Only Edmonton Oilers star forward Connor McDavid had more assists, with 89.
Brayden Point became the third player in franchise history to record 50 goals in a season. He reached that milestone on the final day of the regular season, with two goals in a 5-0 win over the Detroit Red Wings to give him 51 total.
On defense, Mikhail Sergachev had a career year after being thrust into a bigger role after the offseason trade of top shot blocker Ryan McDonagh to the Nashville Predators. Sergachev's 64 points nearly doubled his previous high of 40, with many coming once he was promoted to the first power play unit in place of Victor Hedman. He also led all Bolts blue liners in time on ice, averaging nearly 24 minutes per game.
Nick Perbix began the season with AHL Syracuse but was called up after three games. He made his season debut on October 18, 2022, against the Philadelphia Flyers and impressed the coaching staff with his poise and good decision-making. For that reason, he stuck around and became a mainstay on the blue line. That earned him a two-year contract extension early in 2023.
In 69 games played, Perbix scored five goals and added 15 helpers for 20 points. He recorded a plus-11 rating as well, ranking first among rookie defensemen in that category.
Alex Killorn and Brandon Hagel both reached career highs in goals and points this past season. Killorn's 27 goals and 64 points eclipsed his previous high of 26 goals in 2019-2020 and 59 points, achieved last season. Hagel, meanwhile, finally showed why the Lightning traded a big haul for him at the 2022 Trade Deadline. His 30 goals were nine more than the 21 he recorded in Chicago before being traded, while his 64 points nearly doubled his output of 37 in 55 games with the Blackhawks prior to the trade.
Goaltender Andrei Vasilevskiy posted 20 of his 34 wins before the All-Star break. That earned him a spot on the Atlantic Division All-Star team, where he shined. After that, he struggled, giving up 3+ goals in 14 of his remaining games. Five of those games saw him give up more than five goals. His biggest bright spot came February 25 in Detroit, where he made 45 saves to shut out the Red Wings.
Even though the Lightning's season ended earlier than anyone expected, the team saw plenty of players impress with their play on the ice. That provides hope for the future, a good sign for a team that wants to continue seeing success in the coming years.
VGK free agency recap, Knights news and notes. UNLV roster update
–
The Vegas Fever Podcast
The Golden Knights wrap up free agency pretty quickly. The Reilly Smith trade to Pittsburgh was the toughest pill to swallow for us. The Golden Knights announce new additions behind the bench as well. UNLV basketball rounds out their 2023-24 roster while capturing their first commit of 2024. Thanks for checking us out! Please subscribe after you listen. Learn more about your ad choices. Visit megaphone.fm/adchoices