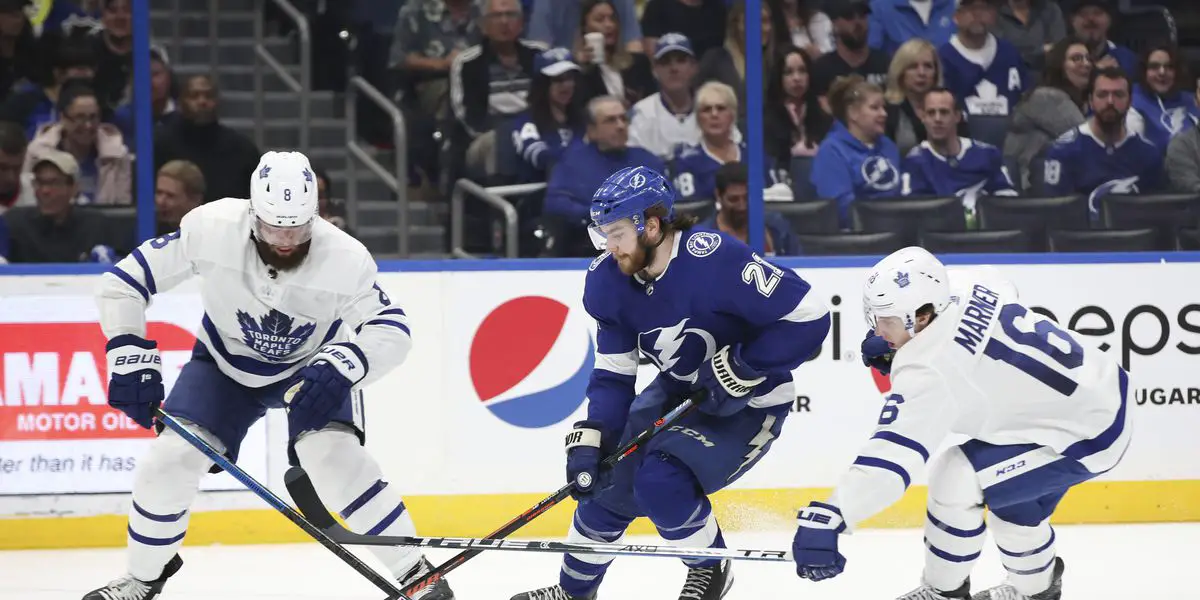 Another year, another first round matchup between the Tampa Bay Lightning and Toronto Maple Leafs. If the two teams didn't have any animosity built up already, they should by now, considering they just met in a playoff preview of sorts at Amalie Arena one week ago. In saying that, neither team was at full strength, and they certainly weren't playing a style conducive to the postseason.
Now, the two teams get ready to meet with a chance to advance and keep their Stanley Cup hopes alive. Those dreams have been realized by one of these teams in recent years, while the other has struggled to get out of the first round for much of the last decade. None of that means anything this year, though, as each new playoff run brings a different vibe and team.
For the Maple Leafs, they went out and acquired guys with playoff experience and even Stanley Cup experience. Ryan O'Reilly checks both of those boxes. He was captain of the 2019 St. Louis Blues team that beat the Boston Bruins in seven games. He can play anywhere on the top three lines, though he'll probably start the series on the second line. He's also gotten hot at the right time, leading the team in both assists and points in the season's final couple of weeks.
They also added depth and grit both to their bottom six and defense, acquiring Noel Acciari in the same trade as O'Reilly and former two-time Cup champion Luke Schenn. Acciari provides some depth scoring, while Schenn is a steady third-pair defenseman who isn't afraid to drop the gloves if needed. They also added Jake McCabe, who had a plus-six rating in the team's final five games.
Each of those guys will have to play a role, but that won't be the deciding factor in who moves on. The Maple Leafs need captain John Tavares and superstars Auston Matthews, Mitch Marner, and William Nylander to reach another level. All had solid if not great, regular seasons. Nylander led the team in goals with 40. He also is hot heading into the postseason, so the Lightning must find a way to contain him early and often. Marner led the team in both assists and points, and Matthews is a threat anytime he's on the ice, so someone needs to be on those two all the time.
In goal, the Maple Leafs will turn to Ilya Samsonov. He has little playoff experience but has given the Lightning fits in the season series. Then again, the only goaltender on Toronto's roster the Bolts have gotten to is Matt Murray, who's currently injured and likely won't play in this series. That could favor the Leafs, as goaltending has always been their Achilles heel come playoff time.
The Lightning struggled down the stretch, going 8-13-2 from February 26th on. Worse, they were outscored 23 to 11 in the four games leading up to the season finale against Detroit.
Up front, the Bolts can score. Brayden Point joined the 50 goal club in the final regular season game, then added another to end the regular season with 51. Playoffs are where he's shined in the past though. He led all players in postseason goals in 2020, including a memorable five overtime game-winner to begin the team's run, culminating in winning their second Stanley Cup. He also had the overtime winner against Toronto in Game Six of last year's first round, forcing a Game Seven that the Lightning won.
Nikita Kucherov led the team and was second in the league assist-wise, with 83. He's another one that seems to up his game come playoff time. In the Lightning's back-to-back championship runs in 2020 and 2021, he led the league in points with 31 and 32, respectively.
Steven Stamkos is always a threat, both at even strength and on the power play. Alex Killorn is another player to watch, as he plays in all situations and had a career-high 27 goals in the regular season.
Victor Hedman will have to up his game at both ends, as he had only nine goals and 49 points in 76 games. Those are his lowest totals since 2015-16' when playing 70+ games. Even then, he had ten goals.
Mikhail Sergachev will need to continue his growth as a top-four defenseman. In his first season with an increased role, he played on the top power play unit and set a career-high with 64 points.
In net, Andrei Vasilevskiy was average at best during the regular season but seemed to always be at his best when the season's on the line. This year, he'll have to steal a few games though, as the defense in front of him is suspect, to say the least. The losses of Ryan McDonagh and Jan Rutta last offseason hurt, as both Vasilevskiy and backup Brian Elliott faced more shots than in previous years.
Two evenly matched teams go head to head with everything on the line once again. Who will win? That question will be answered in the next two and a half weeks, beginning with Game One Tuesday night, April 18. Puck drop is set for 7:30 pm EST.
The boys are back after a long break but have plenty to talk about as the playoffs are in full swing. We go series by series, looking at how teams have fared so far and who will come out on top. Thanks for listening! Please rate and review our show on your favorite listening platform. Check out our partner's website at www.insidetherink.com for all your latest hockey news.