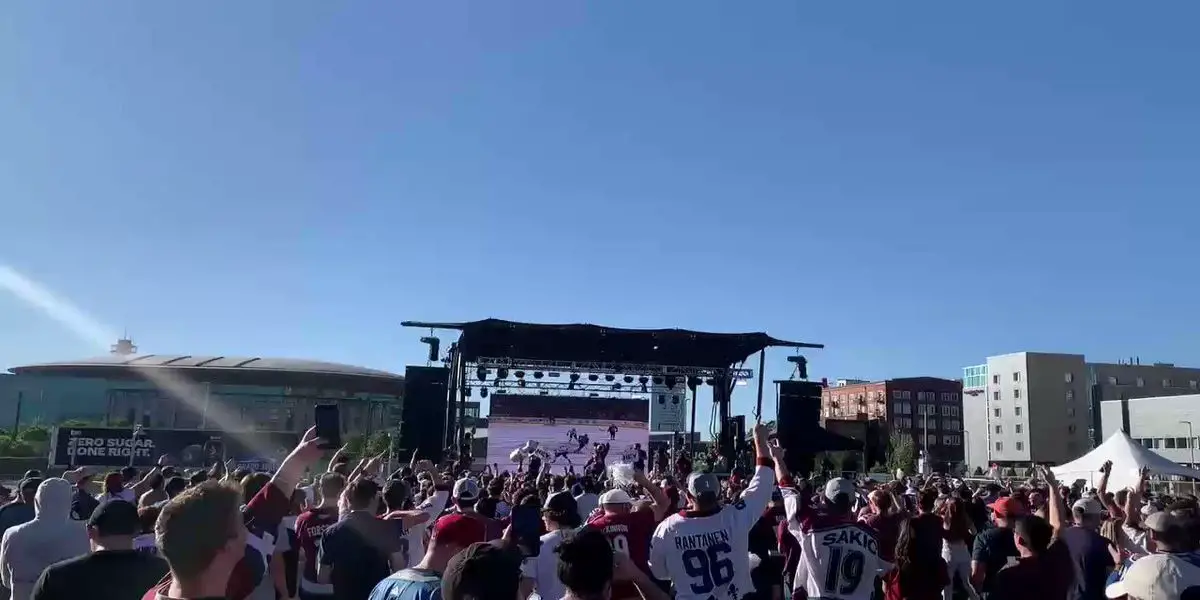 Every year when the Colorado Avalanche makes the playoffs, banners of all the players' jerseys are hung with lights and signs stating that the postseason has begun and the Avalanche will "Ascend as One" or "Find a Way."
Just a few blocks from where the Avalanche play, Larmier Square becomes everyone's go-to stop before heading to the game. It's a great spot to take photos in your favorite Avalanche sweater and grab a bite to eat before a game. But if you keep walking south from Denver's most historic block, cross Speer Boulevard, and stop right before reaching Ball Arena, you'll find yourself on the Auraria Campus. It is home to three universities (CU Denver, MSU Denver, and Community College of Denver), almost 40,000 students, Colorado's OG brewery, and for the first time, the watch party headquarters for the Avalanche while they are in the Stanley Cup Finals. For every game of the finals, fans can gather on the Tivoli quad, just like Auraria Campus students do for movie nights and campus events, to cheer on the Avs as they step closer to their ultimate goal.
When the Avalanche approached the Auraria Campus about the watch parties, it was easy to say yes. The Auraria Campus is a supportive partner of the mayor's "My Denver Reviliatization Plan" to help get people and events going downtown after the pandemic. There is no better way to get people downtown than watching the Avalanche battle for the Stanley Cup on a warm Denver evening with other fans, giant screens, food, and giveaways, all for no charge. CU Denver's Vice Chancellor for Communications, Marie Williams, says, "When the Avs approached us to use the Tivoli Quad as a Watch Party location, we were excited to be a part of their Stanley Cup run. Auraria is fortunate to have so many amazing neighbors, including the Avs." Avalanche fans create an electric environment and foster community, something every college campus can use.
For CU Denver specifically, Williams says, "we are an anchor institution in downtown Denver, meaning that our engagement in sports, business, community, arts, entertainment, and civic events and initiatives is critical to our success — and the city. Ball Arena's proximity to CU Denver is mutually beneficial — it demonstrates our closeness to the vibrant city center and enables partnerships like the watch party series to flourish." It is an excellent opportunity for both groups. Fans who can't make it into the arena won't miss out on the Avs' big run and still experience that ideal game time environment. The Auraria Campus has become an even more prominent landmark in the Denver community, tying the two together even more.
On a personal note, Auraria and hockey will forever be bonded for me. I went to my first hockey game because the student life office sold $10 tickets. Attending sporting events was something I was looking forward to in college, but CU Denver doesn't have any sports teams of its own. The Avalanche game seemed like a decent substitute, so I grabbed a friend and went. We fell in love with the burgundy and blue from the nosebleed section.
We were at almost every home game after that. Apparently, it was the worst season in franchise history, but we always had so much fun we couldn't tell. A year later, I remember awkwardly sitting in the back of a car, trying to film a scene for my directing class, when I got a call from my dad. He asked if I wanted to see the Avalanche play the Calgary Flames in the playoffs. He was offering to buy last-minute tickets for a friend and me. I said, "Yes, but won't it be expensive?" He replied yes, but the playoffs are a once-in-a-lifetime opportunity. You never know how your team will do in them; go when you can. I went, and everyone was buzzing about this twenty-something wunderkind who scored his first goal, on his first shot, in his first game. My friend and I spent the whole game talking about how we were the same age as Cale Makar, trying to make it through finals while he was trying to make it through the playoffs.
One year later, I'm walking into another Avalanche game when I read an email from the university. Classes would be going online for the remainder of the semester. Subsequently, my college experience would be drastically different. The Avs played the Rangers, won 3-2 in overtime, and this was the last bit of routine I would feel for a while.
Now in a poetic turn, the university where I chased my dreams is part of the Avalanche's chase for the cup. Right outside the building where I had class every day, thousands of fans are going to watch Valeri Nichushkin put up multiple goals in a night, fourth-liners become superstars, Darcy Kuemper and Pavel Francouz be brick walls, Nathan MacKinnon be Nathan MacKinnon, and possibly see the Stanley Cup be lifted.
So as fans, new, old, and maybe just passing by, gather in the Tivoli Quad for the remaining games, new stories are unfolding for both the Auraria campus and the Avalanche. The neighborhood of Auraria pre-dates the city of Denver, and much of the city's history can be traced back there. If the Avs win it all, one more chapter will be added to the Auraria history book.
*This writer would like to note, that CU Denver does not have any collegiate athletics, but it does have several very proud and fun club sports teams.
*There is a long history to the Auraria Neighborhood, find out about it here: https://history.denverlibrary.org/auraria-neighborhood
The boys are back after a long break but have plenty to talk about as the playoffs are in full swing. We go series by series, looking at how teams have fared so far and who will come out on top. Thanks for listening! Please rate and review our show on your favorite listening platform. Check out our partner's website at www.insidetherink.com for all your latest hockey news.