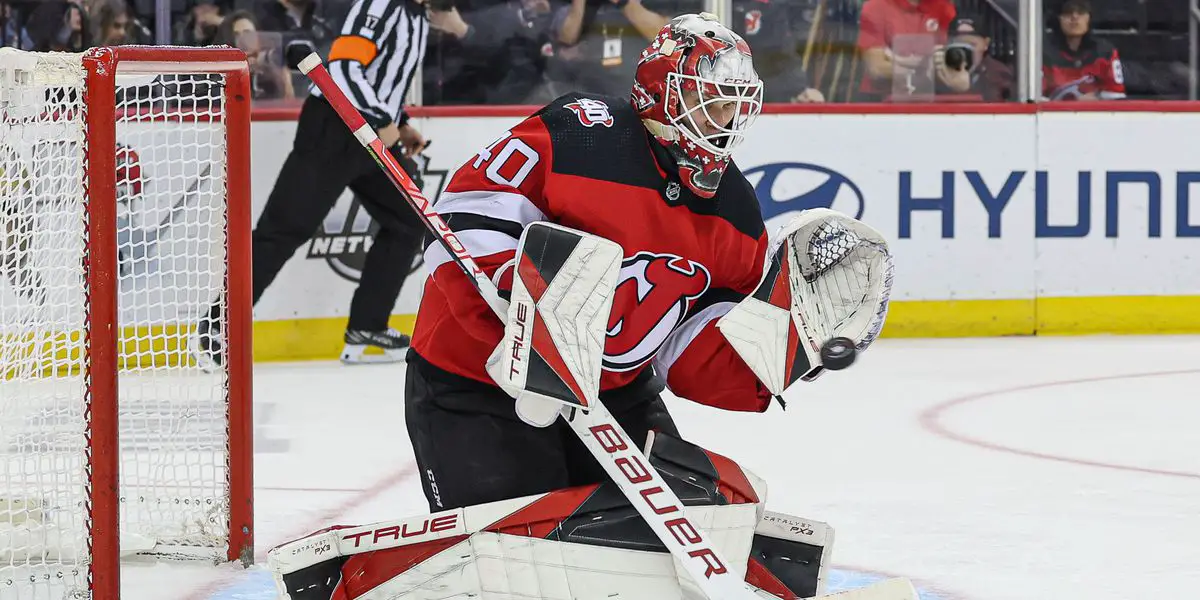 Coming into the second round of the Stanley Cup playoffs and their matchup with the Carolina Hurricanes, the New Jersey Devils seemed to be set in goal.
After Vitek Vanecek, the team's starter in the regular season, lost Games 1 and 2 of the team's first-round series with the New York Rangers, Devils head coach Lindy Ruff decided to go with Akira Schmid in Game 3. It proved to be the right decision as Schmid would go on to win not only that game but also Games 4, 5, and 7, posting two shutouts in the process.
Schmid's play between the pipes was the talk of the first round. Here was this rookie that came in, was calm and poised between the pipes, and helped his team knock out their biggest rival.
Unfortunately for Schmid, 22, and the Devils, he has not found that magic in the team's current series against the Hurricanes, in which they are down 3-1 in. Schmid lost Games 1 and 2, and in those games, he was pulled and allowed seven goals on a combined 36 shots.
Schmid cannot be faulted for every goal he allowed. In those Games, the Hurricanes jumped all over the Devils early on in the games and took it to them.
With that said, Schmid did not look all that comfortable in goal. He was giving up rebounds, not challenging shooters, and looked like a much different goaltender than the one everyone saw when he starred for his team in the first round against the Blueshirts.
In all, Schmid is currently (Wednesday, May 10th) 4-3 with a 2.29 goals-against average, a .921 save percentage, and two shutouts. Those are very respectable numbers, but he has yet to play up to those numbers against the Hurricanes.
Schmid is not the only one who has struggled against the Hurricanes in this round. Vanecek, 27, has allowed nine goals on 47 shots and was pulled in Game 4 on Tuesday night, May 9th, in his team's 6-1 loss when he allowed five goals on 17 shots.
Vanececk also really was not great in his team's 8-4 win in Game 3 on Sunday, May 7th. Sure, he got the win, but he still allowed four goals, something that has become all too familiar in this year's postseason:
April 18th against the Rangers: Allowed four goals on 22 shots.
April 20th against the Rangers: Allowed five goals on 30 shots.
May 7th against the Hurricanes: Allowed four goals on 30 shots.
May 9th against the Hurricanes: Allowed five goals on 17 shots.
The Devils will fight for their playoff lives in Game 5 on Thursday night in Raleigh. Ruff has to figure out which goaltender will give them the best chance to live another day.
If I were Ruff, I would give the net to Schmid. Yes, he struggled in Carolina in Games 1 & 2, but if he proved anything in this year's postseason, he can handle the pressure and do what needs to be done to win a hockey game.
No matter what happens, the Devils and their goaltending better be ready to keep the puck out of the net on Thursday night because if they cannot, their dream season will come to an end.
The boys are back after a long break but have plenty to talk about as the playoffs are in full swing. We go series by series, looking at how teams have fared so far and who will come out on top. Thanks for listening! Please rate and review our show on your favorite listening platform. Check out our partner's website at www.insidetherink.com for all your latest hockey news.