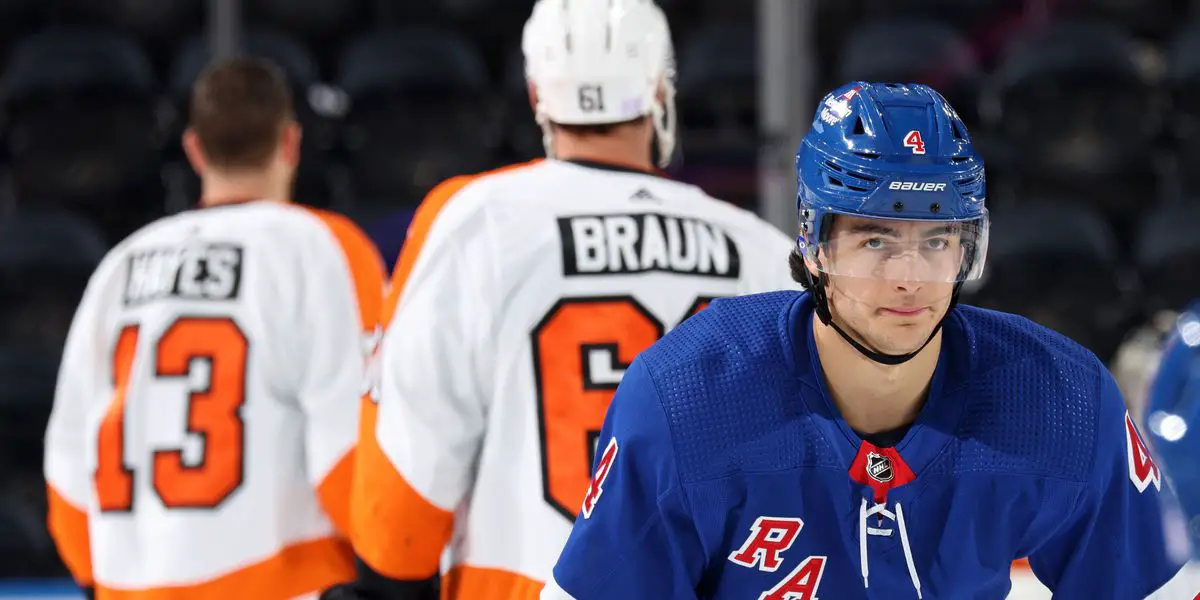 When you are a defenseman on the New York Rangers, it is easy to fly under the radar.
The Blueshirts have a plethora of excellent to solid defensemen. Guys like Norris Trophy winner Adam Fox, team captain Jacob Trouba, K'Andre Miller, and Ryan Lindgren have all made positive impacts on this hockey club, especially in their run to the Eastern Conference Finals last season.
These four defensemen are the ones that get talked about the most when it comes to the Rangers. Considering that they comprise of the team's top two pairs, it makes sense.
With that said, there is one defenseman on the Blueshirts who deserves a lot more attention than he is currently getting. In fact, it can be said that he has been one of the team's top defensemen this season.
This defenseman would be 21-year-old Braden Schneider. Schneider, the 19th overall pick in the 2020 NHL Entry Draft under the John Davidson/Jeff Gorton regime, has really opened some eyes with his strong and consistent play this season.
For starters, he is showing that he can produce. Schneider currently (Saturday, January 7) has 10 points on five goals and five assists, with one of those goals being a game-winner.
Schneider has a strong shot, is able to use his speed to gain the zone and get to the net, and is not afraid to put pucks on goal. He has 41 shots on goal in 40 games this season after having 25 shots in 43 games last season.
Rangers head coach, Gerard Gallant, in speaking with Lohud.com's Vincent Mercogliano, praised Schneider's offensive instincts.
"He knows when to jump in," Gerard Gallant said following Monday's practice at the MSG Training Center. "He's been really good at it."
Secondly, and more importantly, Schneider has been good in his own end. He breaks up a lot of plays, is smart with the puck, knows how to block shots, and plays smart, heads-up hockey.
In that same article linked above, Gallant mentioned just how steady Schneider has been for his hockey club.
"I don't remember being upset with his play at any time this year or last year," Gallant said.
Lastly, Schneider is playing with a ton of confidence. That's important for someone who is just in his second year in the league because it will only grow with time.
This is a good, young defenseman the Rangers have developed the right way. Should Schneider continue to play this way, and there is no reason why he should not be able to, he will garner more positive attention around the league.
In this weeks episode we have on Greg Kaplan from Blueshirts Breakaway. We discuss the Rangers, NHL growing the game, playoffs and a tad of the Mets.Thanks for listening! Please rate and review our show on your favorite listening platform. Check out our partner's website at www.insidetherink.com for all your latest hockey news.