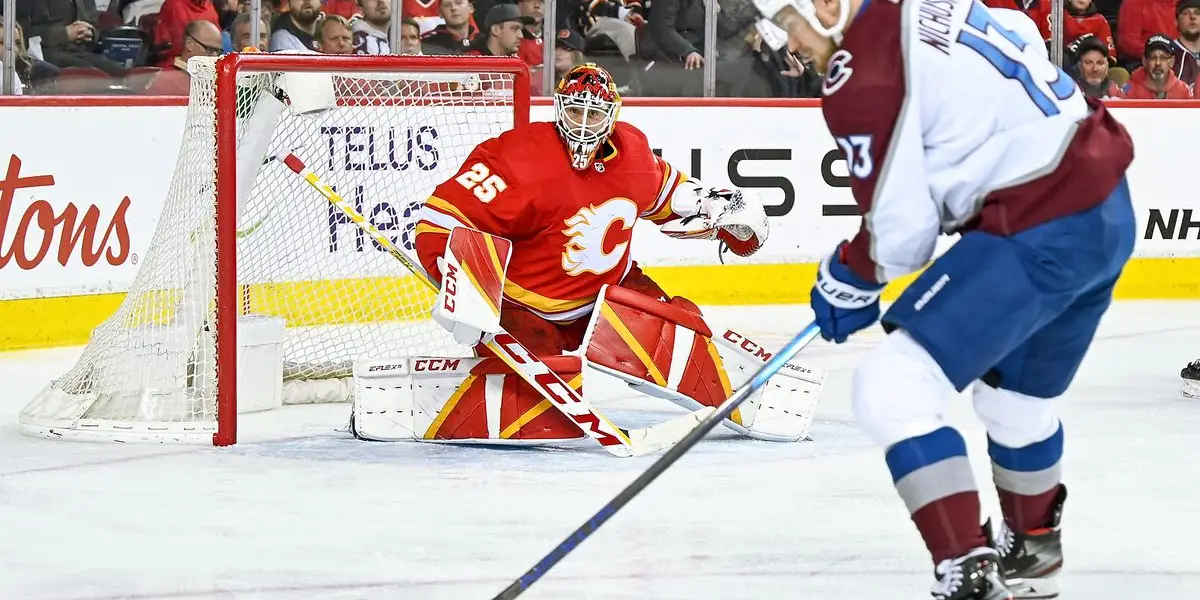 With a supposed rift between Calgary Flames head coach Darryl Sutter and General Manager Brad Treliving. It's no wonder why the team is in a constant state of instability—between high-end talent leaving and high-end prospects not getting a chance, how can the Flames expect to win?
Not Playing The Youth
There is a long-running joke about Darryl Sutter not playing the youth, especially those under six feet tall. Except, it's not a joke anymore. In his tenure with the Flames, Matthew Phillips and Jakob Pelletier have not been giving a real shot at the NHL.
Sutter said himself it's because of Pelts' size.
There are times when developmental milestones should be met before making the leap. Refusing to reevaluate his gameplay at the NHL level because he is small is not one of them. Sutter notes that he had a so-so training camp at the age of 20 and didn't prove himself. Pelletier has 34 points in 31 games. He is second in the club behind Phillips in goals with 15. Hey, there offense! Your current lineup is struggling offensively. It just makes sense to remove dead weight and light a fire under your veterans.
A Sense of Complacency
Sutter has loyalty to his veterans has to be the worst-kept secret in hockey. He will never throw a player that went nearly 80 games without a goal under the bus. If you're under 30, watch out. You might be next.
Milan Lucic is the only veteran that has been healthy scratched this season. While we saw a flash of a resurgence, it has not been sustainable. Lucic has been playing on the second line alongside Nazem Kadri and Johnathan Huberdeau. Those are two players you want to see playing at or around a point per game, but they cannot do that with that 1987 Buick.
Before you look at shuffling up the lines, you have to look at the players. They know their jobs are safe. The team is coasting to a Wild Card spot and may see the second round of the playoffs. They aren't at the bottom of the barrel. No one in this lineup is gunning for a higher spot or pushing to make the roster full-time. There is no reason for them to go full out when they're meeting Sutter's standards at 80%.
Instead of being okay with two of your most expensive players underproducing, why not slot in a player like Phillips or Pelletier that has the capability of consistently scoring?
Sutter Has No Reason to Worry
Sutter knows his job is safe. He knows ownership has his back no matter what.
Fan and ownership perception is always different. Right now, it feels as if they are at entirely different ends of the spectrum.
Treliving spent the summer working and negotiating to keep the Flames as a contender. He wanted to fight for a championship. It felt as if things were going to be trending in a positive direction. A roster spot or two may have opened up, and the young kids could be shuffled in.
That is not the case.
A Second-Half Team
Time is running out for them to turn it around. Are you on cruise control for the regular season and amping it up to Sport when the playoffs come around? How can you, as a roster, be sure you're capable of that when you can't string five wins together?
The boys are back after a long break but have plenty to talk about as the playoffs are in full swing. We go series by series, looking at how teams have fared so far and who will come out on top. Thanks for listening! Please rate and review our show on your favorite listening platform. Check out our partner's website at www.insidetherink.com for all your latest hockey news.