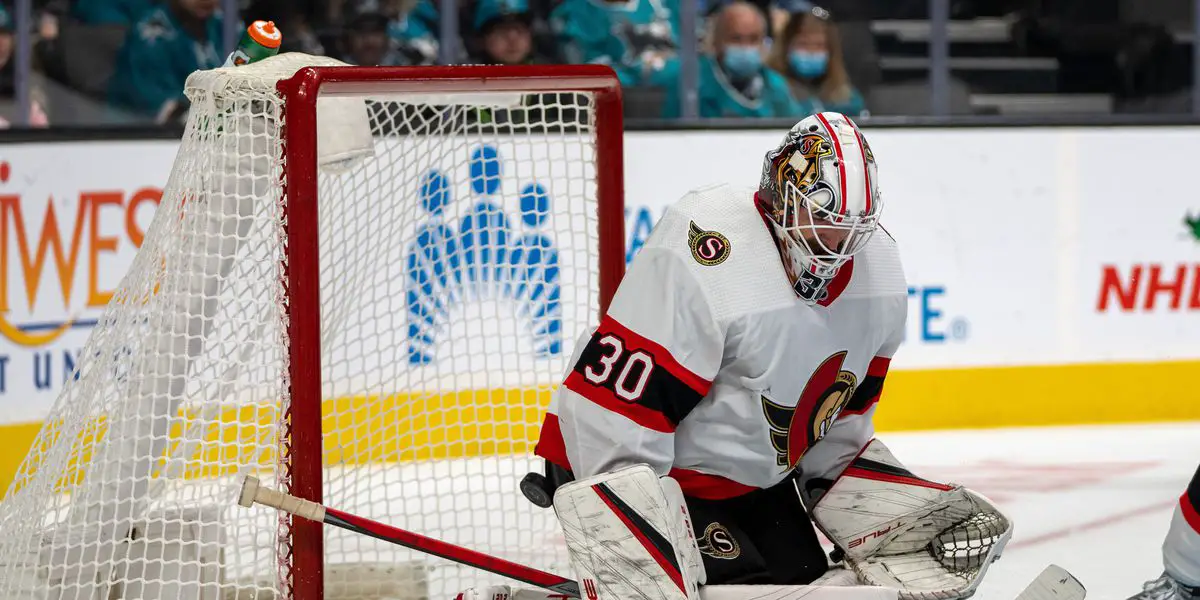 In the last few weeks, there have been many questions surrounding the future in the crease for the Toronto Maple Leafs, with names like Josh Gibson, Matt Murray, our very own Jack Campbell, and of course, going to the open market. But the question remains: who will be between the pipes next season?
Jack Campbell:
The latest on Campbell and the Maple Leafs is that the contract negotiations have started again. Still, things remain to be progressing slowly, and that appears to come after there have been other goaltenders linked to the Maple Leafs, such as Gibson and Murray. Is that a coincidence or a bargaining chip from Leaf's management? Could they be using the names linked to them as a chip to get a deal done with Campbell and lock him up to be the starter for the team for the next few years? Well, that seems like it could be working, but Campbell's agent did say that Jack would like to be here in Toronto, so it appears that it is not impacting the discussions happening between the two camps. The last reported known price for Campbell was around $5,000,000 per season for roughly three years, which could leave Toronto in a cap crunch worse than they already are. But many argue that he helped backstop your team to the best record in franchise history, and he deserves some loyalty from the Leafs. Sadly the NHL isn't about loyalty, it is about winning, which is something the Maple Leafs need to do and fast.
John Gibson:
Gibson is a player that I would love to have on the Maple Leafs, and now they have a chance to trade for him and make him the goaltender of the future. However, there is a minor issue that has come to the surface, and that is Gibson reportedly has Toronto in his 10-team no-trade list, meaning Toronto is essentially unable to trade for him unless he agrees to waive the clause. There is a catch-22 in this, and that is every year around July 1st, NHL players submit their trade lists, and so on July 1st, 2022, Gibson will formally submit his, and due to the chance of getting traded, he could update the list before submitting it. This could help Toronto because he could submit it and leave them off the list, allowing him to become available to the Leafs to attempt to acquire. It has also been reported that the Maple Leafs have little to no interest in trading for Gibson. Still, I wouldn't take that too seriously because acquiring Gibson would mean improving your team, and that is what Toronto and Dubas need to do before things go south. There has been some talk that Nick Robertson and Petr Mrazek could be part of a John Gibson deal if it ever happened.
Matt Murray:
Is Matt Murray the answer in Toronto? He has won two Cups with the Pittsburgh Penguins, so he has the experience of winning, and he knows what it takes, so would he be the answer for the Leafs?
My answer is simple, No. Murray is not the answer in Toronto regardless of the relationship he has with the GM Kyle Dubas. He is not going to solve your playoff problems when he cannot seem to stay healthy. I feel that if Toronto were going to give up a package to get Murray, it would be at roughly 50% retention. There could be a potential that Ottawa adds a player or a pick they don't mind getting rid of, but to me, it would be a waste of a package when you can just sign Jack Campbell and try and find the middle ground to get that deal done. Especially when Murray has only played 85 games in the last three seasons, but the idea is that he has the Soo Sault Marie Greyhounds connection with Leafs GM Kyle Dubas and that there could be a Michael Bunting-type story with Murray. But now is not the time for the reinvention of a player. It is time to win.
Although Campbell has been good for the Maple Leafs, I am ready to see a change in the crease and somewhat of a bigger splash from Kyle Dubas this off-season, so I am in favor of going after John Gibson. In a perfect world, it would be simple, but nothing good ever comes easy, and that is what John Gibson is. He is good and can start you north of 50 games per season. This is ideal because it allows the backup (Erik Källgren potentially) to eat the other 25-32 games and give Gibson a break when he needs the rest. The package to acquire Gibson will be a bigger one, but the Maple Leafs should be in a "win now" mode and be willing to sacrifice some of their prospects to get a deal like this done, especially if they are forward prospects. I would also try and get Max Comtois in the Gibson deal and offer a package consisting of Nick Robertson and Semyon Der-Arguchinstev as part of the deal who were teammates of Ducks' top prospect Mason McTavish in the OHL with the Peterborough Petes. I would also tie Petr Mrazek into the deal to help with the cap going in and out of the team. From there, the Ducks can decide what to do with Mrazek and elevates some of the cap stress that is on this team going into free agency.