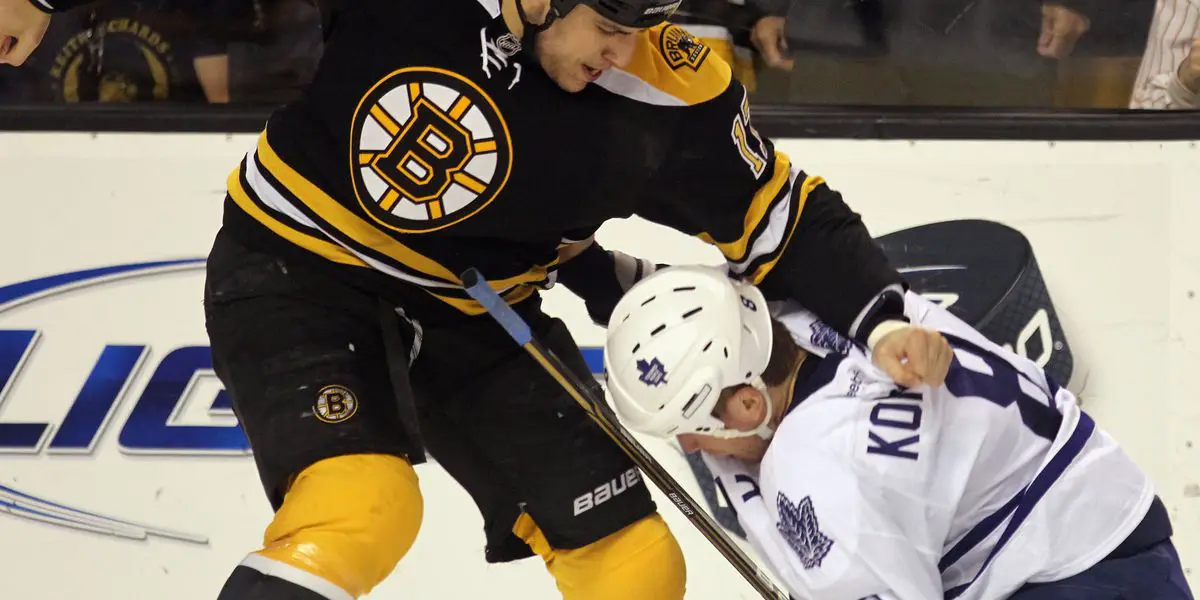 Since the Boston Bruins entered the league in 1924 as one of six teams that formed the NHL, there has always been a constant theme: big, bad, and physical, just like that of the bear they are named after. There was always a player or two on the team who wasn't afraid to drop the gloves and defend his teammates and set the tone of the game. He would constantly put players and teams on notice with big hits, a tough playing style, and a wicked left or right hook that would send the message that we were not going down without a fight. This identity of the Bruins has carried over for decades as a new player has emerged to take on this role year after year. This led to iconic players donning the black & gold under this role of an enforcer, whether as the primary fighter or as a gritty, skilled player like we've seen with many Boston greats.
The Birth of the Boston Enforcer
The bad boy Bruins all began in 1926 when "the Edmonton Express" Eddie Shore was sold to the Boston Bruins after the WCHL folded. Shore was the original bad boy of Boston as he wasted no time bringing his physical style of play to the team as he racked up 130 penalty minutes in his rookie season. Shore would set an NHL record during the 1927-1928 season when he recorded 165 penalty minutes in only 44 games. While Shore was only the beginning of the Big Bad Bruins mantra, many others have followed in his hall of fame footsteps.
The Big Bad Bruins of the 1970s and 1980s
The Boston Bruins of the 1970s and 1980s saw some of the toughest players in franchise history to ever lace it up for the black and gold. This was an era of hockey where the Bruin's toughness showed and having an enforcer on the team mattered. This era saw the Bruins roll out players such as Lyndon Byers, Mike Milbury, Stan Jonathan, Jay Miller, Cam Neely, and especially the legendary Terry O'Reilly.
Lyndon Byers was the true definition of an enforcer for the Bruins back in the day as he dropped the gloves a total of 80 times over his 261 games that spanned nine seasons for the B's. Byers also recorded back-to-back 200 penalty minute seasons from 1987 to 1989, including Byers dropping the gloves 24 times during that 87-88 season.
Mike Milbury was another guy that wasn't afraid to fight, whether it be the other team's players or even the fans, as he had that memorable fight with a Rangers fan where he beat the fan with his shoe. Milbury ranks second in Bruins history with 1,552 career penalty minutes, including 64 fights during his 12 year Boston career.
Stan Jonathan is one of the best pound-for-pound fighters in Bruins history as he stood at 5-foot-8 and weighed 175 pounds but still managed to drop the gloves a whopping 60 times during his 392 game 8 season career with Boston. However, Jonathan wasn't all about fighting, as he showed off his scoring ability when he had a career-high 27 goals and 52 points in a season. Even more impressive than that is that he once dropped the gloves 20 times during the 79-80 season.
While Jay Miller's career in Boston only lasted 216 games over four seasons, the 6-foot-2 Massachusetts native left a lasting impression in Boston as all Miller seemed to do was fight. Miller owns the claim as the all-time single-season leader in Penalty minutes when he somehow managed to rack up 304 minutes in only 78 games. During these four short seasons in Boston, Miller also managed to drop the gloves an impressive 87 times as he was never afraid to back down from a fight going up against the best fighters in the league.
We all know the offensive output and hall of fame career that Cam Neely had with his 344 goals and 590 points in 525 games, but when Neely lost his temper and wanted to fight, it was game over for those opponents. Neely hated cheap shot artists, and he was not afraid to put them in their place, as shown by his 45 fights over his career. Neely was a guy that would score on you first and beat you up second while imposing his physical style of play over you for the full 60 minutes of the game. Over his 10-year career, Cam Neely was able to rack up 925 penalty minutes showing he was no angel on the ice.
The final and most crucial enforcer in Bruins history and franchise record holder for penalty minutes in a career is the man himself, Terry O'Reilly. O'Reilly made a living imposing his will over the opposing team's players while also standing up for his teammates. O'Reilly was a menace when he dropped the gloves, often averaging over ten fights a season from 1974-1981 and reaching a high of 23 fights during the 79-80 season. There wasn't a truer enforcer in Bruins history than the Tazmanian Devil himself, as he's the only Bruins player to go over 2,000 penalty minutes in his career.
The Last Time the Bruins Had a True Enforcer
Two names stand out for the younger generation like myself: Milan Lucic and Shawn Thornton. These two guys were never afraid to drop the gloves to defend a teammate or bring energy to the Garden by dropping bombs on some opposing player's face. Shawn Thornton was an animal on the ice when it came to fighting, with over 100 fights under his belt during his Bruin's career and 55 of them coming between 2009-2012. Thornton was the top enforcer for the bruins during the 2000s and helped lead the Bruins to a Stanley Cup Championship in 2011; his physical play opened up opportunities for the top offensive players on the team. Lucic was another guy you did not want to mess with on this team; if Thornton wasn't the one hitting you in the face, good chances it was Lucic. Lucic wasn't just a fighter as he showed his offensive prowess during their cup-winning season with 30 goals. Lucic's dominating style of play, led by his ferocious body checks, made him someone you did not want to go toe to toe with.
What Does the Future Hold
After watching the Bruins game against the Rangers on Feb 15th, it became clear that the Bruins are missing that enforcer role on the team. Not only does an enforcer fight for his teammates, but he also opens the game for your star players. After watching Craig Smith get jumped by two or three Ranger's players towards the end of the third and no retaliation coming from any Boston player, it raised the question of who will step up and take on that vital role. The first name that comes to mind is Trent Frederic, a young 6-foot-3 guy that has shown he's not afraid to drop the gloves no matter the other player. It makes sense for Frederic to take on this role, but it seems the Bruins themselves don't want him being that guy as he's taken a step back this year from dropping the gloves. It's essential to have an enforcer established as they free up space around the ice for your star players, which can be seen on some of the best teams in the league with the likes of Ryan Reaves in New York, Zack Kassian in Edmonton, and Milan Lucic in Calgary. All three of these players can free up space in the offensive zone for some of the best players in the league. Only time will tell what Boston decides to do about the enforcer role, but hopefully, it's soon, and they can regain that identity of the Big Bad Bruins they once were.   
The boys are back after a long break but have plenty to talk about as the playoffs are in full swing. We go series by series, looking at how teams have fared so far and who will come out on top. Thanks for listening! Please rate and review our show on your favorite listening platform. Check out our partner's website at www.insidetherink.com for all your latest hockey news.