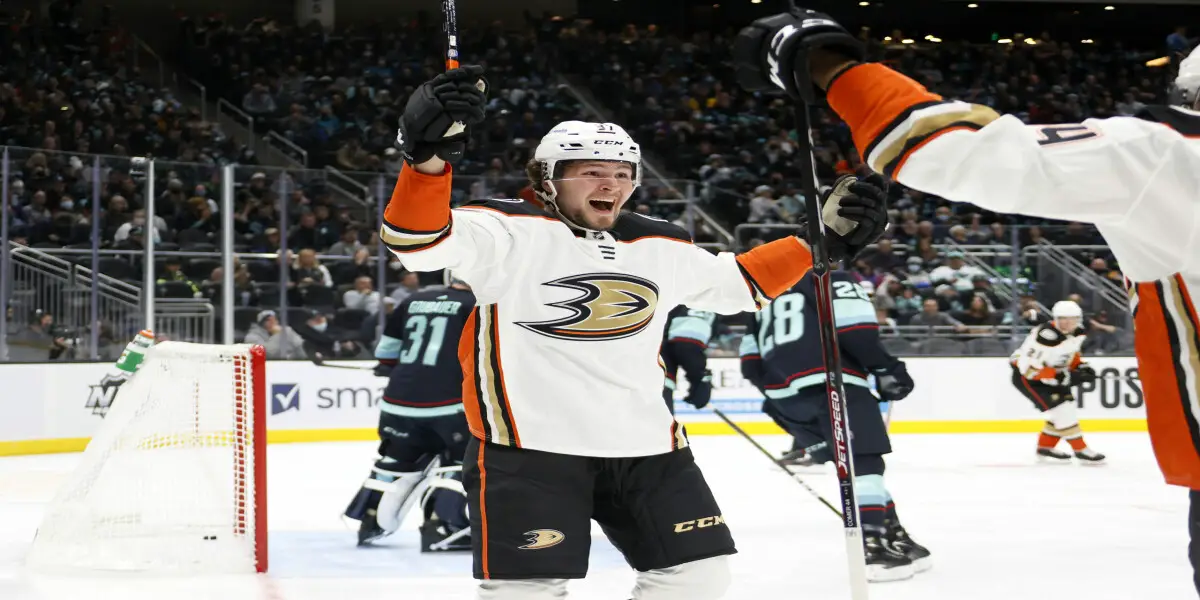 After being one of the worst teams on the power play all season, the Ducks are finally starting to turn it around.
On December 14th, the Ducks owned the 30th ranked power play at a measly 14.3%. The power play was stagnant, passive, and lacked basic puck movement. Everyone stayed in the same general area and tried to pass their way to create open shooting lanes.
Since then, the Ducks have played seven games and are sporting a 22.7% power play in that span which is good for 14th in the league. That would bring their season total to 16%, which now ranks 29th. The "new and improved" power play showcases the Ducks biggest strength, the kids.
The first power play unit for the Ducks features Mason McTavish, Troy Terry, Trevor Zegras, Adam Henrique, and Cam Fowler. Anaheim's Big Three of McTavish-Terry-Zegras drives play with their creativity and skill, that is, when they get appropriate ice time on the power play and do not get pulled early for the second unit, but that will be discussed later.
In the last seven games, the first unit has done a far better job moving around and creating more scoring chances. With Zegras manning the bumper, McTavish hanging out around the faceoff dot, and Terry rotating around the net, this new system allows the Ducks to have some flexibility and move the puck more freely. More moving parts now have the Ducks making cross-ice and seam passes which creates chaos for the penalty killers and more scoring chances.
What makes this power play unit so dangerous, along with their skill, is their ability to move the puck cleanly. Each player on this top unit compliments the other linemates' skills when playing with the right system. Fowler has always been a smooth-skating defenceman specializing in moving the puck around. Henrique has a high hockey IQ and uses it to get in the right spots to use his plus shot. Terry is a workhorse with the puck and creates a lot of separation from defenders with his stick-handling skills, and when he gets that separation, he can either use his sharp shot or feed a seam pass to Zegras or McTavish to finish it off. Zegras has unbelievable creativity and has the skill to pull it off. Zegras can dangle past a defender in a way that will make your jaw drop, or he can pull the puck in close and fire a wrister that just zips to a corner of the net. McTavish keeps improving every game as he builds a case for the Calder. The raw talent is there, along with the hockey IQ, so it is just a matter of getting more experience for McTavish to piece it all together, and it has been a treat to watch him piece more together every game.
Another thing that this power play has found is the deadly one-timer that McTavish possesses. McTavish hangs out around the faceoff dot in anticipation for one-timers and has gotten some golden opportunities as of late. The 2021 3rd overall pick's role on the power play has definitely helped his fast development. It is a testament to how much it helps a young talent like McTavish to have teammates compliment his game as opposed to career-long fourth liners.
However, one of the recent downfalls of this power play has been the predictability of them trying to feed McTavish one-timers. Opposing teams are starting to recognize when a pass to McTavish is coming, so teams are able to take away passing lanes to McTavish before the pass even gets sent. Also, instead of adjusting to the closed passing lane, the Ducks power play tries to force the pass to McTavish, and it either gets intercepted or ends up off the mark, and then they need to win a puck battle.
Another problem with the Ducks power play has been the inconsistencies of the second unit of Jakob Silfverberg, Ryan Strome, Frank Vatrano, John Klingberg, and Kevin Shattenkirk. This unit has far less skill than the first unit, so they have to rely on getting into those high-danger scoring areas. Silfverberg is not the same player that he was a few years ago before hip surgery slowed him down and took some bite off of his shot. Strome has not played completely up to expectations but is still scoring at a rate that is pretty much on par with his average seasons. Much like Strome, Vatrano has not performed up to expectations. Vatrano has a powerful shot, but he has not been able to finish plays this year like he has in years past. Klingberg's production has fallen off a cliff compared to how he played for the Dallas Stars. The big fish free agent signing is on pace for the lowest amount of points in his career by a wide margin (24). As for Shattenkirk, he has not been good at all in his time with the Ducks. Shattenkirk has made poor decisions that have made him a turnover machine, and he has lost any speed that he had left.
This second unit is very inconsistent for obvious reasons, but there are times when they look strong and even outplay the first unit once in a while. The inconsistencies go with the system in which this unit plays too. This unit does not really have an identity because it seems they are never on the same page. There is not much puck movement on this unit because Klingberg and Shattenkirk often try to fire shots from the point to cause chaos in front of the net but often times the puck never makes it to the net and is just blocked by the penalty killers.
The final problem with the Ducks power play is the difference in ice time between the two units. Usually, the first power play unit is on the ice for the first 70-80 seconds of the power play and sometimes more, depending on the strength of the top unit. Head coach Dallas Eakins only deploys the first unit for only 45-60 seconds despite the huge drop-off in talent between units. Instead of having a roughly 75% to 25% split in ice time, the Ducks are pretty much a 50-50 split. Obviously, having their top power play unit on the ice less has come to haunt them this year. There have been plenty of instances where the top unit will generate some great scoring chances and control play but then get switched with the second unit, and they spend the rest of the power play trying to get set up.
Hopefully, Dallas Eakins optimizes the power play's potential and keeps the top unit out longer. Maybe that should be Eakins' New Year's resolution. But It is a lot of fun watching that top unit with the young big three continue to find their stride, but when they get more time to do their thing, that line will become one of the better units in the league.
On this episode of LAP, Jake, Chris, and Lou talk the latest downward spiral of Ducks hockey in the last week. They cover the struggles the team is facing and how the absence of some key players is greatly affecting this young Anaheim team. They comment on the Corey Perry news and give their opinions on officiating league wide. Finally, the episode is rounded out with some listener questions!Follow Late Arrivals Twitter: @latearrivalspodInstagram: @latearrivalspodFollow the hostsChris: @CJKChelConnor: @91_PlutyJake: @_JRobles71Louis: @Louiex37 Intro/ Outro done by Will Rice/ @pastorwillrice