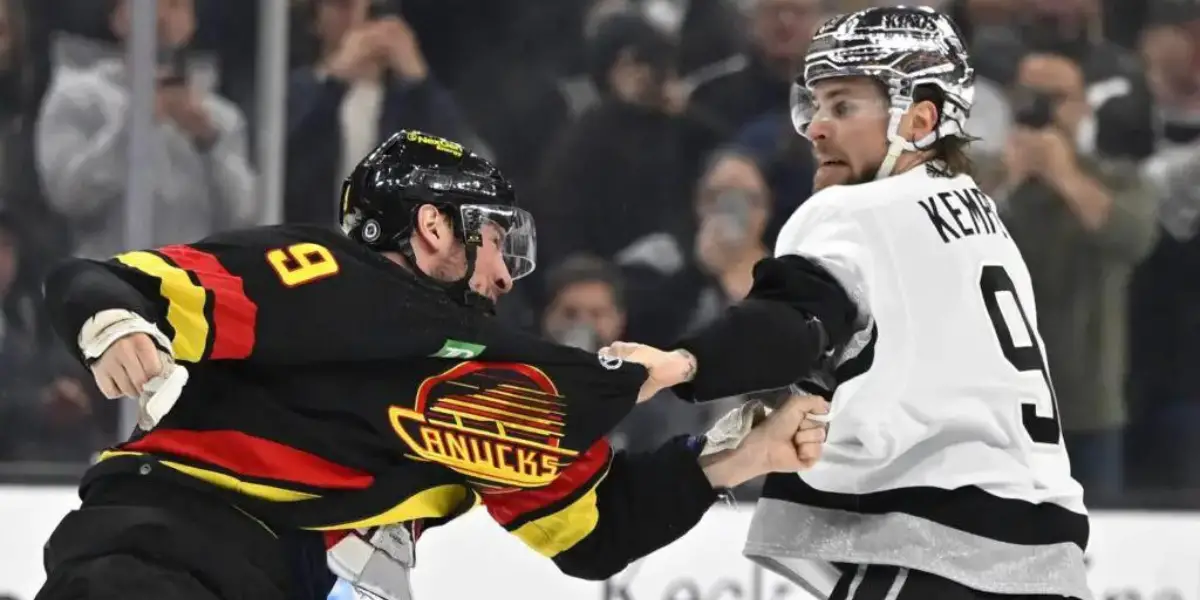 The Kings have been on the receiving end of some particularly dirty plays. Whether they got called for the exact nature of the incident is pointless now. Besides the glaring run and high hit on Kempe not just a few days ago, the knee-on-knee incident by Andrew Cogliano on leading point producer Kevin Fiala, the Kings have lost player after player due to questionable plays by opposing players.
For Instance, Mikey Anderson received a hit into the boards while his numbers were exposed to superstar Connor McDavid. Mikey Anderson did not return to the 2-0 loss in Edmonton on March 30th; he returned almost two weeks later in a triumphant 3-0 win in the second-to-last game of the year.
Gabriel Vilardi, one of, if not the Kings biggest breakout stars this season with 23 goals and 41 points as a +10 in 63 games, was taken out of the March 20th game against Calgary with a high hit. He was extremely respectful to Zack Parise after the knee on knee that he delivered to Vilardi mid-March in a 5-2 rout.
The Kings lost their top-pairing shutdown defenseman, their leading point producer, and their best depth forward in the span of two weeks at the most critical juncture of the season. Was there any pushback from the Kings in any of these incidents? Hardly so.
The Enforcer?
The Kings started the season with Brendan Lemieux, who played a quality depth role last season, emerging with solid chemistry with Blake Lizotte and Arthur Kaliyev. Lemieux wasn't a stranger to getting in an occasional scrap, but his play wasn't good enough to stay in the lineup when the Kings pipeline is burgeoning with as many quality players as they have.
General Manager Rob Blake shipped Brendan Lemieux off for rugged Flyers forward Zack MacEwen. MacEwen has more size than Lemieux and plays with a similar edge/skillset. The issue is that MacEwen came over with a broken jaw and has only registered one assist in nine games, averaging between 7 and 8 mins a night in March and April, respectively. In the two penultimate games against the Oilers, MacEwen played less than 4 mins in either game.
In the devastating defeat in Vegas, MacEwen took a run at Ben Hutton that turned out to be a major for boarding. The MacEwen trade has been a head-scratcher for the Kings fan base since his arrival.
A Defining Night
On April 11th, the LA Kings played Vancouver in their typical tightly checked way. Each game this season has been a low-event affair, with mostly perimeter play and some nasty checks thrown. The Kings had two scraps in this one, one by Sean Durzi and the other by Adrian Kempe.
Sean Durzi stepped up to fight Sheldon Dries after making up for his own mistake by giving Blake Lizotte a suicide pass in a spirited but lightweight tilt. But hey, Adrian Kempe? The Kings leading goal scorer dropping the mitts with JT Miller, a game after he received a high hit from Cogliano (again), was a huge sign for the Kings.
While Kempe didn't throw many haymakers or jabs, though he did wrestle JT Miller down and make the point clear, you don't want to see your leading goal scorer throw blows with those expensive hands, but it's about time the Kings showed some teeth and chase away any notion that this team is soft.
The boys are back after a long break but have plenty to talk about as the playoffs are in full swing. We go series by series, looking at how teams have fared so far and who will come out on top. Thanks for listening! Please rate and review our show on your favorite listening platform. Check out our partner's website at www.insidetherink.com for all your latest hockey news.