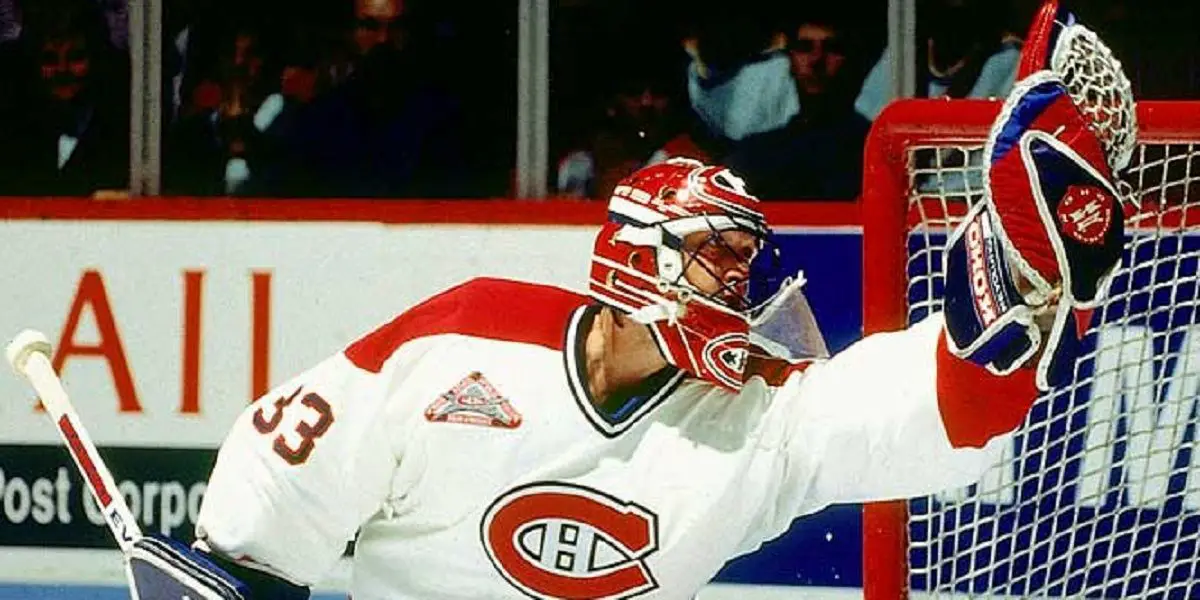 Since the full-season lockout of 04/05, the NHL has seen a dramatic increase in players and stars under six feet tall. There were the early diminutive trailblazers like Henri and Maurice Richard and Ted Lindsey. They played in an era that would give all of the health and safety experts of today that sit at home criticizing every hit, big or small, an aneurism.

Then came Theo Fleury, who played with an equal level of grit and skill you almost don't see today, with the exception of Brad Marchand and, to a lesser degree Brendan Gallagher. The Hall of Famer Martin St. wasn't even drafted. No one wanted him.

Since the mid-2000's lockout, the NHL draft has not only seen a dramatic uptick in smaller players getting drafted but these highly skilled players are getting drafted high and deservedly so.

So, with the uptick in drafting and developing all these smaller positional players, why is there only one starting goalie in the entire league currently under six feet tall?

Measuring in at 5'11" (via NHL.com rosters), Juuse Sarros of the Predators has taken the proverbial torch from Pekka Rinne and ran with it in Nashville. Anyone who turned on hockey in the '80s and '90s would have seen shorter goalies like Billy Smith, Pelle Lindbergh, Mike Richter, John Vanbiesbrouck, Grant Fuhr, Bill Ranford, Mike Vernon, and Curtis Joseph lift multiple Stanley Cups, Vezina trophies, or at the very least be mainstays in All-Star games.

Tim Thomas is the only one person to win a Vezina (09/11) under six feet tall since the lockout (04/05) rules changed the game and opened up more ice for shorter and more athletic forwards and defensemen. So, with the influx of shorter players all over the ice, why wouldn't there be more than one starting goalie and one backup (Halak) in the entire league under six feet tall?

A few possible explanations, but it's all conjecture.

Is it possible that all the would-be goalies want to skate out now without fear of catching an elbow in the corner or enduring any of the other madness that occurred in the previous decades? Possibly, but let's be real for a second. Goaltenders in every sport are fit for straight jackets, and I mean that in the most loving way possible because I would have been a goalie if the equipment wasn't so darn expensive. Maybe if I was an only child, my parents could have afforded it, thanks Matt and Dan. But I think we can safely rule out goalies being scared since they stop a piece of vulcanized rubber moving at speeds upwards of 100MPH.

Although I haven't done extensive studies, I would also rule out the height and parental financial well-being as having any direct correlation.

If we look a little deeper, this could be the Butterfly Effect (not you, Ashton) dating all the way back to the mid-'80s when Patrick Roy made an already existing style of goaltending popular. Since then, the butterfly technique has been preferred amongst NHL goaltenders. It seems pretty self-explanatory that a bigger body fills more of the net, to begin with, but when shorter goalies take away the lower half of the net in the butterfly position, they expose more of the top shelf.

This all just adds to the impressive season that Juuse Saros has been constructing. He's leading the Nashville Predators back into playoff contention and effortlessly transitioned the franchise from its best goaltender ever into another era of premier netminding. I can't watch him and not think of Mike Richter making one athletic save after another. His numbers are up there Shesterkin, Anderson, Vasilevskiy, and Campbell as the best in the game and will more than likely play the most games of any NHL starter this season. I'll save you the analysis by paralysis of numbers and analytics and leave that for the writers who aren't dyslexic. I don't know if it will be enough for him to win the Vezina, but I would be shocked if he didn't show in the top three at the end-of-season awards show.
Episode 51: Interview w/Jack Ahcan Episode 51 is back in action talking about the New York Paingers ITR bet, Can Buffalo Sabres make the playoffs? Is Vancouver in the wrong on the Boudreau treatment? Is Tocchet the right guy? Is Daryl Sutter the last Dinosaur in the NHL?YouTube: https://www.youtube.com/@insidetherinkTwitter: https://twitter.com/CueTheDuckBoatzFacebook: https://www.facebook.com/Cuetheduckboats/Thanks for listening! Please rate and review our show on your favorite listening platform. Check out our partner's website at www.insidetherink.com for all your latest hockey news. Also, catch all of the games in this year's NHL season by signing up for ESPN+ at Insidetherink.com/ESPN