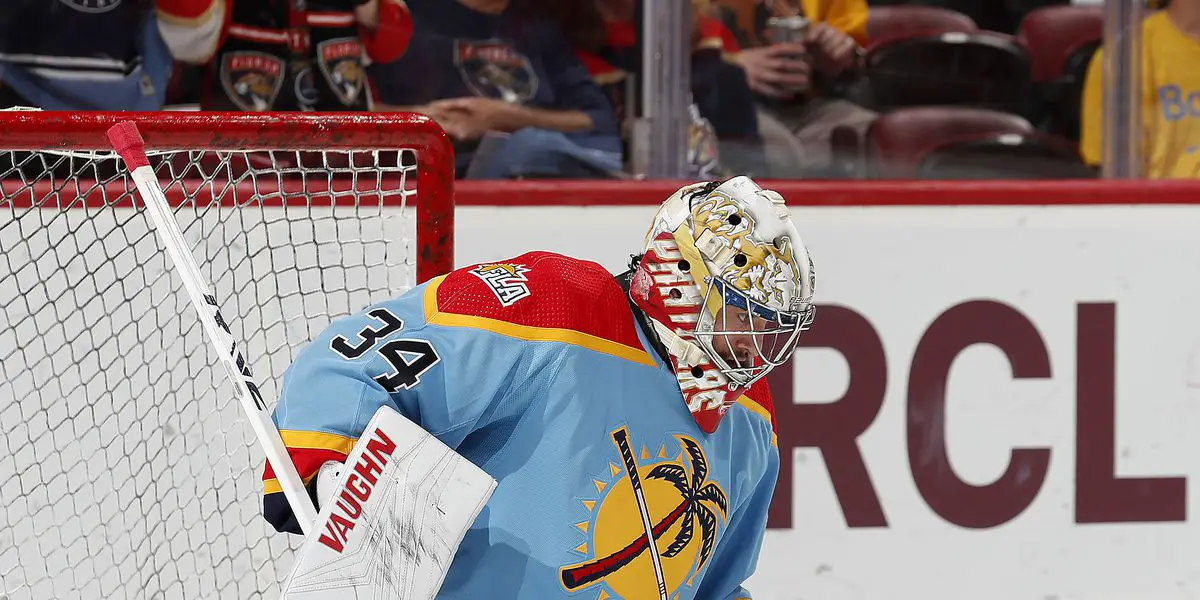 After being the best team in the league last season, the Florida Panthers struggled to find their way for much of this year.
Do not look now, but the Panthers appeared to have found themselves at the most important time of the regular season. Thanks to a Buffalo Sabres loss to the New Jersey Devils and a loss by the Pittsburgh Penguins to the Chicago Blackhawks, the Panthers clinched a playoff spot.
As of this writing (Tuesday, April 11), the Panthers are currently in the first wild-card spot in the Eastern Conference with 92 points, thanks to a 42-31-8 record. It is very easy to give a lot of credit to the team's best player Matthew Tkachuk.
Tkachuk, a potential Hart trophy candidate as the league's most valuable player (that will more than likely go to Edmonton Oilers superstar Connor McDavid), leads the team in goals (40), assists (68), points (108), power-play points (36), game-winning goals (six), and shots (319). He certainly did his part in helping the Panthers get into the postseason this year.
With that said, one other player deserves some credit for helping get this team into the playoffs. That player is 30-year-old goaltender Alex Lyon.
Lyon almost singlehandedly willed this Panthers hockey club into a playoff spot with some unbelievably strong play between the pipes. He is currently 9-3-0-2 with a 2.80 goals-against average, a .916 save percentage, and one shutout.
He has especially been good over his last five starts:
April 1st versus the Columbus Blue Jackets: 21-save shutout victory.
April 4th versus the Buffalo Sabres: Stopped 39 of 40 shots in a win.
April 6th versus the Ottawa Senators: Stopped 56 of 58 shots in a win.
April 8th versus the Washington Capitals: Stopped 22 of 24 shots in a win.
April 10th versus the Toronto Maple Leafs: Stopped 23 shots in an overtime loss.
Thanks to his great play last week, Lyon was named the league's third star for the week ending on April 9th. He won three games and posted a 1.67 goals-against average and a .959 save percentage.
There are a few reasons why Lyon has been playing so well for his hockey club. For starters, he is a battler.
Lyon does not give up on any puck. He makes first, second, and third stops if he needs to, and he uses whatever part of his body he needs to in order to keep the puck out of the net.
Secondly, Lyon experienced an intense playoff run with the Chicago Wolves of the American Hockey League last season. Lyon helped lead the Wolves to a Calder Cup by going 9-3 with a 2.03 goals-against average and a .923 save percentage.
Yes, the NHL and AHL are very different, but playing in a playoff atmosphere where every game means something clearly impacted Lyon in a positive way. He has shown in his stint with the Panthers that he can handle the pressure and get the job done.
Lastly, it is clear that Lyon is playing with a lot of confidence. He has shown both the Panthers and the rest of the NHL that he can have success at this level if given a real opportunity to do.
Lyon has essentially come on and saved his team's season from being a big disappointment. Remember, this was a team that was the best team in the league last year and one that was in danger of missing this year's postseason altogether this year.
With the Panthers now in the playoffs, it will be interesting to see who gets the net. Will it be starter Sergei Bobrovsky, a goaltender that they are paying a handsome amount, or will it be Lyon, the guy that went above and beyond the call of duty for the last few weeks and played out of his mind?
In my mind, it is Lyon's net to lose.
The boys are back after a long break but have plenty to talk about as the playoffs are in full swing. We go series by series, looking at how teams have fared so far and who will come out on top. Thanks for listening! Please rate and review our show on your favorite listening platform. Check out our partner's website at www.insidetherink.com for all your latest hockey news.