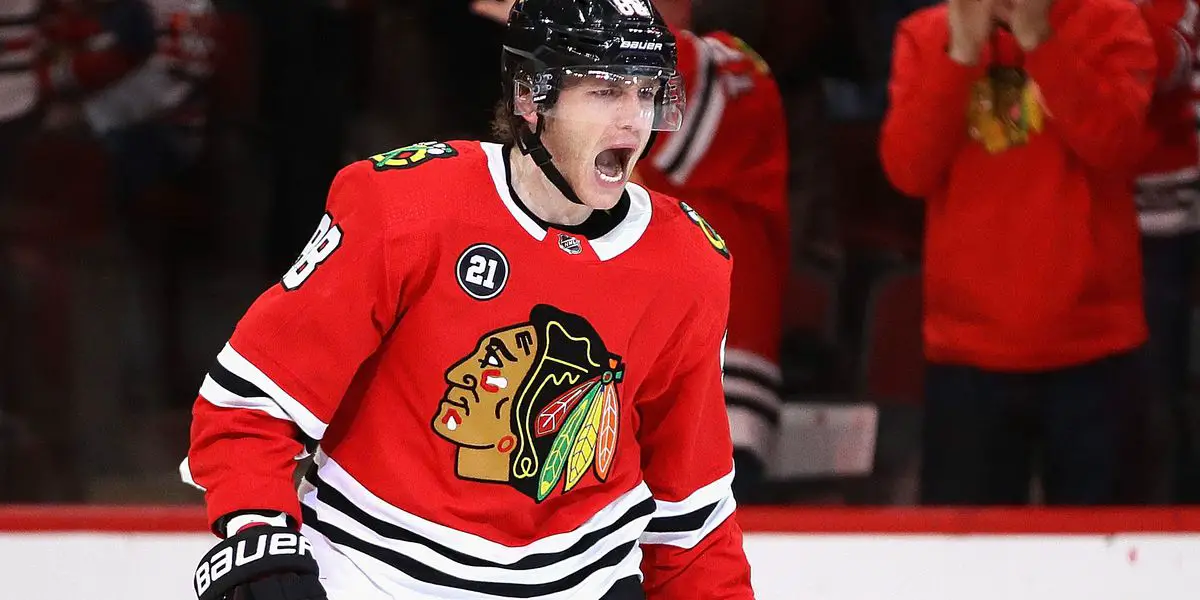 With Ryan O'Reilly now in Toronto and Vladimir Tarasenko already ripping it up in New York, the trade market for Patrick Kane is thinning and thinning fast (almost as fast as Kane's hairline). Will the aging American superstar be able to find the right landing spot before the trade deadline, or will he be stuck riding out the year on a rebuilding Chicago Blackhawks team?
While Kane has been a name atop many trade target lists since the season began, the Blackhawks seem to be having a hard time moving him. This happens when a player appears to have lost a step and is making $10.5 million. Furthermore, he has a full no-trade clause and gets the final say on where he wants to go, which clearly handcuffs Chicago.
That said, Kane still has a lot to offer a contender, as witnessed by his hat trick the other night against Toronto.
We've also seen plenty of instances where a change of scenery reinvigorates a career, and being on a team that is losing as often as the Blackhawks are, definitely takes a toll on a player. Especially a player like Kane, who wants to win and already has three Stanley Cup Championships in the cupboard and a Conn Smythe.
To get a deal done, Chicago will no doubt have to eat some of his salary and may not get as much of a return as expected for a superstar with Kane's pedigree. Also, whichever team acquires Kane, it will most likely be as a rental. I should note this is purely speculation on my part as the optimist in me expects and wants him to sign in Buffalo this offseason. How great would it be to see Kane line up next to Tage Thompson for his hometown Sabres? But I digress.
As mentioned above, the Maple Leafs and Rangers would've been great fits for Kane, who stated New York was one of the teams that had interested the Buffalo native. While he could still end up in either location, getting that deal done would require some deft maneuvering from the teams involved.
On top of that, Kane has admitted that while the Rangers were a team he was interested in, he and his agent, Pat Brisson, haven't told Chicago exactly what he wants. Kane is the definition of a franchise player, and the Blackhawks are the only franchise he has ever known, so it would make sense he wants to do right by them. So where does this leave the player and the franchise?
If you ask social media, the Blackhawks hosted the Vegas Golden Knights Tuesday night, and Kane should've been on the flight back to Vegas after the game.
I find it hard to argue with this take, and it would be a good move for the Knights, who currently lead the Pacific Division. They will definitely need some help to hold off the surprising Los Angeles Kings and Seattle Kraken since the VGK just placed Captain Mark Stone on long-term injured reserve.
That move created a roster spot in Vegas and freed up around $9 million in cap space, and then Kane even had a heck of an audition when he scored what I believe should've been the game winner in overtime last night (Blackhawks eventually won in a shootout). But could the stars finally be aligning in the desert for the Knights and Kane?
Where do you think Patrick Kane will end up? Let us know in the comments section below!
The boys are back after a long break but have plenty to talk about as the playoffs are in full swing. We go series by series, looking at how teams have fared so far and who will come out on top. Thanks for listening! Please rate and review our show on your favorite listening platform. Check out our partner's website at www.insidetherink.com for all your latest hockey news.