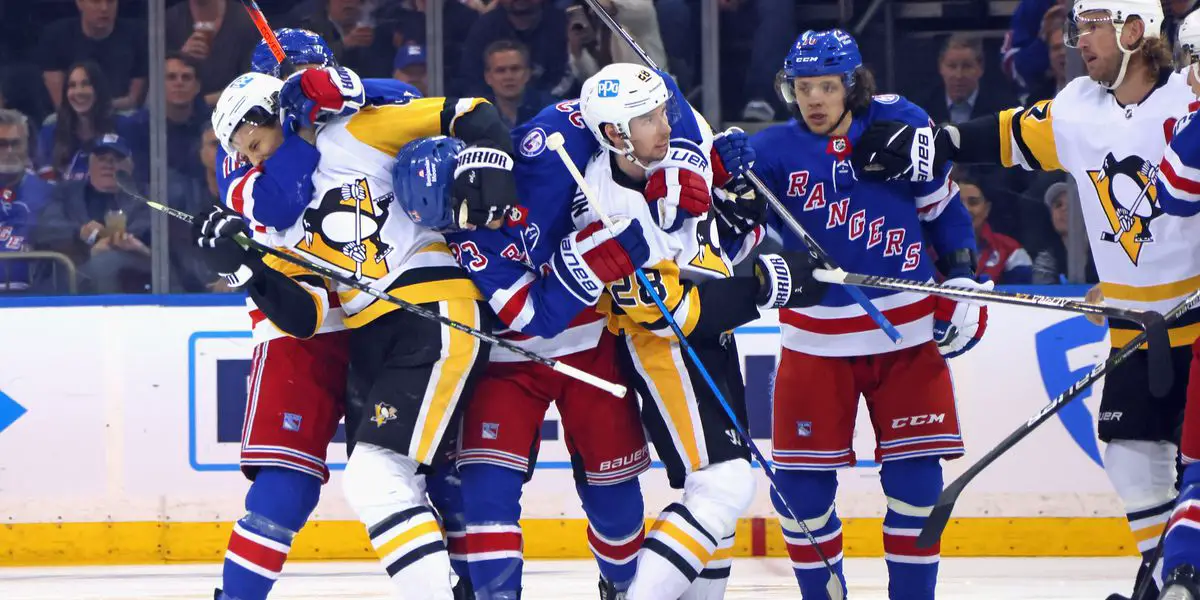 The New York Rangers don't make anything easy. The Blueshirts have teased us with phenomenal periods and flashes of brilliance throughout this season, only to resort back to mediocrity quickly. They always endured those vacations to mediocrity due to the stellar play of Igor Shesterkin. Last Saturday night, the Rangers went on another mini-vacation, or they thought the game started at 8 pm instead of 7 pm. The first period of Game 3 in Pittsburgh was disastrous, and Igor Shesterkin couldn't transcend the Rangers' dreadful start. 
Similar to game 1 of this series, game 3 featured a ravenous home crowd that fueled their team in the first period. Within two minutes of the first puck drop, a fluke goal from below the goal line bounced in off Patrik Nemeth (we'll get to you in a second). Two ill-advised penalties later, and the Penguin's tally was quickly up to three with just half the period finished. Braden Schneider contributed to the Pittsburgh party with the worst turnover of his young career, leading to another Evan Rodriguez goal. One fluke goal, a defensive zone turnover that resulted in a point-blank scoring opportunity, a shot off the boards that rebounded fortuitously right to an uncovered forward, and a powerplay goal that Igor usually stops resulted in the Ranger's worst period of the season. 
If you've been watching the Rangers all season, this game should be no surprise. Lulls have plagued New York throughout the 2021-22 campaign. These spells usually come after an impressive period or a rare complete game. These hiatuses have been few and far between since the trade deadline acquisitions balanced the lineup. However, the injuries to Ryan Lindgren and Barclay Goodrow seem to have severely hampered the Ranger's play.
On top of that, Patrik Nemeth has had a terrible first week of the playoffs. After a horrid start, Nemeth had a solid finish to his season that was beleaguered with COVID and family concerns. Justin Braun and Nemeth in the lineup at the same time collectively make this defense exponentially slower, which results in them chasing the puck as opposed to setting the pace of play. The reasons why the Rangers are down 1-2 in this series shouldn't solely rest on injuries, their replacement, or penalties. The Rangers have repeatedly shot themselves in their own feet with poor turnovers and bad penalties. I don't care about your officiating complaints; adjust to how the game is being called and move on. Harping on the officiating isn't going to change anything. 
One of the bright spots for the Rangers after the disappointing last seven days is the emergence of the 3rd line. "The Kids" line has not looked out of place once in these playoffs and almost won game 1. When the trio of Lafreniere, Kakko, and Chytil step onto the ice, their collective speed is consistently noticeable and is starting to make a difference. Still, If the Rangers are going to come out of this series victorious, they'll need everyone to pull the rope in the same direction for consecutive periods in consecutive games. Not one or two lines here and there. This is one of the lessons young teams seemingly need to learn the hard way before they can go on an extended playoff run. Can the Rangers learn this lesson on the fly? 
This uphill climb is currently not a gargantuan feat. There is one thing the Rangers can take away from the first three games of this series, they still haven't played their best and are only down one game. If they lose Monday night, it becomes just that.
Six thoughts heading into Monday night's game 4:
What's the status of Ryan Lindgren?
Does Gallant put Zac Jones into the lineup if Lindgren remains out?
            If he does put Jones in (I think he should have in game 2), were in the lineup does he put him? Does Jones slot in with Schneider for an all-rookie 3rd pair, or does he put him with Adam Fox? 
            How does Igor bounce back after his most disappointing NHL game? 
            Do the Rangers put a full 60 minutes together?
Do they continue the season-long narrative of bouncing back after a tough loss?
In this weeks episode we have on Nick Morgan from Locked on Predators pod to discuss coaches Hynes and Laviolette.Thanks for listening! Please rate and review our show on your favorite listening platform. Check out our partner's website at www.insidetherink.com for all your latest hockey news.