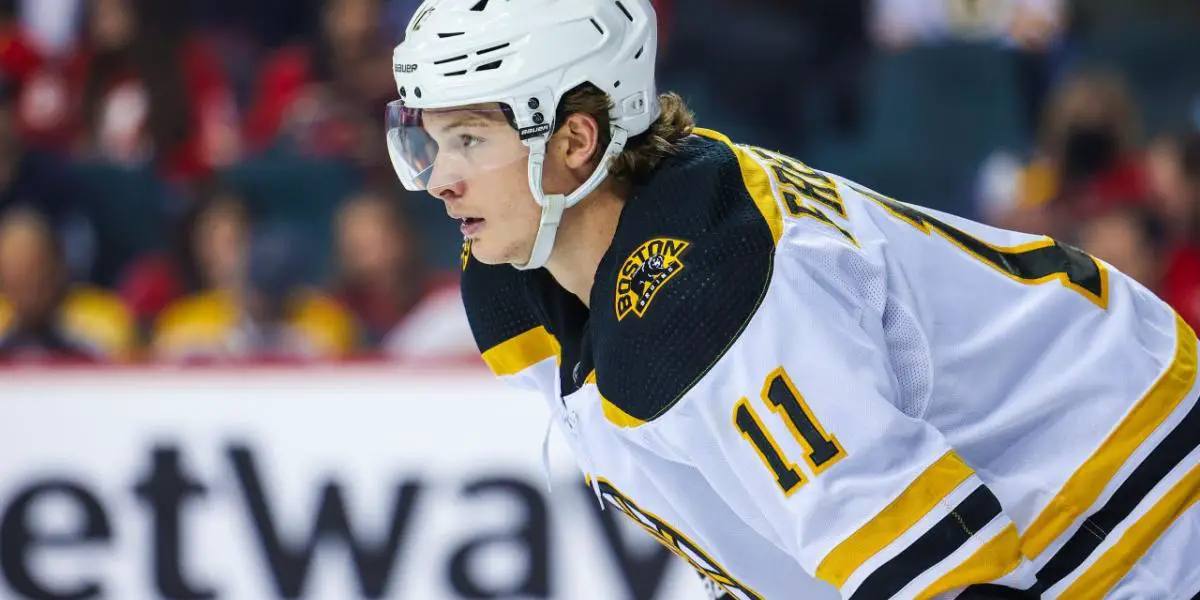 As far as first-round picks go, Boston Bruins' forward Trent Frederic's ceiling was always a bit lower than most. Even when General Manager drafted Frederic in 2016 with the 29th overall pick, the scout on the former Wisconsin University star was a grinding third-line center at best. The Bruins had just drafted Boston University defenseman Charlie McAvoy with the 14th pick and felt Frederic had the potential to be a "Bruins-type" player. Six years later, Bruins' fans have lamented the fact that Chicago selected 41-goal scorer Alex DeBrincat 10 picks later, but that is pure revisionist history and the rest of the draft was fairly weak.
Last season was an up-and-down season for Frederic, who was effective at times on a line with Charlie Coyle and Craig Smith, but at other times, inconsistent. The St. Louis, Missouri native, seemed to be in and out of Head Coach Bruce Cassidy's doghouse by taking untimely penalties and not giving much offensively. There were questions about whether Frederic had the skating ability to compete nightly at the National Hockey League level. Frederic would go into extensive offensive droughts, and coming into the 2022-23 season, the Bruins had added bottom-six depth with players like AJ Greer and Marc McLaughlin, and fellow Bruins' draft pick Jakub Lauko was pushing for a spot in the lineup as well. With one year left on his contract, it seemed that Frederic was on borrowed time.
After a season that saw Frederic score eight goals with ten assists in 60 games for Boston in 2021-22, the pressure was on to keep his spot in the lineup. What has transpired has been a resurgence of sorts for the 6-foot-3, 215-pound forward. Frederic has five goals and four assists in 20 games culminating in a two-goal performance in a 5-1 win against Colorado on Saturday night. The left-shot center is excelling on the third line with Coyle and the recent addition of former first-overall draft pick Taylor Hall. Frederic played on the left side last season but has moved over to right wing for the last few games. Early chemistry for the trio seems to give Boston newfound balance throughout the lineup.
But it is not just the linemates that have helped Frederic. After Saturday's win, the 24-year-old talked about the different feeling in the locker room under new Head Coach Jim Montgomery. "We are having fun…when you're winning, goals are coming from everyone…the guys I play with have helped me a lot. Hallsy and CC have been great at putting confidence in me." Frederic wasn't the only young player to struggle at times under Cassidy, and some of the success early this season might be attributed to a fresh start with a new coach.
Regardless of what has caused a rejuvenation in Trent Frederic, the Boston Bruins are reaping the benefits and could be finally seeing what Sweeney and the organization were hoping for when Frederic was drafted in 2016, some first-round production from the pending restricted free agent.
Season 2. Episode 38. Special Guest Terrence Wallin
–
Bruins Benders Podcast
Maine Mariners Coach Terrence Wallin makes a return visit to recap the season. Should the Bruins make room for Tyler Bertuzzi? Will the Bruins move some core pieces? I guess there is more time for golf and more!