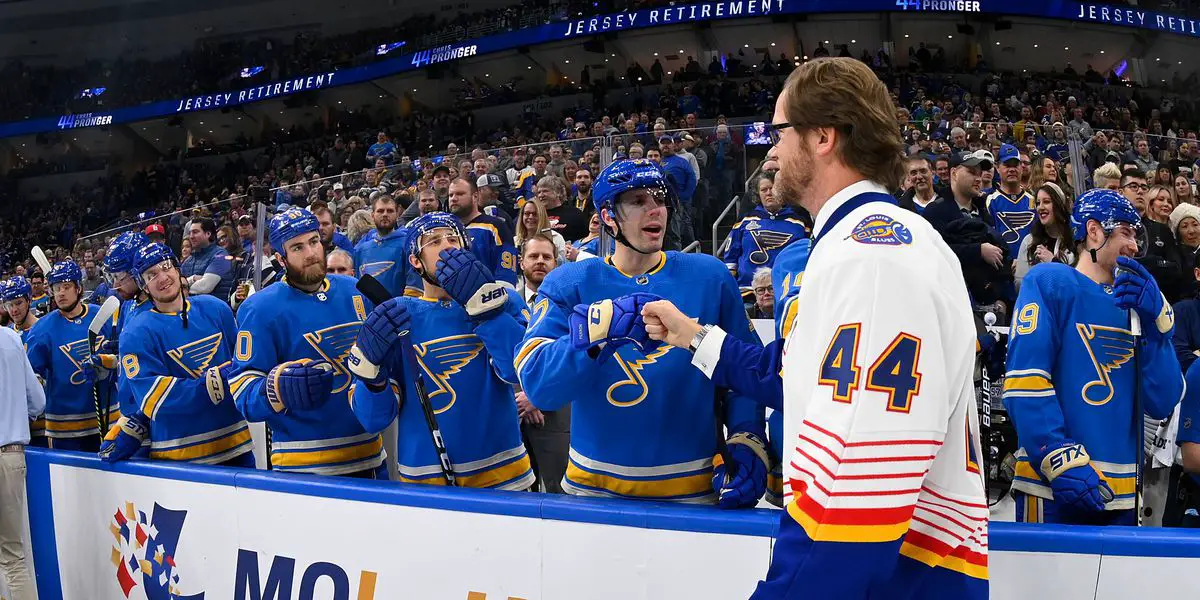 Hall of Fame defenseman Chris Pronger was honored by the St. Louis Blues organization on January 17th by retiring his number "44" to the rafters at The Enterprise Center. It was a great night for the 47-year old Pronger, who played 1,167 games with five teams, including 598 for the Blues. The night was filled with stories, accolades, and swilling beer on the ice.
Pronger was the 2nd overall pick in the 1993 NHL Draft by the Hartford Whalers. The 6'6″ defenseman out of Dryden, Ontario, played a physical style and was a fearless leader for the Whalers, Blues, Flyers, Oilers, and Ducks. He was so fearless that he suffered an acute heart attack on the ice in a game against Detroit in 1998 when he took a puck to the chest. Pronger's career would end in 2011 as he suffered post-concussion syndrome and a severe eye injury that impaired his vision.
Chris Pronger was a highly skilled player who was considered by some around the league to play a style that sometimes crossed the line and resulted in eight career suspensions. The four-time all-star won the Norris and Hart Trophies at the end of the 1999-00 season. Pronger is the last defenseman to win the Hart Trophy and was the first to win it since Bobby Orr won three consecutive Harts from 1969 to 1972. The big defenseman was
a great player for sure. But where does he stand among defensemen in National Hockey League history?
Pronger's former teammate, Hall of Fame defenseman Al MacInnis, said during the ceremony that Prongs was "perhaps the greatest defenseman of all time." This statement comes from a guy who totaled 934 points as a defenseman. There is no denying that Pronger is probably a top 20 defenseman, but if you are debating the best all-around defenseman in history, Bobby Orr would have to be number one. Orr changed the game of hockey and the role that defensemen would play on the ice. Several rinks in the greater Boston area were built due to Orr's larger-than-life status in Boston in the early 1970s.
Robert Gordon Orr revolutionized the game. Along with winning the Hart Trophy three times, Orr took home the Norris Trophy eight times and was an all-star nine times. There were fewer teams, and the game was different back then, but Orr is still the greatest of all time. Another former Boston Bruin, Raymond Bourque, would also have a fair argument when discussing his place in history. Bourque had 1,506 points and was a 19-time all-star to go along with five Norris Trophies. Bourque was as good defensively as any blueliner ever to play and paired it with a tremendous shot and offensive skill. As far as Chris Pronger is concerned, he is certainly one of the greatest defensemen ever. It can be debated whether Pronger would be top 10 or 15, but certainly not number 1. That belongs to number 4. Congratulations to Chris Pronger on having his number retired as the greatest defenseman ever to play…for the St. Louis Blues.
Fabian Lysell is the Bruins' "top" prospect, jersey ads are here, David Pastrnak is not at captains' practice and rookie camp begins!