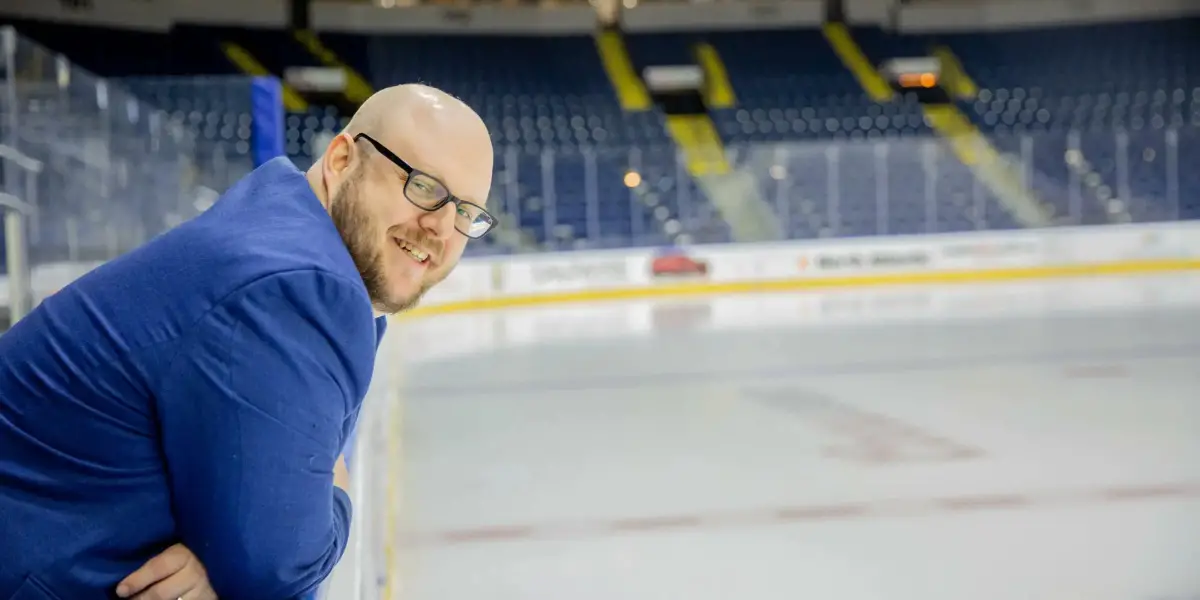 In this unique one-on-one, we sit down with Chris Ballard, known as 'the voice' of the Newfoundland Growlers, to ask a few professional – and very personal – questions. Born in St. John's, Newfoundland, Chris Ballard took over the primary play-by-play for the Newfoundland Growlers in their 2018-19 premier ECHL season, which just happened to conclude with the team claiming the Kelly Cup Championship. Before that, Ballard spent three seasons as a play-by-play broadcaster and public relations coordinator for the ECHL's Brampton Beast. However, this isn't 'The Voice's' first time providing color commentary for a team on Newfoundland soil. Ballard spent two seasons with the St. John's IceCaps, providing content for the team's website and contributing to the broadcast as the 'IceCaps Insider' on Rogers TV. A Memorial University of Newfoundland graduate and Centennial College's Sports Journalism graduate program, Ballard took over the commentating reins from longtime IceCaps and St. John's Maple Leafs broadcaster, the legendary Brian Rogers.
Question: So you just had a birthday this past Monday? What number was this one? Sweet 16?
Ballard: Sure. No. 36. I accidentally thought I was a year older for the last couple of years, so I had to Google the year and double-check. But I did my math, and I'm 36.
Question: Where were you born?
Ballard: Right here. I was born in St John's, Newfoundland.
Question: You have a claim to fame. I think you know what I'm talking about. When it comes to broadcasting?
Ballard: According to my research, in Canadian, no one has called more ECHL games than I have. Again, that's in Canada and based on my own research. I was the play-by-play guy for the Brampton Beast from 2015 to 2018. I joined the Growlers in 2018 to the present, and there was only ever one other ECHL team that ever existed in Canada, and that was in British Columbia back in the mid-2000s and they weren't around long enough for anyone else to have called more games. So by that logic and that deductive reasoning, I've inferred, I guess, that I've called more than anyone else in Canada in the ECHL.
Question: How did you get interested in the game of hockey?
Ballard: I guess my next level infatuation with hockey kind of came about in the mid-nineties when I started playing hockey video games and collecting hockey cards in addition to watching and playing the game myself. When you dive into a video game on your Sega Genesis that tells you a guy's ratings and all of his stats, and then you go to the gas station and get hockey cards on it, you absorb that stuff. I just found myself drawn to the numbers and the minutia of the game very early, and that stuck with me as I grew into being a hockey fan, and then that grew into wanting to pursue a career in the hockey field. And I'm glad that next-level hockey fandom has led me to what I consider to be a dream job. That's never lost on me. I'm very fortunate that I've been able to turn that little obsession from childhood into my career. Feel truly blessed.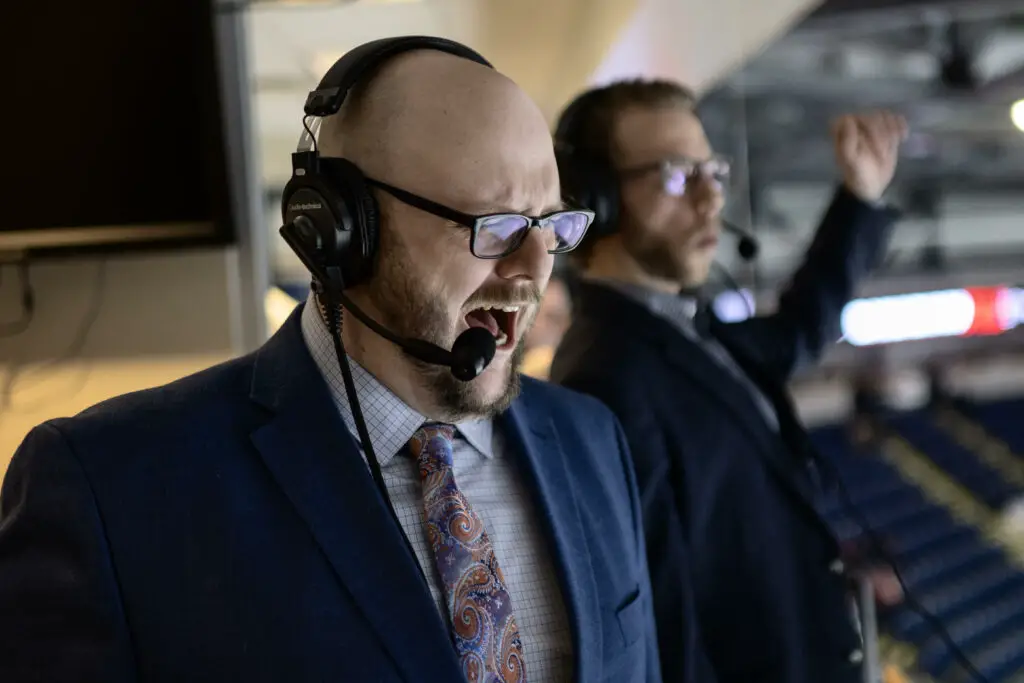 Question: I have down here to ask you about your favorite sport, but I'm guessing we probably know what it is.
Ballard: Hockey is number one in my books, but I am a big sports fan in general. I don't find I watch hockey for enjoyment the same way that I maybe used to watch it in my free time. I've become a big F1 racing fan over the last couple of seasons. I'm excited for the Blue Jays baseball season. I used to cover curling back in the day, so I've always been a big curling guy. I used to work in the golf industry as well, so I guess I'm a big sports fan in general.
Question: Let's give Newfoundland some love. What's your favorite Newfoundland dish?
Ballard: Oh, that's tough. Who could narrow it down? I'll give you a breakfast, lunch, and dinner. All right. How can you go wrong with a piece of fried baloney and toutons for breakfast? I don't think there's much better than that. We're talking traditional Newfoundland cuisine. For lunch, a bowl of Nan's turkey soup wouldn't go astray. And for supper, a feed a jiggs. I mean, again, if Nan is cooking, it would probably be the best. But, yeah, I mean, hard to say no to a feed of jiggs dinner. I'm a classic jiggs kind of guy.
Question: Love it. Who taught you your skills on air? The tone? The approach?
Ballard: That's a fair question. I mean, the boring answer would be my professors in journalism school were the first to kind of help mold me in that sense. I did sports journalism at Centennial College in Toronto in 2010, but everyone I've ever listened to has influenced my voice to be what it is today. Most notably, it would be Brian Rogers, the voice of the St. John's Maple Leafs and IceCaps, as well as Bob Cole, the voice of hockey in Canada. Those were the two voices for me that I really grew up listening to and emulating, and gravitating towards. And I do think that's pretty evident in the way that I call the game today.
Question: Best on-air Flub? Something you said that you think back on now, and it makes you laugh or cringe?
Ballard: I am proud to say I've never cursed on the air. Never been even close. I'm happy about that. There's names that are tough, but names are something I pride myself on trying to get right because I know there's always going to be family or parents or friends tuned in, and they deserve to hear their friend or family member's name said correctly. However, in the heat of the moment, I can't remember the exact moment, but there was one player. I remember his name now because I made sure to get it right. His name was Abbott Girduckis. Girduckis was his last name, and in the heat of a call, I think he scored against the Growlers, and I called him 'Turduckit,' and I felt really bad about that because I probably said it out of a little bit of saltiness, a little bit out of forgetfulness of his name. And I felt bad about that because that was unfair to him. So I would consider that a pretty big, relatively innocent, but a flub nonetheless that I think turned into kind of a chuckles moment for people listening. If I'm going to make a mistake, that's how I'd like to make it: By making people listening laugh.
Question: What do you like to be referred to as when it comes to your job title? Do you like to be called a commentator or a play-by-play announcer? What's your go-to?
Ballard: Good question. And I don't think I've ever been asked that. What's on my business card would be play-by-play broadcaster. But depending on the audience, you can call me an announcer. I'll wear all that.
Question: You use Newfoundland phrases often while on air. Is that intentional, or does it come naturally?
Ballard: I would call it a little bit of both. I'm aware of what I'm putting out there in terms of my use of the language because this is a Newfoundland team, and I want to bring a little bit of our flavor. And what makes Newfoundlanders so unique as people is that we're boisterous, and we're great storytellers. We love to tell a yarn. And I kind of lean into that a little bit for sure by using some of my phrasing and by some of the stories that I'll tell on the air and stuff. If someone is listening in from Ontario or B.C. or from somewhere else, I'd like them to be aware that they've tuned in to a Newfoundland broadcast. I kind of like them to feel like they're there in Newfoundland. They're getting a little bit of Newfoundland flavor without it being too distracting. So I do try to find that kind of good, fine line between being a caricature of a Newfoundlander while also calling a professional hockey game. I think that there is a balance to be struck there.
Question: Best phrase you feel that you've coined in the industry?
Ballard: I don't think I've broken through into that level where I have my own catchphrase or my own phrase that is uniquely my own. One thing that I say that I think fans have grabbed onto – and it's not even something I see in play – but every now and then, what I say when I'm coming off of a break or something is like, 'Hey, go throw a bag of popcorn in the microwave. You're not going to want to get up during the next little bit of play.' So fans know whenever they hear Chris say, 'Go throw a bag of popcorn in the microwave,' it's time. The game's about to pick up a notch here, or it's about to start. So that's something I gravitate towards saying. And I've even had fans do up designs of Ballard brand popcorn. Fans had a lot of fun with that on Growlers Nation on Facebook. So that's probably the one thing that I think is uniquely my own phrase.
Question: We've had a bunch of overtime games lately. Do you enjoy those?
Ballard: Yeah, I mean, I love overtime. Overtime is my favorite. It's those white-knuckle moments that you live for as a broadcaster. There could be ten goals scored in that game, but that one call, the one that's going to define that game and that moment and maybe the season, could be that overtime call. I love those moments. My favorite call ever, I think, was in the Kelly Cup playoffs in the Growler's inaugural season. The Growlers played the Brampton Beast, my former team, in the first round, and it was a back-and-forth series. They came back to the Mary Brown Centre or the Mile One Centre, then, for game six. Brampton forced it back, and the Growlers ended up winning the game at home in like the first minute of overtime. I remember my call got a little salty because I was with my new team, and it was against my old team. But getting to eliminate my former team and to give them a little dig? That was a pretty cool moment. Plus, it was the first Growlers postseason victory. They moved on to the second round with that win. So that's a really memorable one because I got to share it with my new Growlers family and also got to kind of give it to a few buddies still on the other side.
Question: Power play or penalty kill?
Ballard: Power play for sure, especially with how good the Growlers have been historically on the power play. I've gotten to call a lot of really big goals from the team on the power play. You know, they're good on the penalty kill too, but power-play goals are the best. Goals are what broadcasters like.
Question: Favourite song or song that gets on your nerves when at a game?
Ballard: I know this might be a hot take, but what really gets on my nerves at a hockey game are the national anthems. I think it's overdone. There's players represented from a dozen countries every time you step out onto the ice. And why just Canada and the U.S. anthem? Plus, it's not a national event, so I don't think we really need to all the time. If it's a special event or maybe playoffs or in Newfoundland when we have a big night, maybe sing the Ode (to Newfoundland) because it means something then. When you play them every day, and I hear them literally dozens or up to 100 times a year, it kind of becomes a little less meaningful. I mean, this is a hot take, and I'm aware of that, but that is my true feeling. So maybe I've just heard too many anthems and maybe one too many renditions that go a little long. But that's my hot take. And I can give you a different answer should you not want to run with that, but I'm fine too if you do.
Question: Hardest name to say currently?
Ballard: That's another good question. After my blunder with Mr. Girduckis, I think I've learned my lesson. I don't think there's anyone now that really challenges me. The most challenging thing now with names is if it's like a new guy that I've never seen before, maybe someone on an opposing team. There was a goaltender that used to play for Adirondack. His name was Alex Sakellaropoulos, and a goaltender's name, you have to say a couple dozen times a night, and having to say that a bunch of times a night was definitely a challenge.
Question: I love the nicknames you use for players. Where does that come from?
Ballard: I think it's a shared thing amongst everyone who is either around the team or those in the greater fan base. Nicknames like 'Gogo' or 'Scorin' Orrin' they're kind of easy and create themselves. Some have had their nickname for years, and then some names are born out of specific moments. Like last season we had a player Jeremy McKenna from Summerside, Prince Edward Island. So when I was doing my research for the broadcast, I learned that when he played for the Moncton Wildcats, their play-by-play used to call him the Summerside Sniper because he's a great goal scorer, so I borrowed that and used that in our fan base and that nickname grew. Now he's playing in another organization, and I saw on social media they're still calling him that. Nicknames are so unique to everyone in every situation, but it is cool to see kind of how they can grow when fans really grab hold of them.
Question: Best part of the game for you?
Ballard: I mean, all of it. I feel very fortunate that I get to do what I do for a living. Of all the whole pregame routine, maybe my favorite part of the whole thing is getting to sit down for a quick bite to eat with my coworkers before every game. We get to sit down and very quickly exhale together one more time before starting up for a big game and kind of get on the same page and share a few laughs before getting back to work. That's a moment I always cherish and look forward to every time. That and the moment right before I go on the air. I look at whoever my color commentator is this season, it's Ben Murphy, and we'll do a quick fist bump before putting on the headset. You rock out to the pregame music for another minute or two, and then it's on the air and ready to go. Those moments I hold very near and dear as well.
Question: Do you have a particular game day routine?
Ballard: Not to the level where I would maybe even consider something a superstition, but there's a lot of stuff that does happen regularly every game day. Between going down to morning skate and watching the team and trying to pick out something I see out there that I'm going to maybe see on the ice that night, so between there and preparing my game notes, I do have a routine, but it's not something that has to be regimented. Nothing has to be the same every game. That's what I kind of like about working in hockey is that it's flexible. Every day is a little bit different, and that's why I've been kind of drawn into this world is. There might be a wrench thrown in the middle of your day, and you have to pivot sometimes, and it keeps you on your toes. It keeps you from getting bored. But at the same time, that little bit of structure and a loose routine that I have is something that I do work well within.
Question: A lot of fans have superstitions. Do you have any?
Ballard: If the team is not performing well or if I thought that we've kind of struggled through a couple of broadcasts or something, I'll try a different shirt or a different tie just to see if there was any bad mojo tied into it. But I'm not wearing the same pair of socks every game or anything. However, I have not worn the same tie that I wore when the Growlers won the Kelly Cup. That's the only tie that's been retired. A lot of it is superstition. That tie has done its job and is now in the reserve in case we need it again for a real big moment, but it's also retired because it smells like champagne and beer from locker room that night.
Question: How do you decompress after a game? Is there anything you do?
Ballard: It takes me a long time, honestly, to decompress after a game. In order to have my energy peak for 7:00 p.m. and stay there for 3 hours and then come down off of that? I don't get to bed until late, even if it's a weekday game. Like last night, I got home maybe by 10:30 or 11:00. I'll eat a late supper at that point. Normally, my wife works late too, so we get to finally catch up after our day late at night over maybe a salad and a pizza like we had last night. I might watch the late game if there's an NHL game on, and that's the benefit of having too much energy late in the day – you finally get to watch some of the West Coast hockey teams in the NHL. I might listen to some of my other colleagues around the league finish their broadcast. We have a really good, almost brotherhood, between a lot of the broadcasters in the league, so we like to add to each other's numbers and tune in when we can. And then I'll just kind of sit back, maybe with a glass of wine, and relax and wait for the caffeine from the day to wear off so I can actually get to sleep. Caffeine and adrenaline. I mean, that's always there after a game, especially if you have an exciting overtime game, then you have to push bedtime back.
Question: Have you had your own fan moment?
Ballard: I really appreciate every interaction I get to have with our fans around the world. Fans are the reason these teams exist and the reason that I have the job that I do. It's really important to me that fans tune in, and I've had a few interactions that are really cool. One in particular when I was with Brampton, but it still stands up. I was sitting in the press box in Toledo, Ohio, and we're taking on the Walleye, and I had a fan there that didn't want to come into the booth. She didn't want to bother me, but she slipped a piece of paper into the booth, which I thought was strange. I opened it up, and she said, 'Hi, Chris. I'm from Toledo, but I tuned into your broadcast last night, and I just wanted to say I thought it was super awesome. I really enjoyed myself. You had me laughing. I really enjoyed the call of the game.' And this is an opposing team's fan. Every now and then, someone will channel surf over to me, and that's great. The fact that she did and she enjoyed herself, and was able to tell me that she felt I'm doing a good job made me feel really good about the product that I get to put out into the ether every game day. It's important to me because I want it to be an enjoyable experience for anyone not able to attend, and it kind of proves that to be true when you get a message like that. That's a special fan moment, and I actually still have that piece of paper in my office. So it was an important moment.
Question: Did you want to make any kind of prediction heading towards Kelly Cup?
Ballard: I'm almost 100 percent positive that if we win another game this weekend, we're good for the playoffs, and that's a good place to be.
Question: Do you have anything you're really looking forward to heading into the playoffs?
Ballard: I mean, the playoffs are always what you look forward to. Every game and every moment is elevated. Every call on the broadcast has the potential to be one that could be replayed for years. So I just can't wait for those big moments to be back. And, you know, hopefully, the Growlers can host another Kelly Cup in a couple of months time.
All broadcasts can be found online for free using the streaming platform Mixlr at mixlr.com/NLGrowlers. Mixlr is compatible with both home computers and mobile devices and allows for fan interaction with the broadcast team during the game.
You can follow Chris on Twitter @GrowlersBallard and stay current with the latest team news by visiting www.nlgrowlers.ca. Follow the Growlers all year long on Facebook (nlgrowlers), Twitter (@nlgrowlers), and Instagram (@nlgrowlers).