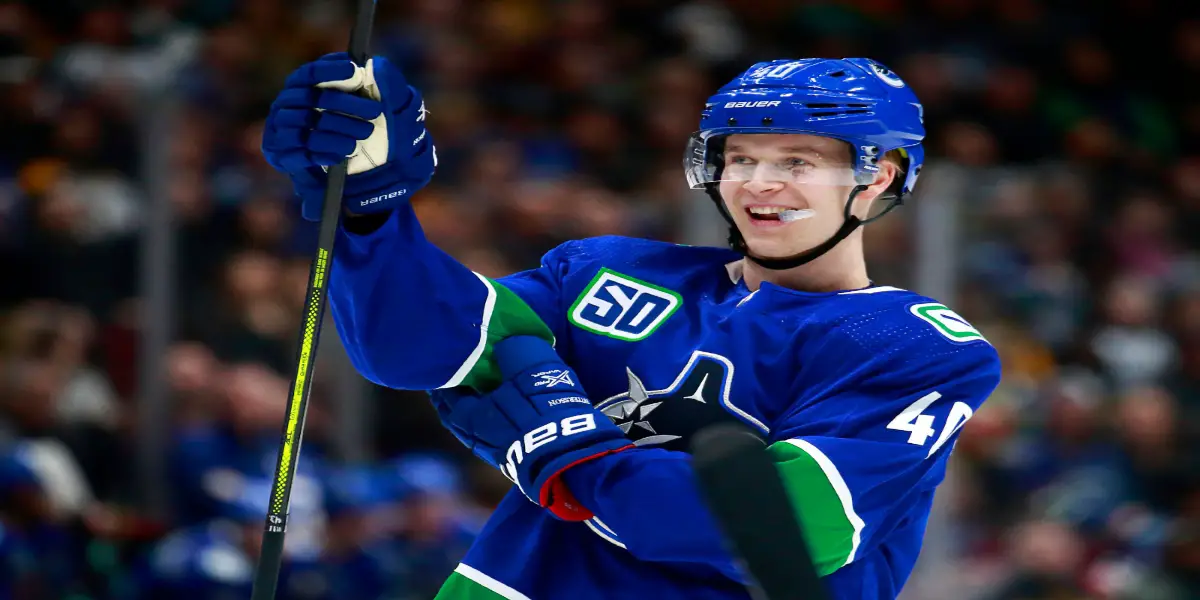 In what is shaping up to be a pivotal season for the Canucks in terms of what direction their team is headed, the group finally grabbed their first preseason win, 5-4, against the Oilers after starting with five straight losses.
Elias Pettersson has probably been the Canucks best player throughout the preseason thus far, and he led the charge again Wednesday night. He looked good in all phases, from setting the tone with his physicality to putting two goals home on the powerplay; things are looking good for the man who will prove to be very important to this Canucks team's success.
Despite scoring a career-high 32 goals last season, it was still a bit of a step backward, considering he only had two more points than his previous best from two seasons ago, where he had nearly the same production in twelve fewer games. If the 23-year-old can grow his already impressive game this season, he no doubt has the superstar abilities to drive the Canucks top line and lead a powerplay that looks great on paper and should be a large part of whether or not this team has success.
Although the powerplay has started to click, moving the puck around very well, and scoring three on the man advantage against Edmonton, they also allowed two short-handed tallies, one of the many things that still need cleaning up as the regular season fast approaches.
Head Coach Bruce Boudreau said earlier this week that the team's gel process has been going a little slower than he would like. On Wednesday night, though, they at least played with the pace and intensity their coach had been calling for.
Minus JT Miller and Thatcher Demko, this game gave fans an honest look at what the team will look like to begin the season (With Boeser out after hand surgery). This was possible because the Canucks continued to trim their preseason roster earlier in the week and sent the following players back to Abbotsford (AHL)
Vincent Arseneau
Marc Gatcomb
Chase Wouters
Matt Alfaro
Michael Regush
Jet Woo
Arshdeep Bains
Wyatt Kalynuk
Danila Klimovich
Will Lockwood
Danny Dekeyser was also released from his PTO, which means Jack Rathbone has likely done enough to crack the Canucks opening-day lineup.
Chris Delia was also placed on waivers for reassignment to the AHL, which means the goalie tandem for the year is set with Spencer Martin serving as the backup for Thatcher Demko. Wednesday was a rough start for Martin in his second preseason appearance as he let in four goals on the first 14 shots, but he settled in after that stopping what came his way for the remainder of the game. Martin looks like he should be a very serviceable backup to Demko, something the team desperately needs to relieve some pressure from their number one. More and more in the NHL today you\re seeing the teams that have the most success have a backup that can play a good chunk of games to keep their stud fresh. Though it was a small sample size last season, Martin put up quality numbers in his six starts posting a 1.74 GAA and a .950 SV%.
Another noticeable lineup change in the game came on the back end. A lot of chatter this off-season has been about whether or not the team needs to find a new partner for their top young defenseman, Quinn Hughes. Rumors swirled all summer about whether they'd try to bring a new player in or mix things up within their team. They experimented with Oliver Ekman Larson and Hughes as the top pairing, but I suppose you could say the results spoke for themselves after going winless in five games. In game six of the preseason on Wednesday, they turned back the clock to last season and paired him with the veteran Luke Schenn. Known as more of a shutdown, stay-at-home type defenseman, the soon-to-be 33-year-old brought tremendous stability alongside Hughes, which for the most part, allows his skills to flourish and affords him the ability to take more risks knowing he has the support.
It might not be the sexiest name for fans to see alongside their superstar on the back end. But for a team that is up against the cap without a ton of options at the moment, I think Schenn is currently the best man for the job. He plays a very solid game in his own end and can hold his own offensively, he's been through all sorts of adversity throughout a long career, and he knows what it takes to win it all from his time in Tampa.
The biggest takeaway from this week… MEANINGFUL HOCKEY IS RIGHT AROUND THE CORNER!!!!!
The Canucks will have one final preseason tune-up on Friday when they host the Coyotes. Expect to see JT Miller back in the lineup and for Demko to get some work before next week's season opener.
The boys are back after a long break but have plenty to talk about as the playoffs are in full swing. We go series by series, looking at how teams have fared so far and who will come out on top. Thanks for listening! Please rate and review our show on your favorite listening platform. Check out our partner's website at www.insidetherink.com for all your latest hockey news.