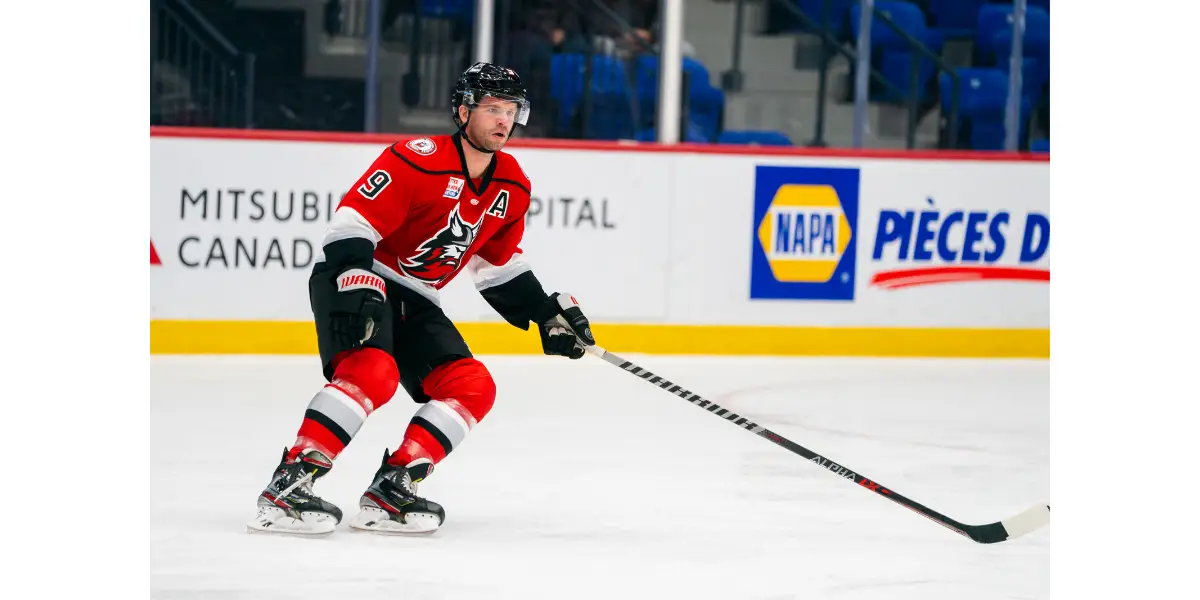 "En Depit de l'adversite ils ont finalement triomphe" is a quote from le Cid by Pierre Corneille, which perfectly describes the weekend for the Thunder. Adirondack came into this weekend badly needing something to go their way, and that's exactly what they got during the two-game series in Trois-Rivieres, where they walked away with three out of a possible four points. They got Jake Ryczek and Xavier Parent back, which proved vital for a team fighting the injury bug all season. Adirondack signed forward Grant Jozefek and defenseman Wayne Letourneau. The Sherbrooke native would have an assist in his first game with the Thunder on Saturday.
Friday Night
The Adirondack Thunder needed a change of pace coming into Friday's game. They would get that as, for the first time all season, the Thunder would open up the scoring just 3:31 into the opening frame as Jared Gourley would finish off a great shift by the Thunder, as he fired a slap shot from just above the circle that would beat Joe Vrbetic. Despite getting the opening goal, the injury bug would continue to bite the Thunder as Brennan Saulnier would throw a huge hit on Jeff Taylor, who would leave the game and be placed on IR the following day. Saulnier would be assessed a major for boarding and game misconduct, accounting for 15 of the 25 penalty minutes given out at the 14:02 mark of the opening period. Adirondack would get a five-minute powerplay. However, that would be negated just a 1:44 later as Rex Moe took a slashing penalty. Neither team would take advantage, and the Thunder would take a 1-0 lead into the middle frame.
The second period would bring a shift in momentum as TR would outshoot the Thunder 17-6, as Nicolas Lariviere would beat Poulter pad side to start a string of three unanswered goals from the Lions. Despite the stats not showing it, Isaac Poulter has continued to have a solid start to his young career, and his 16 saves in the period would end up coming in clutch for Adirondack later in the game.
Early in the third, it would be a lousy clearing attempt that would lead to another goal from Pierrick Dube for his second of the game and would put the Thunder in a very familiar situation, down two. The Thunder have been very good at overcoming two-goal deficits, and tonight would be no exception. They would use their powerplay to their advantage in the final frame, as Patrick Grasso would score a highlight reel goal off a pass from Xavier Parent to make it a one-goal game. Both teams would have a chance with a two-man advantage during the third period but wouldn't be able to take advantage. However, a 5-on-4 PP with less than five minutes remaining would allow Noah Corson to tie the game and give the Thunder their first point in the standings as the game would go into OT. It would be a Xavier Parent turnover that would lead to a game-winning goal from Alex Brenton. Isaac Poulter would have another strong game, making 40 saves in the loss.
Saturday Afternoon
On Saturday afternoon, the Adirondack Thunder easily played their best game of the year and were rewarded with a 6-1 win, their first win of the 2022-23 season. It wouldn't take the two teams long to carry over the physicality from Friday Night as just 3:35 in, Dan Maggio and John Parker-Jones would drop the gloves. Jake Ryczek would make his season debut on Friday Night and open up the scoring for the Thunder at the 11:43 mark of the opening period. It would be the second straight game Adirondack would open up the scoring. Before the opening frame was over, Jared Gourley would score in his second straight game. The Thunder didn't take their foot off the pedal, as just 1:42 into the second period, Sebastian Vidmar would feed Patrick Grasso, who would deke out Phillipe Desrosiers and make it a 3-0 game for Adirondack. Trois-Rivieres would get on the board with 1:15 left in the middle frame as Colin Bilek would break Jake Theut's shutout. Sebastian Vidmar and Patrick Grasso would score shorties in the third, along with Colin Long's first goal of the season, en route to a 6-1 victory. Jake Theut made 40 saves for his first win of the season. This win would be Pete MacArthur's first win as head coach.
On Monday, Adirondack placed goaltender Mareks Mitens on IR, leaving them with one healthy goaltender on the roster after Isaac Poulter got called up to Utica and signed defencemen Brandon Fehd. Fehd has played 137 ECHL games as he's spent time with the Rapid City Rush, Indy Fuel, and Utah Grizzlies and has totaled three goals and 19 assists, his last goal game on March 27th, 2019. He spent last season in Slovakia and Sweden. They also acquired Matt Stief from the Idaho Steelheads. He had 18 assists in 54 games during his rookie year. Rex Moe was also released today from the Thunder. Adirondack is back in action Friday as they play, yup, you guessed it, the Worcester Railers at 7 pm back in Glens Falls.