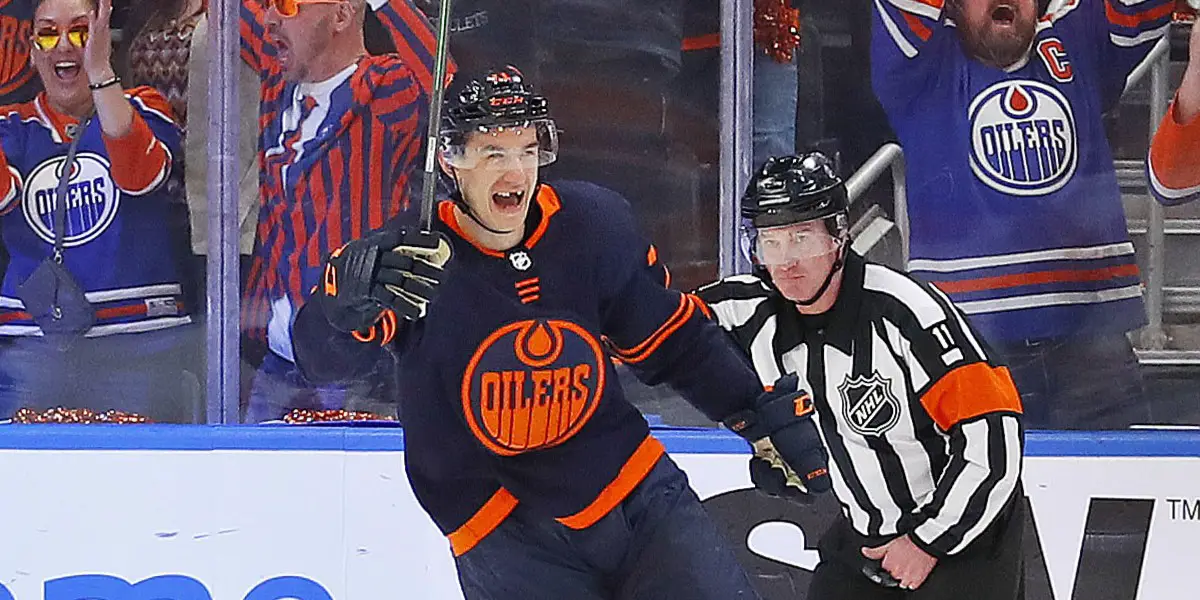 After Saturday's 7-4 loss against the Maple Leafs, Ryan McLeod and Vincent Desharnais were initially on the list of players to speak with the media. But as Oilers media members pointed out on Twitter, they had their names taken off that list; Ryan Nugent-Hopkins and Evander Kane answered questions instead. As someone who attended the game, I can tell you that the mistakes made were indeed bad. In particular, McLeod's turnover in his zone led to Mitch Marner's second-period goal and started Toronto's comeback. That second period surely cost Edmonton a decent chance at winning the game. But the leadership group sent a strong message by protecting 71 and 73 from inevitable criticism. It's not easy playing hockey and making mistakes in a Canadian market, especially with a history of rough seasons before the McDavid era and young players making those mistakes.
Some media types in Edmonton who aren't the most popular amongst the Oilers fanbase don't help either.McLeod is only 22 years old, and Desharnais, though not your typical young player at age 26, has only played 22 NHL games. We don't want to see another player have a "pissy" relationship with any journalists. The players kept away from the press and were aware of their play on the ice. Keeping them from answering for it saves them from having their confidence shattered. It shows that the Oilers aren't just a tiny collection of individuals, as some narratives might suggest; they are a team, and their comradery is strong. Saturday was one of those nights where you look at a bad loss and think, "Why is our team like this?" But remember, they also beat the best team in the NHL without a single point from McDavid just a couple of days before this loss. The potential there, it always has been. We have seen improvements over the course of two months. That was just one of those periods they must keep learning from before the playoffs start. Consider it another "statement week." This week's opponent's are…
Tuesday, March 14th at 7 pm VS Ottawa Senators
Before landing Mattias Ekholm, the Oilers nearly completed a trade for Jakob Chychrun. But the Coyotes didn't want to take a contract back in any deal. Chychrun continues his stellar season in the Canadian capital since leaving the desert. The Senators have gone from bottom dwellers to playoff contenders but have lost two straight on their Western Canada road trip, allowing ten goals in both affairs. They'll be just as hungry as Edmonton for a win this time around. It won't be as much of a "scheduled" win as their first meeting was.
Thursday, March 16th at 7 pm VS Dallas Stars
The standings currently look like this would be a first-round match-up in this year's playoffs. The winning side in both meetings thus far scored lots. But I would like to expect a tighter game at this time in the season with a month left of regular season hockey.
Saturday, March 18th at 2 pm VS Seattle Kraken
Edmonton leads this season series 2-1 and keeps missing out on opportunities to pass them in the standings. The Oilers win every time the Kraken wins and lose every time the Kraken loses. I don't like expansion teams anymore.
The boys are back after a long break but have plenty to talk about as the playoffs are in full swing. We go series by series, looking at how teams have fared so far and who will come out on top. Thanks for listening! Please rate and review our show on your favorite listening platform. Check out our partner's website at www.insidetherink.com for all your latest hockey news.