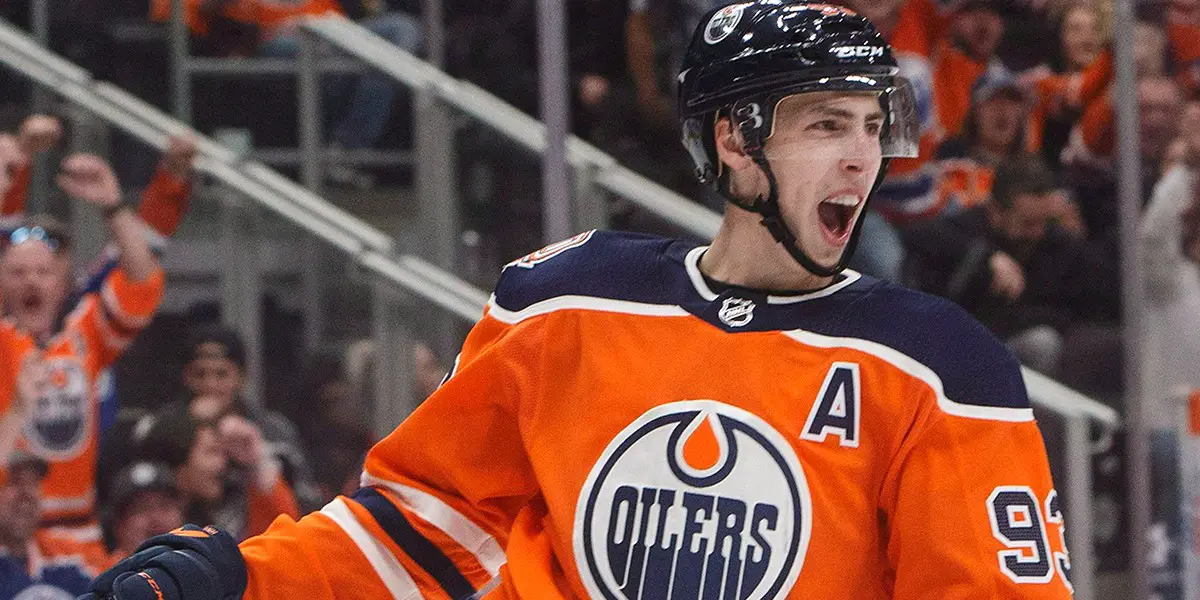 Happy Easter, Oilers fans. Your holiday gift, Ryan Nugent-Hopkins, is a 100 point player. The longest current Oiler, who had played through many of Edmonton's darkest seasons since being drafted, and now part of a Stanley Cup contender after 12 NHL seasons. Turning 30 on Wednesday, he still looks like an 18-year-old going first overall in 2012. I must also point out a classy move by the Oilers to dress Jason Demers in Saturday's game to have him play his 700th NHL game after being in the AHL all season. This milestone came against the team that drafted him no less. Although I'm sure, he'd like to take back that turnover behind his net in that game.
Not an ideal milestone highlight to remember. They needed to put Ryan McLeod on LTIR before making this move. Don't worry; McLeod is fine and will be ready to go for Round 1 of the Playoffs. The spare spot for Demers was also made available by Cody Ceci flying back to Edmonton for the birth of his firstborn child. Congrats to Cody and his family. They have a chance to finish the regular season first in the Pacific Division if Vegas falters, which I don't think is likely. My worry about Edmonton finishing first, as I've mentioned many times, is their history of constantly playing down to the level of their opponents. If they do pass Vegas, I hope they've learned their lesson not to take whichever Wild Card team they'd face too lightly. At the same time, the Flames have made an impressive comeback in the standings, and if they squeak into the playoffs to face Edmonton, we all remember the entertainment value in last year's Battle Of Alberta. But these are discussions for next week, onto this business at hand first. This will be my last weekly update on the Oilers. Then I'll start previewing and reviewing EVERY game for as long as the Oilers are still in the playoffs. We, of course, hope they're in there long. The last week's opponents are…
Tuesday, April 11th at 7:30 pm VS Colorado Avalanche
Both losses against the Avs were in OT, so Edmonton at least got points; that's good. But they failed to hang on to decent leads late in both games; that's bad. Should the Oilers go as far as the Final Four again, they could have a rematch of last year's WCF with Colorado. Looking back on defensive mistakes from the last two meetings might be good mental practice should these two teams meet again.
Thursday, April 13th at 7 pm VS San Jose Sharks
I expect Stuart Skinner to play against Colorado, but I was surprised to see him net in Saturday's matinee against the Sharks instead of Jack Campbell. Maybe Soup gets this start to close off the 82 game schedule for the sake of getting some confidence back. His play has been better in his last couple of starts, and the team needs two capable goalies heading into the playoffs. Since this is not a do-or-die game, we can cheer a little bit for Erik Karlsson to reach 100 points if he doesn't before this game.
The boys are back after a long break but have plenty to talk about as the playoffs are in full swing. We go series by series, looking at how teams have fared so far and who will come out on top. Thanks for listening! Please rate and review our show on your favorite listening platform. Check out our partner's website at www.insidetherink.com for all your latest hockey news.