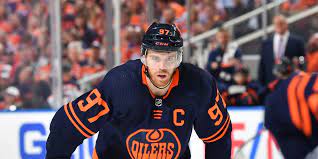 The win against Pittsburgh was excellent, the loss against New Jersey resulted from a seven-second sleeper shift, and the loss against Dallas was just a no-show… That is the best way to describe this past week. I've talked about goaltending enough times in my last few articles. Let's discuss secondary scoring or lack thereof. Derek Ryan did score his first two goals of the season during the three-game homestand, cool. Dylan Holloway has looked like he'll start producing more at any moment, also cool. Kailer Yamamoto, Warren Foegele, and Jesse Puljujarvi haven't gotten a lot going offensively, which is not so cool. A tweet from Oilers Now's Bob Stauffer with the Washington practice lineup shows Puljujarvi on the top line with Connor McDavid and Zach Hyman and Yamamoto on the fourth line with Holloway. Foegele and Puljujarvi, with Ryan McLeod, have been a tremendous forechecking third line for them this season, but this team also needs more goals from middle/bottom six players. McLeod scored three in the opening six games but isn't someone who would keep scoring in every second game. Yamamoto started slowly last season, then had an excellent second half and finished with a modest 20 goals and 41 points. Puljujarvi started off great offensively last season, then dealt with COVID and injuries and couldn't bury quality scoring chances. Maybe Yamamoto repeats last season, and maybe Puljujarvi reverses last season's trend. Hearing Jack Campbell call his performance "pathetic" to start the year feels like an understatement among hockey fans. For now, a slight break for him and letting Stuart Skinner ride the #1 job might help him recoup mentally. And as deadly as this team's PP is, their PK is just dead. This week's opponents are…
Monday, November 7th at 6 pm VS Washington Capitals
Players can study all the tape they want. They'll still forget that great players exist and can hardly be contained. Alexander Ovechkin has scored 787 goals for third all-time as I type this. Barring no serious injury, he'll surpass Gordie Howe's 801 this season. All of those goals and opposing teams still don't remember to take away his slap shot at the faceoff dot. He's grown so accustomed to this that he even scored a goal that same way when playing on a one-day contract with a professional soccer team in Russia this past summer. It's hard not to secretly cheer for his chance at surpassing Wayne Gretzky's 894 goal record (just not against our team, everyone says). Even if he doesn't, considering how hard it is to score more goals in this era and that his body hasn't worn down from the physical game he plays, he will go down as the league's greatest pure goal scorer. His team has lost four in a row, so he'll be pushed more to get on the scoreboard.
Tuesday, November 8th at 5:30 pm VS Tampa Bay Lightning
The team that almost completed a three-peat last season. Offense, defense, bottom six, goaltending. They have it all, just about the best team in the salary cap era. I said earlier that Campbell should take more nights off just to take some pressure off. But this is the second half of a back-to-back; he has to play one of these next two games. The road to game-by-game recovery won't get any easier for him.
Thursday, November 10th at 5 pm VS Carolina Hurricanes
The second and last meeting between these teams. They'll be playing a back-to-back of their own at this time. They'll probably reserve Frederik Andersen for the second half. In the last article about Carolina, I mentioned that he plays his best games against Edmonton, and I don't expect the Oilers to score five goals against him again. Looking back to last week when Lee Fogolin and Ryan Smyth were inducted into the Oilers Hall of Fame, I wasn't born during Fogolin's playing career, but I weep over how close Smitty was to having a Cup ring in 2006. I played a mobile game recently where I needed to name as many NHL teams as I could remember off the top of my head. I got all of them EXCEPT the Hurricanes. I've clearly taken that Cup Final loss well.
Saturday, November 12th at 2 pm VS Florida Panthers
(Sigh) Oilers fans need to sign a petition to have the league take away afternoon games. History shows they're never kind to this franchise and it will be for the second Saturday in a row. But maybe Derek Ryan will score another hat trick against these cats like he did last season. And yay, we get to hate Matthew Tkachuk again.
The boys are back after a long break but have plenty to talk about as the playoffs are in full swing. We go series by series, looking at how teams have fared so far and who will come out on top. Thanks for listening! Please rate and review our show on your favorite listening platform. Check out our partner's website at www.insidetherink.com for all your latest hockey news.