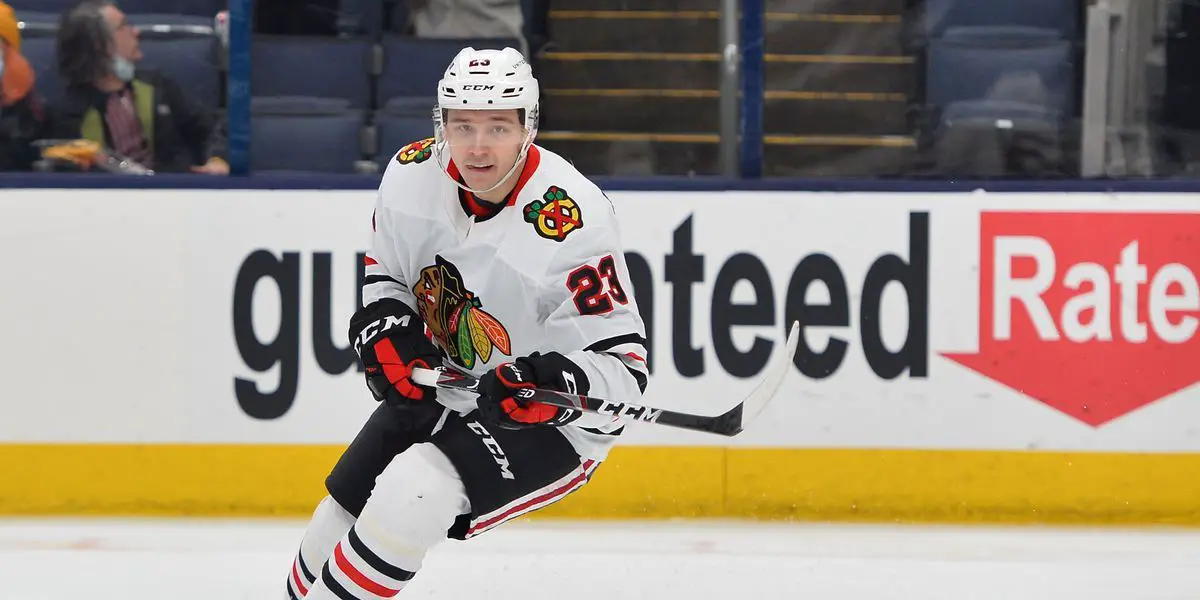 Two games into the regular season and two losses already. This Blackhawks team is about what you expected them to be coming into the season. It's going to be a season full of ups and even more downs periods with lots of trials and tribulations. This doesn't mean there aren't bright spots to be found. If anything, through two games, Blackhawks fans and Kyle Davidson should be pleased with this team.
Filip Roos is legitimate
Roos has only played two meaningful full games on north American ice after coming over from Europe. His numbers in SHL don't jump off the page by any means (50 GP, 1G, 5A, 8pims). Most projections had him as a top AHL defenseman or the sixth or seventh defenseman rotating in and out of the lineup. However, after two games, he has blown these expectations out of the rink.
Roos has played a calm game, looking like a veteran at times. His ability to remain calm and make the easy break out a pass in his zone is massive for smooth breakouts. He is 6'4," and he isn't afraid to use his frame. Roos isn't out here through big booming hits (but who knows, only two games in), but he uses his size to separate the puck carrier from the puck. Roos also has a shoot-first mentality, something the Blackhawks missed last year. But he only managed to get two shots on the net through two games; he still needs work getting the puck past the defenders. In the Vegas game, he wasn't even getting his shot past the top layer of defenders. Richardson will be able to improve this as the season progresses.
The Chicago Blackhawks may have found another European gem but will Kyle Davidson do what Bowman didn't do and keep him around? Hopefully, Roos is only twenty-three years old and looks like he could turn into an excellent top-four defenseman if everything pans out. At the bare minimum, you have a solid bottom-pair defenseman.
Philipp Kurashev is finally turning a corner
Through two games, Kurashev has been engaged and playing with meaning. This was his biggest struggle last season. Now I want to reiterate it is only TWO games, but Kurashev has looked good. He is carrying the puck quickly and using his skill to open up the ice and drive the play. Kurashev has loved to use his toe drag to start the year, and it has worked for the most part. A few bad turnovers in the neutral zone will need to be cleaned up. His new-found confidence was front and center on the power play versus the Avalanche. Kurashev would receive a pass and hold on to it looks like he's going to shoot the puck before finding Toews's back door for an easy tap-in goal.
It's not the speed or confidence standing out the most for Kurashev but his play in the defensive zone. He's finding himself in the passing lanes more and making more simple plays with the puck around the blue line, either dumping it off the glass or finding his teammate for a breakout pass. Kurashev still gets bullied when battling for the puck on the boards, but he can improve this by getting stronger; so far an excellent start to the season for Kurashev.
Luke Richardson is everything he was advertised to be
Richardson made it clear that this team would play a hard-nosed, never quit style of play, and that's what the Blackhawks have done. They may have lost to the Avalanche 5-2 but never gave up, something last season's team would have done after falling 1-0. This team is way more physical than in previous years. Chicago laid down 33 hits in Colorado and followed it up with a 41-hit performance in Vegas.
On top of the team, playing more physically and fearless, they have changed from a man-defensive system to a zone system. MASSIVE change for this team. Last season players were caught chasing and watching the play way too much. So far, to start the year, the Blackhawks are rotating well in the defensive zone, and it has shown up on the score sheet, only giving up two five-on-five goals through the first two games. Richardson has already made a massive difference in how this team plays. Now the question is can he grow young players to reach their potential?
Blackhawks News:
Buddy Robinson has bent sent down to the minors now that Jason Dickinson has been activated.
Season 2 Episode 10: Is Patrick Kane The Greatest Blackhawks Player Of All Time
–
Cue The Dagger
In this episode, we discuss if Patrick Kane is the greatest Blackhawks player of all-time, Lukas Reichel's one NHL game, and his unbelievable shootout goal. We also break down Seattle's chances of making the playoffs, is hitting and fighting making a comeback? and much more NHL news and topics  #Blackhawks #ALLCAPS #NHL #SeaKraken #LetsGoBuffalo