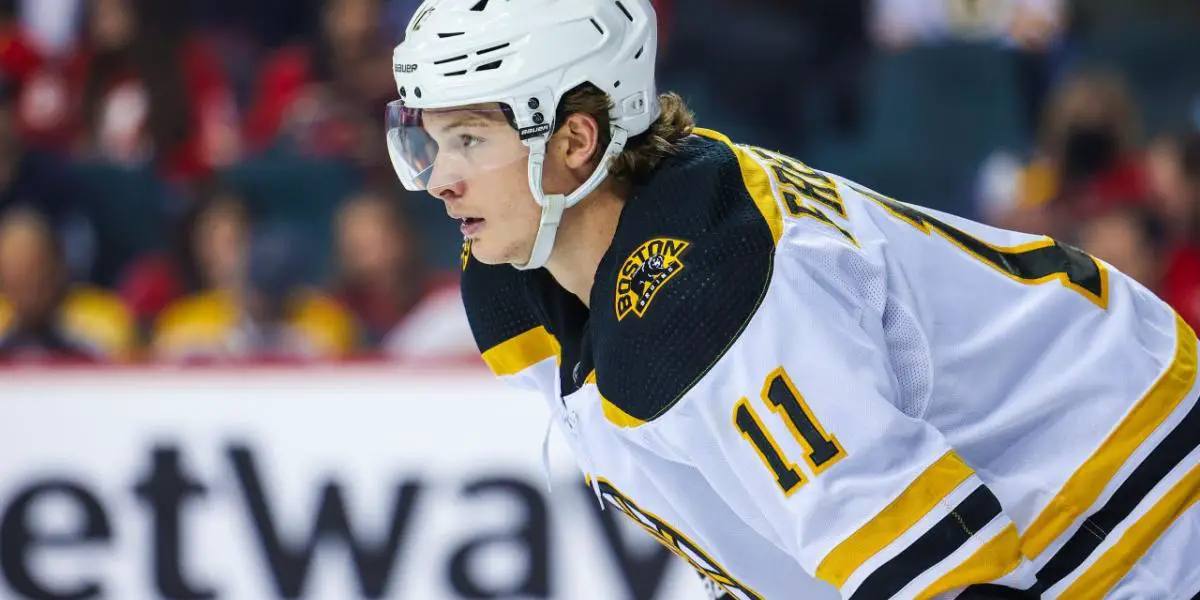 After a solid 2021-2022 season that saw the Bruins fall short in the first round of the playoffs to the Carolina Hurricanes, they had to go back to the drawing board and retool. Even with the returns of Patrice Bergeron and David Krejci to solidify the center position in the top six along with the acquisition of Pavel Zacha, the Bruins still face uncertainty to begin the season. The Bruins will need some of their younger players to step up and finally take the next steps while top players such as Brad Marchand and Charlie McAvoy recover from injuries. Three players who stand out as breakout candidates for this upcoming season include two forwards and one defenseman, who will all play key roles in this Bruins lineup.
Trent Frederic
Frederic is the top candidate for a breakout season this upcoming campaign as the 24-year-old former first-round pick looks to break through offensively finally. Frederic has dealt with inconsistent playing time in his career as he found himself in Bruce Cassidy's dog house more than once. With a new head coach in Jim Montgomery, Frederic has the chance to channel the offensive talent he put on display during his time in the AHL and at the University of Wisconsin. He won't be a 30-goal scorer, but he should be able to provide around 15 goals while playing a tough brand of hockey. Frederic took a step forward last season as he logged eight goals and ten assists in 60 games. The St. Louis native now has the chance to show that he belongs in this lineup and can produce across 82 games.
Secondary scoring has been an ongoing issue for the Bruins over the years, and general manager Don Sweeney has never adequately fixed it. With Frederic once again slated for third-line minutes, it's time for him to show the organization that he can produce in an expanded role.
Still not even in his prime, Frederic has the potential to provide more points for the Bruins in 2022-2023. What is encouraging is during an eight-game stretch this past season, he notably scored two goals and had six assists. If those kinds of hot streaks occur more frequently, we could finally see a much-needed breakout year from the tenacious forward. It was hot streaks like this that saw fellow forward Jake DeBrusk finally put together a couple of solid seasons, including last year. The talent and pedigree are there; it's just a matter of time when the big-bodied forward puts it all together.
Jack Studnicka
This upcoming season will be crucial for Studnicka as he will have to find a way to produce in Boston finally. Studnicka is a talented forward who continues to light up the AHL when in Providence but was another player like Frederic, who found himself in former head coach Bruce Cassidy's dog house. If Studnicka can get consistent playing time and not be afraid of being benched if he makes a mistake, then his game may finally be able to flourish.
The returns of Patrice Bergeron and David Krejci are not long-term options at center but stop gaps as the Bruins look to stay competitive for another season. With this being the reality, this needs to be the year Studnicka makes an impact and proves to the Bruins he deserves a spot moving forward.
Only 23 years old, Studnicka is still viewed as one of the Bruins' top prospects, but he has yet to have any long-term success in the NHL. While many see this as a concern, it should not be, as he hasn't had consistent playing time to take advantage of his opportunities truly. During the 2021-22 season, he appeared in just 15 games for the Bruins, where he had three assists and a minus-5 rating. He had ten goals and 35 points in 41 games for the Providence Bruins, showing the offensive production.
He just needs to find a way to translate that production to the NHL level, and this season could be it if new head coach Jim Montgomery gives him an extended look. Studnicka's role in training camp will determine his status on this roster out the gate.
Jakub Zboril
Before tearing his ACL last season, Zboril was showing signs that he was on the verge of breaking out. The 25-year-old defenseman looked far more confident with the puck and was simply more reliable than he was during his rookie campaign in 2020-21. In the ten games last season before the injury, he recorded three assists and sported a plus-1 rating. Even though this is a small sample size to go off of, it still pointed to the player the Bruins were hoping he would become when they drafted him in the first round of the 2015 NHL Entry Draft.
This will be a big season for Zboril to carve out a role, especially with injuries to two starting defensemen to start the season. Charlie McAvoy and Matt Grzelcyk will be sidelined for a couple of months to start the season, leaving Zboril plenty of playing time to prove to new head coach Jim Montgomery he deserves a role even when the starters return.
Zboril proved last season that he could play on the right side, so with Brandon Carlo slated to take over top line minutes for the injured McAvoy, there will be a spot on the second pairing waiting for the 6'1″ defenseman. He also seems to have a good shot of being placed on the Bruins' second power-play unit due to his puck-moving ability. All eyes will be on Zboril when training camp opens up in a couple of weeks, as there is no better time than now for him to step up and take advantage of this opportunity.
The boys are back after a long break but have plenty to talk about as the playoffs are in full swing. We go series by series, looking at how teams have fared so far and who will come out on top. Thanks for listening! Please rate and review our show on your favorite listening platform. Check out our partner's website at www.insidetherink.com for all your latest hockey news.