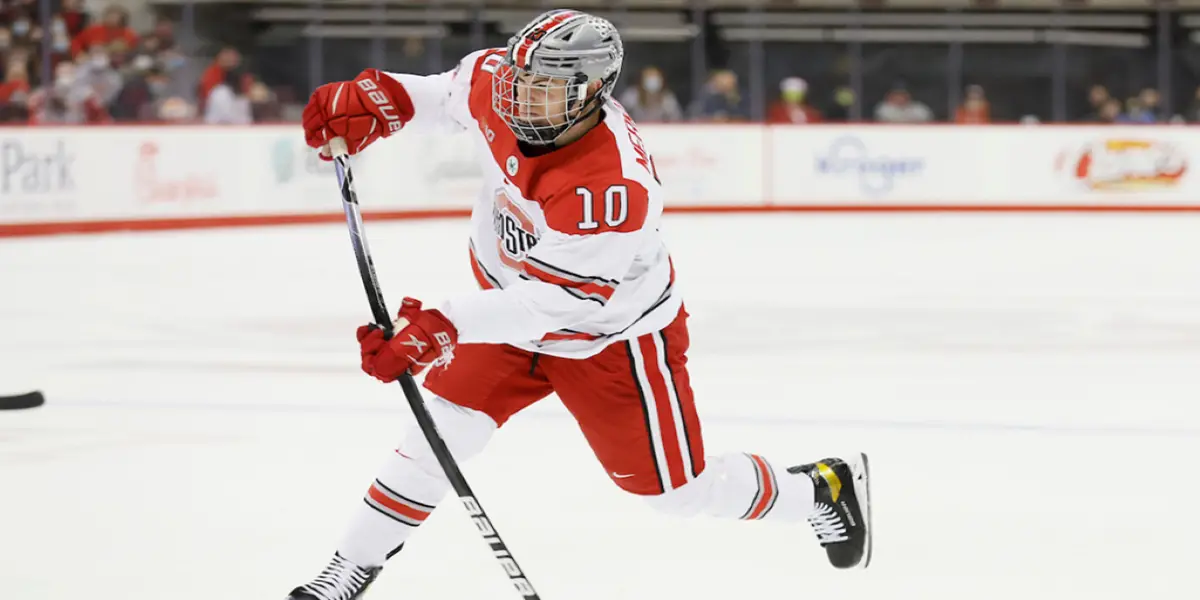 The Boston Bruins signed several college prospects to either amateur tryouts or entry-level deals as the college hockey season ended. Three newly signed pros debuted Saturday night for Bruins' American Hockey League affiliate Providence Bruins. The game works provided a glimpse into what the Bruins saw in each of them.
The Providence Bruins defeated the Lehigh Valley Phantoms 3-2 in a shootout on Saturday night in Providence. But that was not the big story of the night. Three Bruins prospects made their debut, and Bruins fans were not disappointed. Georgii Merkulov, who just completed his freshman year at Ohio State University, stole the show. The 21-year-old winger, who was signed April 9th to a three-year entry-level contract by Boston, assisted on the first two goals and scored a nifty shootout goal that proved to be the game-winner. Merkulov displayed some offensive skills that helped produce 20 goals with the Buckeyes.
The Baby Bruins also welcomed 2019 first-round pick Johnny Beecher, into the fold. Beecher signed an Amateur Tryout (ATO) with Boston four days after Merkulov's, following three seasons with the University of Michigan. The 30th overall pick in 2019 showed top-level speed for his big frame (6'3", 210 pounds) and led the team in shots with four in the win.
And then there was goaltender Brandon Bussi from Western Michigan University, who signed a one-year entry-level on March 30th with the Bruins. The 6'5", 220-pound netminder just completed three seasons with Western Michigan and led the team to their first NCAA tournament win this past season. In his first action with Providence, Bussi made 28 saves, including all three in the shootout, to earn his first professional win.
Bruins general manager Don Sweeney traded away his first-round pick in the 2022 NHL Draft as part of a deal for defenseman Hampus Lindholm but has improved the Bruins' prospect pool with several college prospects. Saturday night provided a sneak peek at three of these Bruins of the future, and after one game, Bruins fans should be very excited about who will be arriving in Boston in the years to come.
The Bruins rebound after a 3-game skid. NHL ratings are down on ESPN and Turner. Don't mess with the chemistry. Concerns about the Bruins veterans wearing down. Plus Beauties and Benders.