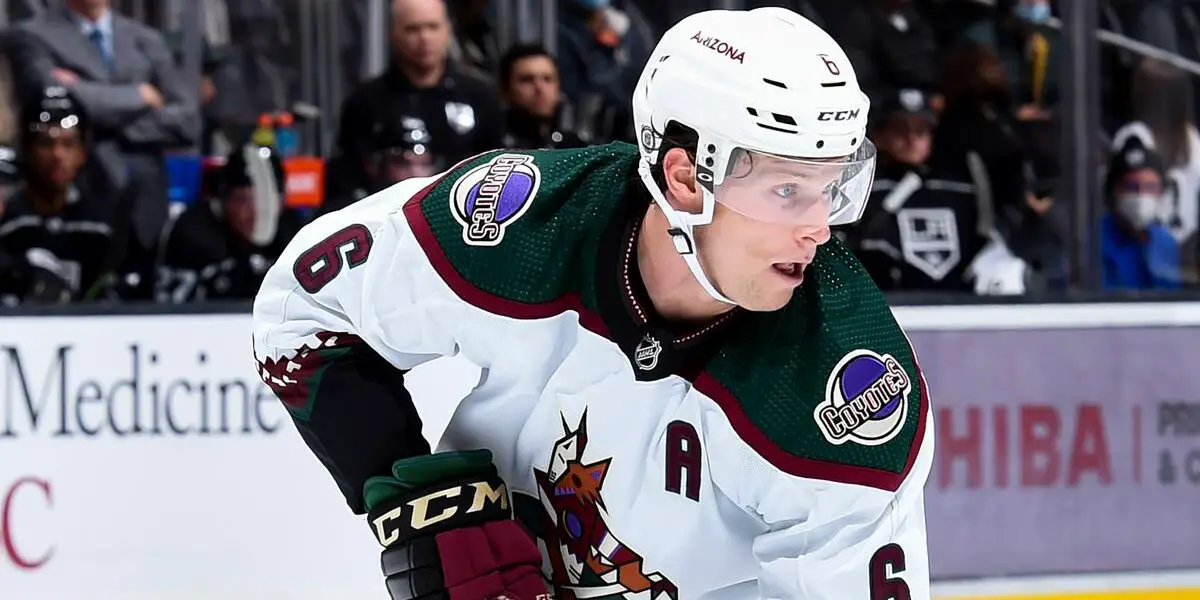 In 2021, the Oilers made a ton of moves, both offensively and defensively. Picking up players such as Zach Hyman, Cody Ceci, Warren Foegele, and Duncan Keith. Have those moves paid off for the Oilers? Offensively, a little bit. Warren Foegele has been a bit of a disappointment as he hasn't shown up enough on the scoresheet, only notching 11 points (5G, 6A) through 29 games. Zach Hyman, on the other hand, has helped immensely. Through 26 games, Hyman has put up 19 points (11G, 8A) and has been very effective on the powerplay.
While there has been offensive upside, the same can't be said for the defense. While Cody Ceci has exceeded expectations, players like Nurse, Barrie, and Keith, have dragged the Oilers down defensively. Nurse has been a bit better defensively this season compared to last, but things, such as gap control, are really what's hurting his game. Barrie has never been a solid defensive player, so that wasn't expected, and Keith is 38 years old.
While the offense has been among the league-best for the Oilers, the defense has been among the league-worst and most likely won't hold up come playoff time. There are several defensemen that the Oilers can look at trading for that will help this team, both immediately and in the long term. Who are those players?
1. Jakob Chychrun
There is a lot to like about Jakob Chychrun, both in-game and contract-wise. It's easily the best option out there and will have several teams looking to add him to their D-core. The ask is apparently "massive," but it'll 100% be worth it for whichever team picks this guy up.
Chychrun has four years left on a 4.6 million dollar contract, among the best contracts among defensemen in the entire league. With money being tight for the Oilers, a contract like this would be very valuable, considering they'd have it for an additional three years after this season.
Last season, Chychrun had a career-high point total, putting up 41 points (18G, 23A) in 56 games. His metrics were also outstanding. It's even more impressive considering he was on the Arizona Coyotes, a rebuilding team. His previous season was very impressive, but he is struggling a bit this season, only posting 7 points in 29 games. Although those aren't great numbers, they should be taken with a grain of salt, as the Coyotes are at the very bottom of the standings and have a -53 goal differential.
Jakob Chychrun should be Edmonton's number one priority.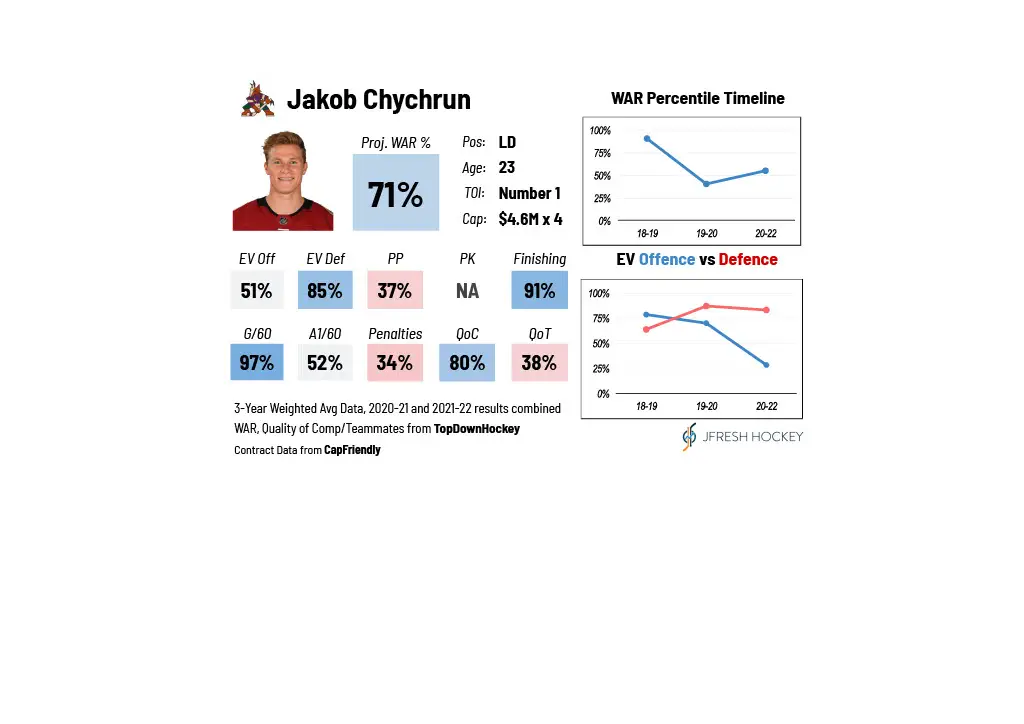 2. Travis Sanheim
Sanheim is an interesting one. If Chychrun isn't available, Sanheim would be the next best thing. For two reasons…
The first reason is that Sanheim's contract is worth $4.675 for two years. This is key because the Oilers would be getting that extra year. The 2nd reason being, his value. Sanheim's value is (most likely) dramatically lower than Chychrun's, his production isn't to the same level, and he doesn't have those two extra seasons like Chychrun's contract.
Sanheim currently plays for the Philadelphia Flyers, who have been struggling this season. So far, he's put up 9 points in 29 games (2G, 7A), not stellar, but his analytics are very good offensively. One thing that might stop the Oilers is Sanheim's defensive play. His metrics show that he isn't the strongest defender, something the Oilers desperately need.
While this would be a pretty good pickup, there might be some cause for concern defensively.
3. Ben Chiarot
Chiarot is a very realistic option here, considering the rumors circulating him this season. At only $3.5 million, Chiarot would be a rental option for the Oilers. Well-known NHL insider Elliotte Friedman said he could see Chiarot fetching a first-round pick for the Habs, which is my biggest problem with trading for Chiarot.
Ben Chiarot was a crucial part of the Montreal Canadians playoff success last season, and he is a defenseman that is good come playoff time. He is a very physical player, a tough left defenseman, and the Oilers would benefit from having. That being said, the bar is already low for that. Chiarot doesn't bring a lot offensively, he only has 7 points through 31 games this season, and his analytics are very pleasant either.
If the Oilers got Chiarot, anything that includes a 1st round pick going the other way is an overpayment. While he would help the Oilers, he should aim way higher if GM Ken Holland is ok with parting ways with the 1st round pick.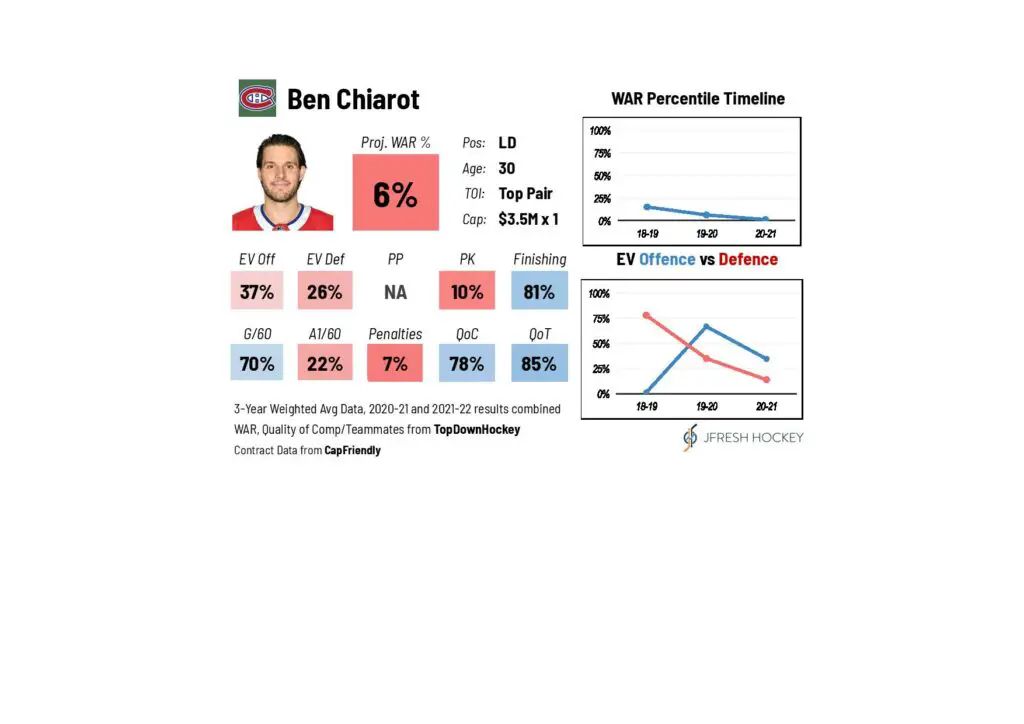 All in all, each of these three would help the defense and bring their own strengths. Ken Holland wants to show McDavid and Draisaitl that he is committed to helping them and getting this team deep into the playoffs. This is the season where he needs to show them that. While players like Chychrun would cost a lot, the Oilers cannot stand pat defensively this season. If they want to be serious contenders, they need to change this d-core because it does not look like it will hold up come playoff time.