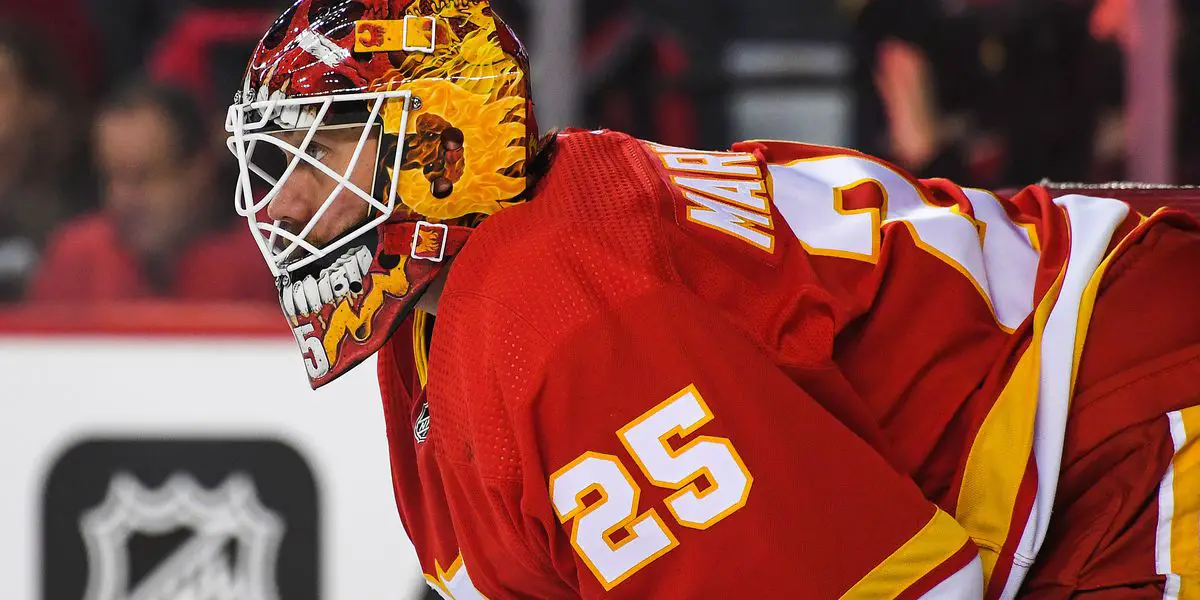 The Calgary Flames had a tumultuous offseason, and the Flames are somehow a stronger and more mature team. General Manager Brad Treliving had his work cut out for him and knocked it out of the park. Now that the roster is assembled, it is time for the players to do the job.
Mangiapane's Success Continues
Last season Andrew Mangiapane had himself a career year with 35 goals. He signed a 3-year extension over the summer, which will have him hitting the market in 2025. The one place the forward struggled last year was during the postseason. It was rumored he was battling a hand injury, but he denied it.
The forward has a solid two-way game that will only strengthen the team's depth. If he finds his game and continues to soar, there's a real possibility that we'll see him replacing Tyler Toffoli on the top line.
Pay close attention to the breadman this season. It's going to be a good one.
Jacob Markstrom's Workload
63. That's how many starts goaltender Jacob Markstrom saw last season. Head coach Darryl Sutter has a history of riding his goaltenders into the ground, and we do not see any changes here. Backup goaltender Dan Vladar will have to take over a bit more. If Sutter can have Vladar start those late-season games against teams eliminated from playoff contention or soon-to-be, Markstrom can enjoy a few extra days off.
There cannot be another repeat of the series against the Edmonton Oilers. The series was abysmal. Markstrom posted a .848 SV% for the series. Everyone around the league knows that that isn't Markstrom. You don't finish second in Vezina Trophy voting by having consistently poor performances.
Strongest D Corps in the League
The Calgary Flames had a strong d-corps last season, but Weegar coming in only strengthens it. When Oliver Kylington comes back, this group will look even better. According to the Flames Opening Night Roster, it seems Connor Mackey and Nicolas Meloche will start the season with the Flames. Now is an excellent time for them to learn from the vets. Chris Tanev is working his way back from a rather serious torn labrum injury.
The Flames are in a position where they can add another defenseman, either Michael Stone from his PTO or call someone up from the Wranglers. It appears that they are going with the latter for now, that is.
Wrapping it Up
The expectations are high, but they are more than attainable. With the Pacific division getting slightly more competitive, the Flames will have to find the momentum and keep it going.
The Flames kick off their season Wednesday night against the reigning Stanley Cup Champions the Colorado Avalanche.
Episode 51: Interview w/Jack Ahcan Episode 51 is back in action talking about the New York Paingers ITR bet, Can Buffalo Sabres make the playoffs? Is Vancouver in the wrong on the Boudreau treatment? Is Tocchet the right guy? Is Daryl Sutter the last Dinosaur in the NHL?YouTube: https://www.youtube.com/@insidetherinkTwitter: https://twitter.com/CueTheDuckBoatzFacebook: https://www.facebook.com/Cuetheduckboats/Thanks for listening! Please rate and review our show on your favorite listening platform. Check out our partner's website at www.insidetherink.com for all your latest hockey news. Also, catch all of the games in this year's NHL season by signing up for ESPN+ at Insidetherink.com/ESPN