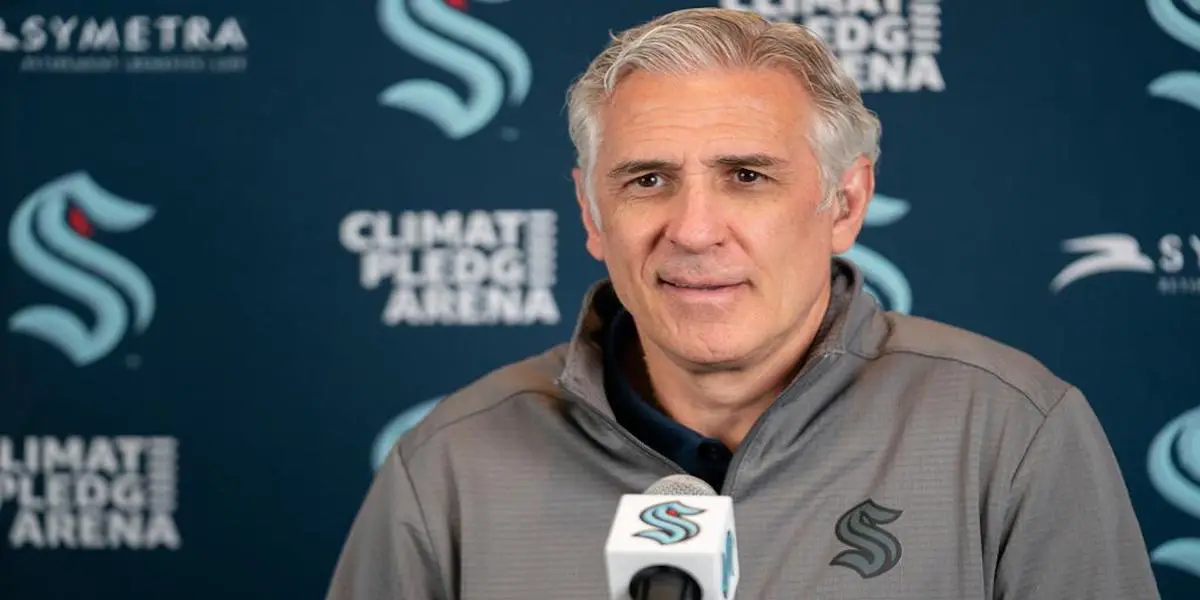 The Seattle Kraken, after finishing last season with a dismal win/loss record of 27-49-6 (good for 30th out of 32 teams), has emerged as a surprise NHL playoff contender. The Kraken headed into the All-Star break boasting a Pacific Division-leading record of 29-15-5, solidifying their spot at 8th in the league standings when this article was written.
Having very recently traded a conditional 4th round pick (Seattle can choose whether to send SJS their pick or COL's by 6/15/23) in the 2023 NHL Entry Draft to the San Jose Sharks for promisingly productive depth defenseman Jaycob Megna after losing Justin Schultz to a long-term injury, could the Seattle Kraken be lining up to make more moves ahead of or even on the day of the NHL trade deadline this season?
A few caveats before we begin: 1. This will be a long one, so make sure you have popcorn, coffee, or whatever your preferred snack is on hand. 2. Keep in mind that the Kraken doesn't have a wealth of projected deadline cap space to toy with ($3,673,893 at the time of writing), so some of these will be a little creative. Let's look at their needs first and see what we can come up with, shall we?
Goaltending
The most glaring yet not-quite-urgent thing that sticks out to me is that the Seattle Kraken needs a genuine starting goaltender. That's not to say that Philip Grubauer and Martin Jones have been particularly terrible; they have been middling. As of the writing of this article, the Seattle Kraken is currently sitting at a combined save percentage of .892 (25th in the league) and a 2.92 GAA, making them the 17th most-scored-on team in the league on average. Having locked up Grubauer at an AAV of $5.9M until the 2026-27 season and Jones at an AAV of $2M that expires after this season, you'd expect to see stats a bit shinier than the ones mentioned above.
All this being said, is this an issue that the Kraken could take care of at the trade deadline? Absolutely. Is it incredibly urgent and their most significant, most pressing need? Not by a long shot. The Kraken's prolific scoring this season has masked many of the blemishes on the other end of the ice. Being the 5th highest-scoring team in the NHL tends to keep most people's eyes off the goaltenders, and rightfully so. Having also recently lost Matty Beniers to injury may put a damper on that, but that remains to be seen at this point.
I can easily see the Kraken making absolutely zero changes at the deadline. I would, however, like to see them take a run at none other than Thatcher Demko. The netminder has had his name tossed around regarding deadline speculation and is one of the top goaltenders rumored to be available ahead of the trade deadline. After trading Bo Horvat to the New York Islanders, the Vancouver Canucks seem to be in full-on Tank for Bedard mode – the Kraken should absolutely take advantage of it and scoop Demko up for Grubauer, a 2nd-4th round pick depending on the Canucks' willingness to retain some salary, and maybe a mid-tier prospect like Peetro Seppälä.
While Demko's numbers have been dismal this season (3-10-2, .883 SV%, 3.93 GAA) for the Canucks, most of this can be attributed to playing behind a worse defensive corps than Seattle has managed to put together. Grubauer's numbers haven't been much better; he's sporting a record of 5-8-2 with a GAA of 3.03, and a save percentage of .897. Aside from giving both netminders a change in scenery, this move would also shave $900,000 off the salary cap if nobody retains any salary. I'm a huge fan of goalie redemptions, and I feel like the Kraken acquiring Demko would prove to be precisely that.
Rental Goalscorer/Playmaker
Initially, I was very interested to see if the Kraken would try and move on Bo Horvat. I wasn't ever really sure how they'd make it work with their cap situation, so I quickly tempered my expectations. After seeing his 8-year, $8.5M extension to stay in Long Island, I immediately breathed a sigh of relief that I didn't even know I was holding in. There is nothing against Horvat, but that is a contract I could see Ron Francis giving out, and it could sour very quickly.
That being said, despite the Kraken being the 5th highest-scoring team in the league, they could still use more offensive firepower to both replace Beniers' production while he's out and solidify the Kraken's offensive prowess in the slog that is the NHL Playoffs. A player that I am not surprised to yet again see floating around in the trade rumor mill is Vladimir Tarasenko. The 31-year-old Russian winger seems to be an enduring mainstay on the St. Louis Blues' trading block; after returning from an all-too-common shoulder injury and proving that he hasn't lost his scoring touch, could we finally see him get moved?
I'm not sure what a deal would look like to bring Tarasenko to Seattle, especially considering his $7.5M cap hit would be pretty tricky for the Kraken to accommodate under the current salary cap. I could see them moving a guy like Oliver Bjorkstrand, but that'd still be a tight fit if the Blues retain no salary. To be honest, this scenario is much less likely than the Kraken just shoring up their goaltending or even standing pat as Ron Francis is wont to do, but it would still be cool to see.
(If the money could be worked out, Jesse Puljujarvi and Timo Meier would be excellent addition(s).)
Offensive Defenseman
I know, I know. The Kraken just traded for a defenseman to fill in for Schultz. I get it. I like the trade; Megna has a pretty solid amount of upside and came at a very low price. I don't think he is the missing piece or the defenseman that moves the needle from Playoff Contender to Stanley Cup contender. Vince Dunn, the Kraken's highest-scoring defenseman, has registered nine goals and 27 assists for 36 points in 49 games played this season. This is nothing to shrug at regarding how pivotal he's been in the Kraken's success. Dunn has been tremendous and has fit right in with his elevated role this season.
Despite Dunn's well-earned success, I believe there are bigger fish in the proverbial ocean, especially regarding this year's trade deadline. I am, of course, speaking about none other than Jakob Chychrun. The former future Florida Panther has recovered stupendously from the injury that spurred speculation on whether or not his trade value would hold and is very likely going to be moved at or before the deadline. His asking price is steep – he is rumored to be a first-round pick, a blue-chip prospect, and a current solid roster player. At an absolute steal of an AAV of $4.6M until the end of the 2024-25 NHL season, Chychrun is easily worth that to a team like the Kraken.
The deal would have to include one of Wennberg/McCann/Schwartz, alongside likely the Kraken's 1st round pick in the 2023 NHL Entry Draft, and a prospect like David Goyette or Jagger Firkus. I don't necessarily like giving up that much, but that's where the whole GM balancing act ordeal comes into play. Sometimes, you have to trade potential futures to Win Right Now, which is one of the moves that would require it.
I fully believe the Seattle Kraken are just beginning to enter their window of contention. I can't think of a better defensive corps centerpiece to build around than Jakob Chychrun, especially when you've got both Matty Beniers currently finding success in the NHL and Shane Wright just waiting to take the league by storm once he gets some genuine ice time. Ron Francis has a monumental task when balancing the immediate and distant future.
Welp, there you have it, folks. My very subjective, very speculative list of potential trade deadline targets that I think would make the Seattle Kraken better contenders for the remainder of this season and going into this year's Playoffs. Thanks a ton for reading, and, as always, you can find me on Twitter @natt_mid if you'd like to discuss/debate/yell at me for these!
The boys are back after a long break but have plenty to talk about as the playoffs are in full swing. We go series by series, looking at how teams have fared so far and who will come out on top. Thanks for listening! Please rate and review our show on your favorite listening platform. Check out our partner's website at www.insidetherink.com for all your latest hockey news.