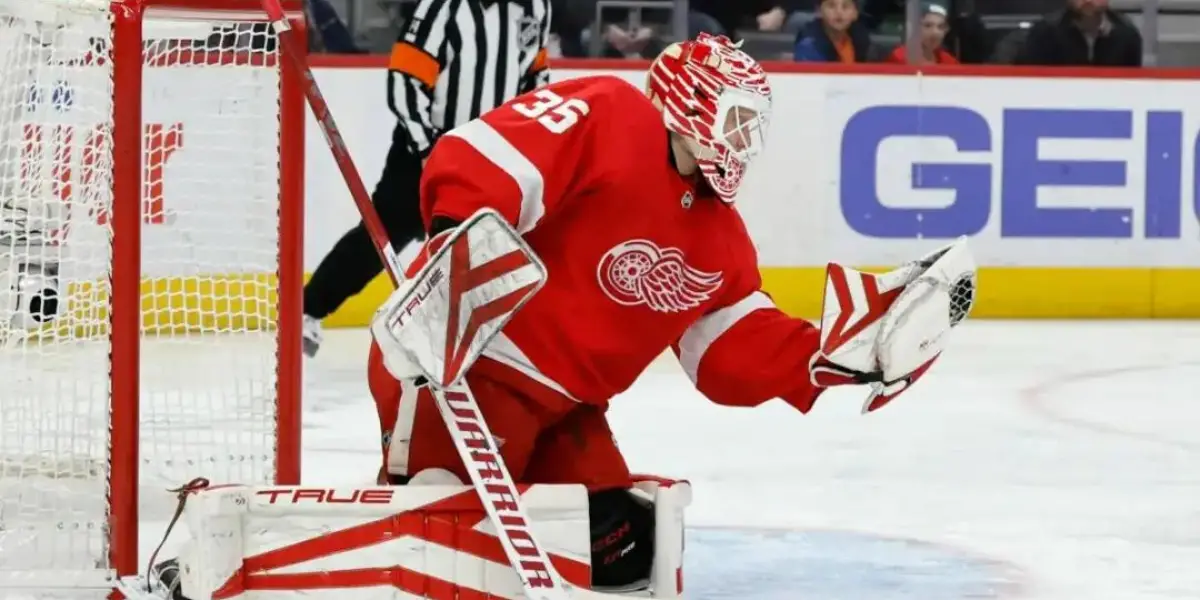 This season, the Detroit Red Wings have higher aspirations than they have had in a very long time. Dylan Larkin, during the season last year, signed a big contract extension. That was a big sigh of relief as Larkin was playing some of the best hockey he had played in his entire career. Steve Yzerman stayed busy throughout the off-season, making big moves and moving the team in the right direction. The biggest splash made by Detroit was obviously the trade with Ottawa that sent hometown hero Alex DeBrincat to the Motor City.
Yzerman traded Dominik Kubalik, Donovan Sebrango, a conditional first round pick, and a fourth round pick in 2024.
After acquiring DeBrincat, the Red Wings signed him to a 4 year, $7.875 million AAV deal. That means the former foe when he played for the Blackhawks organization will be in Detroit for a while.
Yzerman made some other notable signings in the off-season, which included J.T. Compher, James Reimer, Alex Lyon, and Shayne Gostisbehere, just to name a few. Detroit also made a trade for veteran defenseman Jeff Petry.
Although the Red Wings will need to lean on their star power, you should expect to see some non-household names making a big impact as well.
Here are three potential unsung heroes for the Detroit Red Wings in 2024.
Michael Rasmussen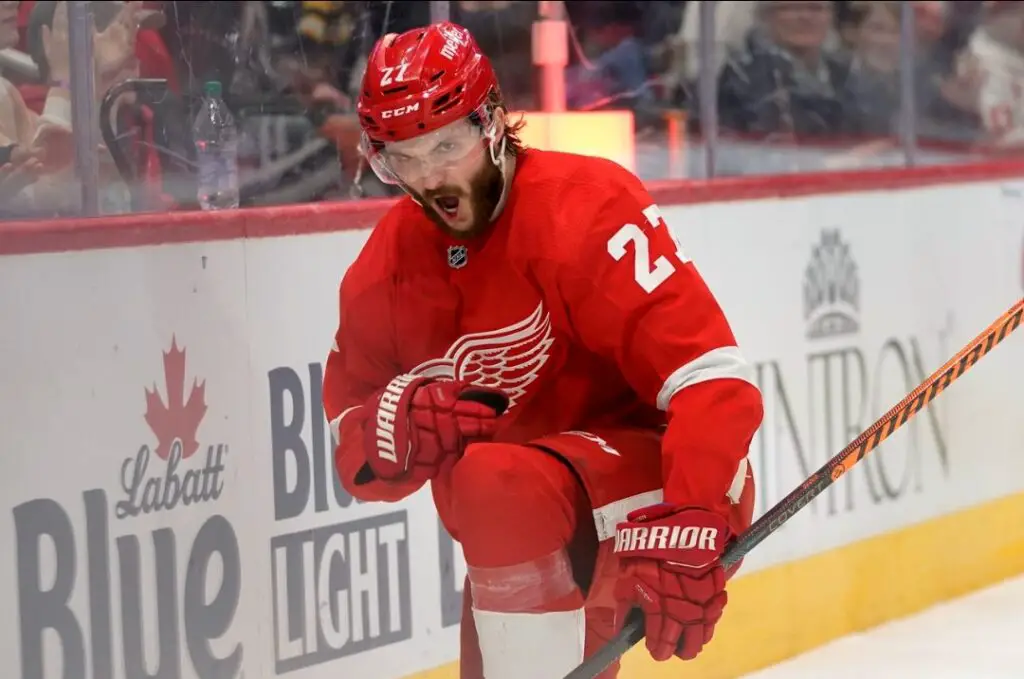 Michael Rasmussen, nicknamed "Moose," has been playing fantastic over the past two seasons. The 24-year-old Red Wings' center is one of the bigger players on Detroit's roster. He stands at 6′ 6″ tall and weighs 229 pounds. As you can imagine, Rasmussen plays a bit physical, and if he feels the need to push people around or push their buttons, he will. However, the former first round pick (9th overall) has been shooting the puck very well for the Wings' organization.
"Big Ras" only played in 56 games last season for the Red Wings, but hopefully, he can stay healthy all season in 2023-24. In that span a year ago, Rasmussen scored 10 goals and had 19 assists for a total of 29 points. That may not seem like much, but you could see the void when Rasmussen wasn't in the lineup.
In 2021-22, Rasmussen played in 80 games and set a career high in goals that season. He finished with 15 goals and 12 assists for 27 points.
If he stays healthy, Rasmussen could quietly play a big role in a Detroit playoff berth.
The Goaltenders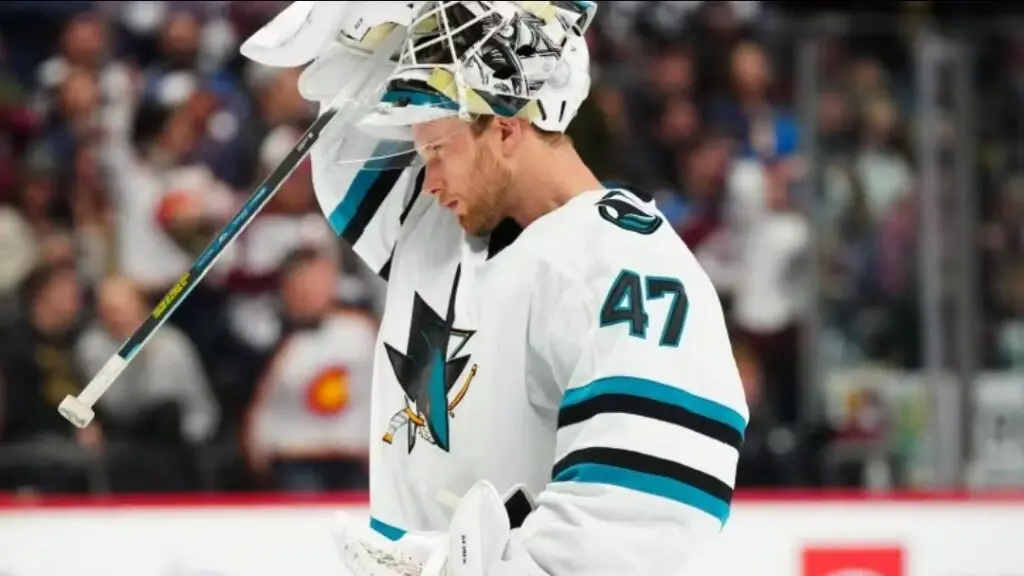 Steve Yzerman made creating goalie depth a priority this off-season. Ville Husso, who was very solid for the majority of last season, is back and is expected to be goaltender number one on the Red Wings' depth chart. Meanwhile, free agent signings James Reimer and Alex Lyon will look to fill the number two slot.
The Red Wings signed former San Jose Sharks' goaltender James Reimer during the off-season. The 35-year-old veteran goalie finished last season with a 12-21-8 record, three shutouts, a 3.48 GAA, and an .890 save percentage.
Detroit also signed former Florida Panthers' goaltender Alex Lyon, who I believe has more upside. The 30-year-old goalie finished last season with a 9-4-2 record, one shutout, a 2.89 GAA, and a .912 save percentage.
This Red Wings goalie depth chart looks much more solid than it did a year ago. Only a couple of games could stand between the Red Wings and a postseason berth. Solid goaltending is gonna have to happen this season for the Red Wings to take the next step. It won't all be up to Ville Husso this season, either.
Amadeus "Ammo" Lombardi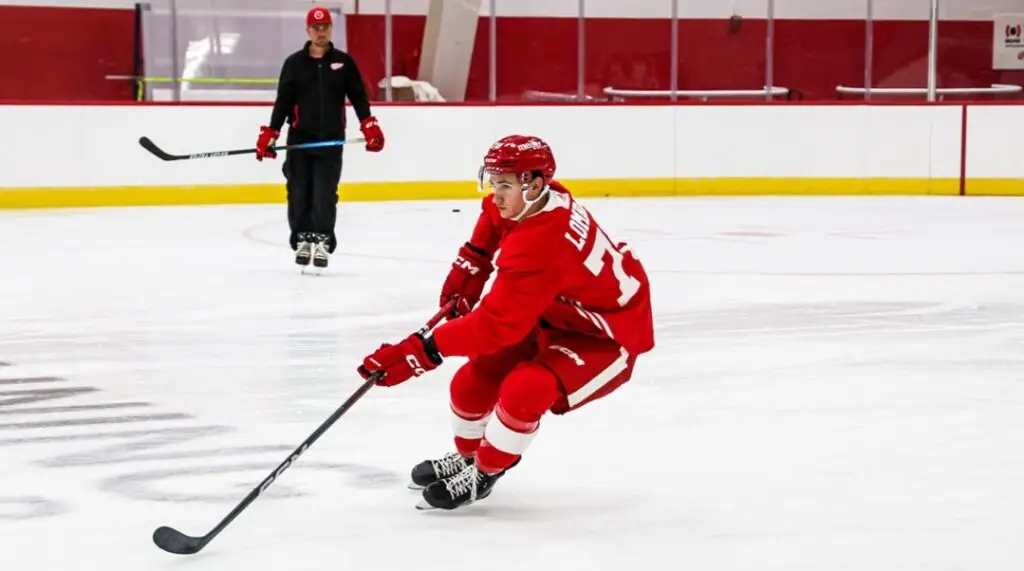 All aboard the Amadeus Lombardi hype train, this is your captain speaking…
I am very, very high on Amadeus Lombardi, but I nearly left him off this list because we don't know if he will make the roster this season. However, I believe he will not only earn a roster spot but also make a big impact for the Red Wings.
20-year-old Red Wings' center Amadeus Lombardi, who has picked up the NHL nickname "Lambo," was a fourth round pick (113th overall) in 2022. Lombardi was drafted as one of the top prospects from the OHL. He played not far from Detroit as he was a member of the Flint Firebirds team.
Lombardi was on that Flint squad for three seasons. He broke out during the 2021-22 OHL playoffs before having an all-around fantastic 2022-23 season.
Lombardi played in 67 games, scored 45 goals, and had 57 assists for a total of 102 points last season for Flint. He was called up at the end of the season to the Red Wings AHL affiliate. Lombardi played in the final two games for the Grand Rapids Griffins. Although he didn't score a goal, he did get an assist.
The Detroit Red Wings will open their season vs. The New Jersey Devils on Thursday, October 12th, at 7:30 PM. The Red Wings will be on the road.