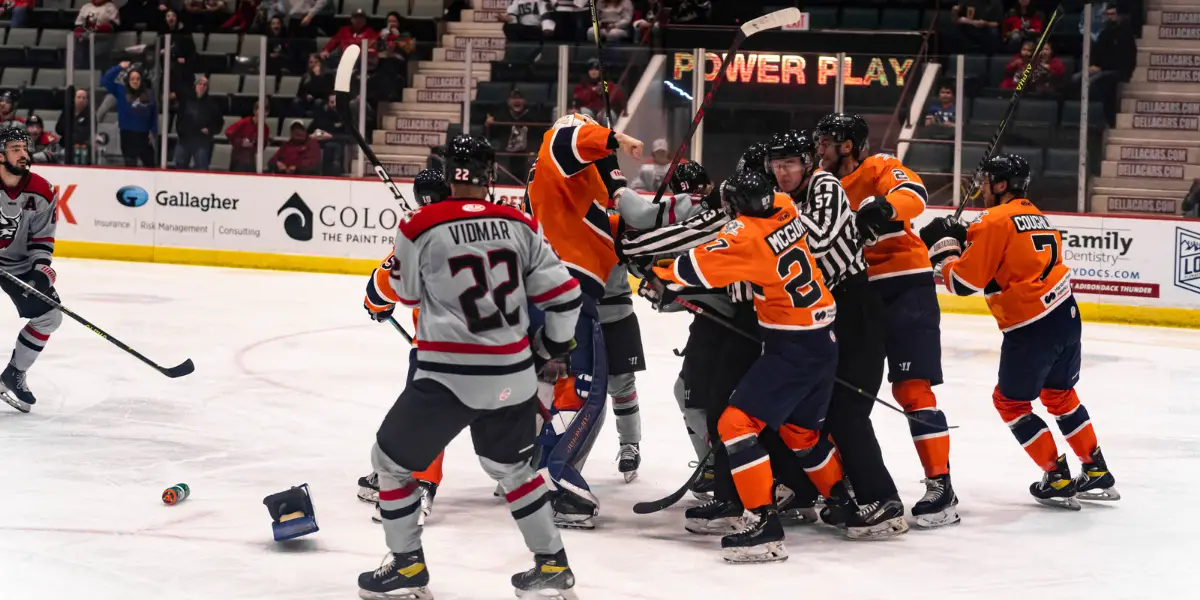 "I don't even think it's that we haven't played well, are breakdowns are huge, we're just giving it to the them, Ya, they're good, but we suck right now," was Head Coach Pete MacArthur's response to if Worcester was the better team or not, and his quote perfectly describes the past weekend for the Thunder. Coming into the weekend, they were down Jake Ryczeck, Yanick Turcotte, Xavier Parent, Shawn Weller, and Rex Moe. Despite the injuries starting to pile up, it's given guys chances to show that they deserve a spot on the team, but no one would make a big impression this weekend for the Thunder.
Quality, Not Quantity, Leads Worcester to Fourth Straight Win
GLENS FALLS, NY-The Adirondack Thunder have now dropped three straight, all against the Worcester Railers, as tonight, in front of a sellout crowd of 5,186, they lost 4-2. If you remember the season opener, this game will bring back some Deja Vu as the Thunder would give up two goals in 40 seconds, the first on a shot from just inside the blue line from Ryan MacKinnon that would beat Isaac Poulter and then a shot from Collin Adams that would go over the shoulder of the 21-year-old goaltender. Adirondack would come back to tie the game up at two as Jarred Gourley would feed Patrick Grasso, who was open in front of the net and would net his first of the season just 26 seconds later. Shane Harper would feed Gourley, who would tip it in to tie the game for the Thunder. When asked about the response, Head Coach Pete MacArthur said, "Ya, It's just a waste of energy." Adirondack finished the first period by doubling up the Railers on shots, 16-8 in the opening frame, which continued for most of the game. Despite not having many chances, the Railers' chances were high-quality, and they would take advantage of a few of the numerous ones they got. Blade Jenkins would get a pass from Brent Beaudoin and tap it in for his third of the year, as five of his six points have come against the Thunder. Adirondack would continue to pepper Henrik Tikkanen but wouldn't get another one past him as he had a very solid game stopping 35 of the 37 shots for Worcester, including eight from Sebastian Vidmar, " You know sooner or later, they are going to go in" said Vidmar. "Tonight's game was unacceptable," said defencemen Jarrod Gourley."
Thunder Woes Continue As Losing Streak Reaches Four Games
GLENS FALLS, NY- The Adirondack Thunder needed a bounce-back performance tonight, and that isn't what they got in a 6-1 loss to the Worcester Railers on Sunday afternoon. Once again, it would be an early goal that would kill them as Thunder killer Blade Jenkins would win a one-on-one battle and get a shot that would get past Jake Theut to open the scoring just 5:01 into the opening period. Steve Jandric would double the Railers lead on the PP on a goal where Theut might have been interfered with but was reviewed and called a good goal, which was the first goal the Thunder gave up this season while short a man. The Railers weren't quite done yet for the opening period as Jimmy Lambert would get his first goal on a short-handed chance as he got a nice feed on a two-on-one from Brent Beaudoin to make it 3-0 after the opening frame. The chippiness of the game intensified, especially at the 5:02 mark when Worcester Goaltender Ken Appleby and Noah Corson would start throwing hands, and would eventually lead to a Thunder five on three for over a minute and couldn't convert, "Puck was jumping, early we were fine, a couple hard plays right off the rip, and then offensive players when it isn't going in the net, you try to over complicate than simplify it" said MacArthur.
Steve Jandric would fire a shot from the point to make it 4-0, ending Theut's night, and Isaac Poulter was inserted in relief of Theut. Theut made 10 saves on 14 shots. Worcester would add another PP goal as Bobby Butler got a nice feed from Liam Coughlin to make it 4-0 at the end of 40 minutes. However, as the horn blew at the end of the second period, Jared Gourley and Reece Newkirk dropped the gloves. The third period was entertaining despite the Thunder giving up two more goals to Worcester. Ryan Smith would have a chance to get a break-away but would stumble over his own feet, then later in the period, Poulter would come out to almost the blueline to play the puck but would end up making a pad save very far out of his net. Adirondack would get on the board, however, on the PP as Shane Harper got a nice pass from Noah Corson for his first of the season.
Head Coach Pete MacArthur isn't worried about the team yet and says they just need to stick together. When asked about what Jake Ryczek and Rex Moe would bring to the team next week, MacArthur said, "It depends on how they wanna play, I kinda thought the guys in there would have more push, it depends on if they wanna decide to play. A new opponent for the Thunder next week, but Coach MacArthur is more concerned about his team.
Adirondack travels to Trois-Rivieres for two games starting Friday Night, North of the Border.