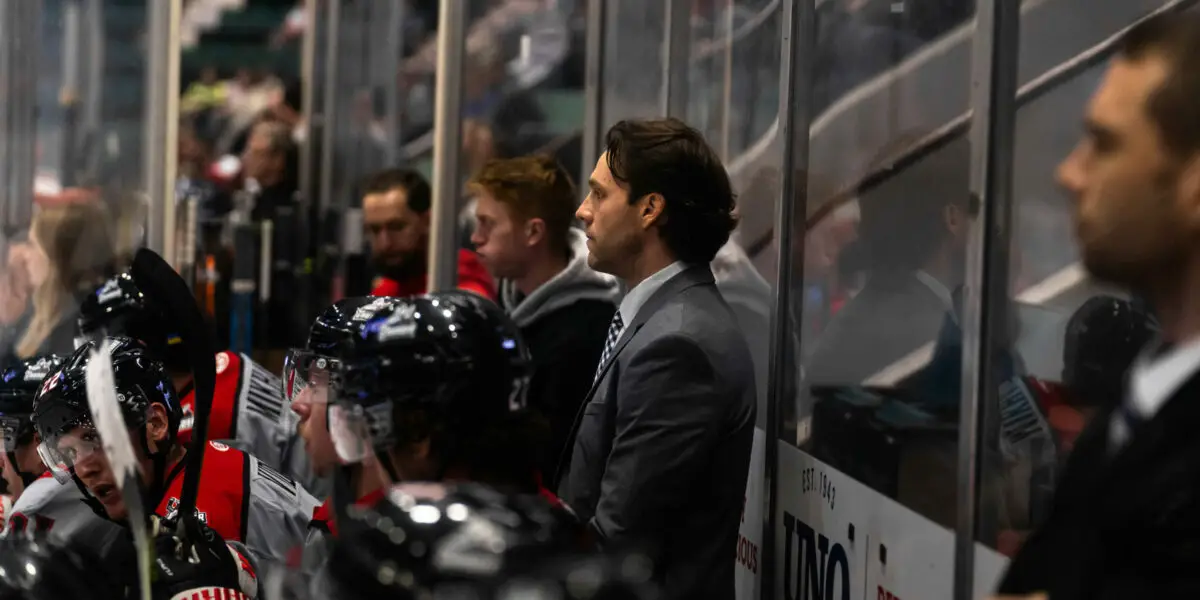 Peter MacArthur is a well-known name in Adirondack as he spent a little over three years with the Thunder as a player, putting up 53 goals and 122 assists for 177 points in 202 games as a member of the Thunder, MacArthur also spent time in the ECHL with the Las Vegas Wranglers, Fresno Falcons, and Allen Americans, MacArthur played in 265 games in the ECHL totaling 76 goals, 164 assists for 240 points. He also spent time in the AHL with the Bridgeport Sound Tigers, Rockford Ice Hogs, San Antonio Rampage, Peoria Rivermen, and Lake Erie Monsters. He scored 29 goals and 57 assists for 86 points in 190 AHL Games. On June 21st, 2022, MacArthur was named the Head Coach of the Adirondack Thunder, and it's his first head coaching gig. "A lot of learning across the board, just try and keep those guys positive in there, I was a player for a long time, and I know how hard it can be at certain points of the year, so my focus is just to keep them going so they have a good experience here," said MacArthur when asked about his first year as Head Coach. This season MacArthur has led the Thunder to a 21-24-7-1 record which puts them nine points behind Worcester with four games in hand with nine head-to-head matchups remaining between the two clubs. When asked how important it is for the team to make the Kelly Cup Playoffs, MacArthur mentioned that it's very important, but he thinks it's more important for the team to compete in every game and said the team's third-period numbers where they are outscoring teams 68-54.
With the ECHL Trade deadline just nine days away, I asked coach MacArthur if the team had planned on making any moves, "I think you're gonna see most of those guys in the room will be in the battles, but if there's a way for us to get better whether it's guys coming out of college adding them or making a trade that's our is to make us better, so if it makes sense, we'll do it if it doesn't we won't." Adirondack did go out and sign defencemen Kyle Hallbauer from Rensselaer Polytechnic Institute, "I heard he's sneaky good, and we like him on film, he's a leader, and he wore a C in college; MacArthur mentioned that he would get big minutes with Jeff Taylor out of the lineup.
The Adirondack Thunder are currently two goals away from hitting 1500, and when asked about the feat and what it would mean to do it at home, "That's pretty cool; I think I scored the 10000th goal in the history of Boston University, so that's neat, The history of the game is certainly I think it is neat and I didn't know this one, but I think it's a testament to the community here and how they've rallied around this team, I wasn't here at the very beginning of the first year, I came in about halfway through, and I know people were a little skeptical about the level of play here and now they see that with the early success and the level of play that it is and where some of the guys have gone from here have and still have the team here and 1500 is pretty neat" said MacArthur. Adirondack's 1000 goal also came at home. vs. Maine Mariners courtesy of Casey Pierro-Zabotel on December 7th, 2019.