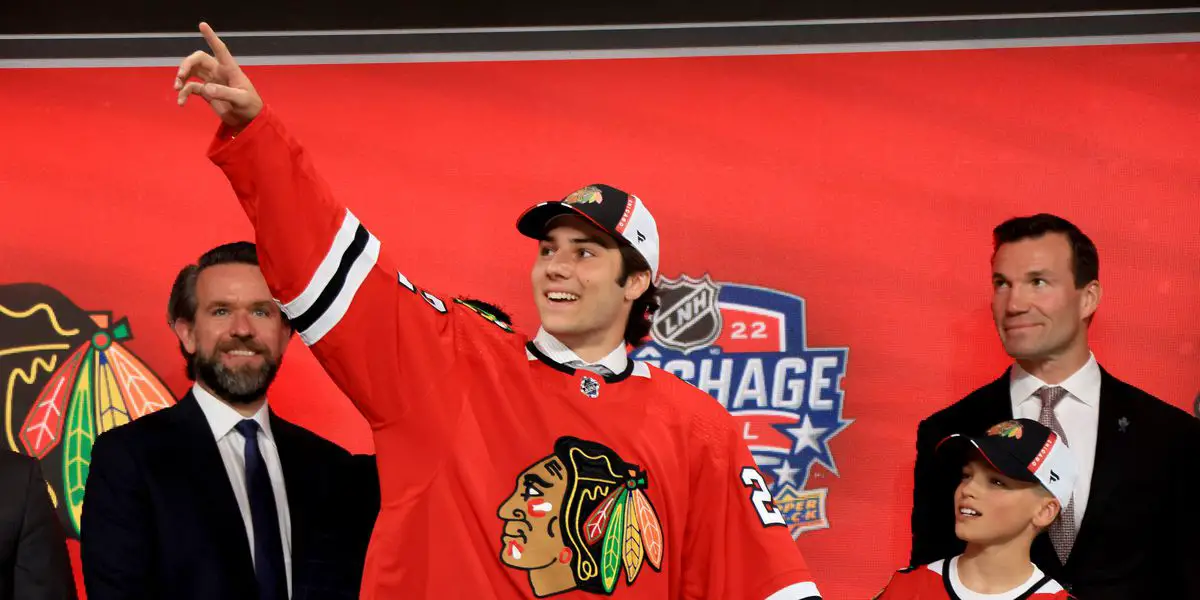 In just a year, Chicago's prospect system has completely changed. Davidson has ripped this franchise down to the bolts and nuts. As a result, Chicago's pool of prospects has been upgraded substantially. With the development camp ending, it's time to dive deeply into the Blackhawk's prospects.
The Blackhawks prospects
Risk ratings: 1-10, 1 being safe, 10 being risky
Franchise tier
Blackhawks don't have any.
A-tier Prospects
1) Frank Nazar:
Nazar is everything you want in a prospect. Barring any changes, Frank Nazar is headed to Michigan University to become a Wolverine. Nazar is coming off a great season with the USNDTP. In 56 games, he scored 28 goals and 42 assists. He spent most of the season at the center position but also played a little on the wing. His athletic ability makes up for being slightly on the smaller size at 5'10". Nazar is an electric factory on the ice. Nazar has dynamic speed that he uses to blow by defenders and create breakaways with ease. Unlike most young players, Nazar is willing to attack defenders down the middle of the ice, not always shying to the outside. Nazar processes the game faster than most players, allowing him to slow the game down and helping him create open looks for his teammates with the top players in his draft class. Nazar can make a quick pass from behind the net in front or saucer pass a puck over a defender to a teammate breaking down the far boards. He alters his speed while working his edges as he carries the puck, making it difficult for the defender to keep a close gap, opining passing and skating lanes, generating easy zone entries. Even though his speed is what POPS off the page, Frank's shot is elite. But his willingness to both shoot the puck and pass, not favoring one, keeps goalies and defenders on their toes. He can shoot while at full speed, off either leg. In addition, Nazar has soft, fast hands that allow him to get shots off quickly, surprising goalies. He's also able to stickhandle his way out of tight places. Nazar is the total package on the offensive side of the puck.
Nazar is solid but not great in his defensive zone. Nazar works hard backchecking on every play. He is active with his stick in the zone and reads the game well, anticipating plays and turning the puck over. Nazar is willing to go into the boards and battle, but this is where his size lets him down some. He tends to lose board battles to bigger players. Nazar can improve this as he adds muscle to his frame and learns how to attack bigger-sized players.
Nazar gets the top spot on the list because of his high-end upside, but he also has a safe floor. At worst, Nazar turns into a speedy second-line center, but the Blackhawks could have an absolute game changer on their hands if everything goes right. Nazar could be an ELITE center that produces a point per game or more. He has all the intangibles to be a superstar. Now he needs to develop into his body and fine-tune his craft over the next few seasons in Ann Harbor.
High-end projection: First Line Elite Center
Low-end projection: Second Line Center
Risk Rating: 3/10
2) Kevin Korchinski:
Let's get right to it. Korchinski comes in one spot behind Nazar solely due to his risk factor. Korchinski is the definition of a "high-risk, High-reward" player. Korchinski projects as an offensive puck-moving defenseman. He is a 6'2″ left-shot defenseman that played for the Seattle Thunderbirds. In 67 games, Korchinski scored four goals and 61 assists. Korchinski continued his excellent play into the WHL playoffs, and in 25 games, Korchinski scored six goals and 13 assists while going plus six.
Korchinski's week link is his defensive zone. That's not due to lack of effort. Korchinski, unlike most offensive defensemen, doesn't shy away from going into the dirty areas and battling. Unfortunately, Korchinski sometimes gets lost in the defensive zone, costing his team. This is nothing to be concerned about as he grows; he will learn how to position himself in the passing lanes better. Korchinski also was overpowered at times, but as he works out and adds more mass to his frame, this shouldn't be a problem.
On the offensive side of the game, Korchinski is the dream defenseman. He is an excellent skater who uses it to create time and space. In addition, Korchinski loves to use his edges, cutting back away from the defender instead of forcing a play up the boards. One concern with this is that Korchinski favors spinning back to his forehand most of the time. This can get predictable, and at the next level, players will be all over it if he isn't able to use both directions more often. However, Korchinski's skating and edge work allow him to walk the blue line easily, opening passing lanes for Korchinski. Korchinski is poised with the puck and has elite passing abilities. His vision and passing ability allow Korchinski to make tape-to-tape passes all over the ice creating both effective zone entries and scoring chances. Korchinski is perfect to be a power play quarterback. Korchinski said he models his game after Shea Theodore.
Korchinski could be the franchise offensive puck-moving defenseman that every NHL team wants. But he comes with a lot of risks. Korchinski will need time and coaching to massage his defensive game before he can even think about touching NHL ice. But, if the Blackhawks take their time and give Korchinski everything he needs, he could be the elite offensive defenseman that can drive the play for years to come. Davidson took a risk-taking Korchinski at seven overall, but Korchinski has the entire bag of tools to be a number one defenseman.
High-end projection: Number One Defenseman
Low-end projection: Bottom Pair Defenseman and PP QB
Risk Rating: 7/10
3) Drew Commesso
Commesso was selected 46th overall in the 2020 NHL Draft. Commesso is currently a goalie for Boston University. Commesso has every tool you want to have in a goalie. Coming into his draft, Commesso had equal or better numbers than the likes of John Gibson, Thatcher Demko, Spencer Knight, Jack Campbell, and Jake Ottinger, all of which played for the USNTDP. Commesso has posted a .915 and .914 SV% in his first two seasons playing in college. This should not concern anyone as BU as a program has been subpar the last few years to their standards. It's not about stats for Commesso. It's about fine-tuning and perfecting his craft. Player development isn't linear, and if any NCAA staff will develop Commesso, it's BU. There is a reason USA hockey has put so much trust in the young goalie, even bringing him to the Olympics, where he became the youngest American goalie to record a shutout.
Commesso tends to play a more aggressive style, but he rarely gets caught sliding out of position. Commesso likes to play out on the top of his crease, cutting angels down and taking away as much net as he can. His ability to show a hole to a shooter and then take it away helps deceive shooters. Commesso battles through screens and never quits on a play. When it comes to his glove, it is lightning fast. Commesso also is excellent at playing the puck. He can make a stretch pass to wingers breaking out of the zone or just a quick bump pass to his defenseman in a tight situation. Commesso stays calm and doesn't panic. Where he can use some work is his rebound control with both his blocker and pads.
Goalies are riskier than any other position, but Commesso has it all. He has size, speed, and athleticism and has the right head on his shoulders. Commesso turned down a trip back to World Juniors so he could focus on getting ready for his upcoming season at BU. At Blackhawks development camp, Commesso stood out on and off the ice. Commesso has a long way to go before pulling on a Blackhawks sweater, but he has the tools to be the next elite American goalie. But even if he doesn't reach his ceiling, it's safe to say Commesso will be a starting goalie in the NHL one day.
High-end projection: Elite Goalie
Low-end projection: Average Starting Goalie
Risk Rating: 4/10
4) Lukas Reichel
Reichel just makes it on to this tier. Playing in his first season in North America, Reichel was just fantastic. In 56 games, Reichel had 21 goals and 36 assists. He was a huge reason the IceHogs made the playoffs.
Reichel brings a relentless game, and he never quits on pucks. He backchecks relentlessly. Reichel is a solid skater and can make plays while at full speed. In addition, Reichel has soft hands and loves to attack defenders up close, shifting his edges and weight to change directions or putting the puck in a defender's triangle and betting them that way. Reichel sees the game well and anticipates where players will be, making passes to open ice for teammates to skate into. Reichel is more of a playmaker but also willing to shoot the puck. This keeps defenders on their toes. His shot is good but not great; as he adds more mass to his body, he should improve his shot.
Reichel has the skill and ability to become a player who plays a solid two-way game. Chicago found something at pick #17. Now they need to develop him. Reichel can be a player who scores 20-30 goals and 60-75 points. Out of all the Blackhawks prospects, Reichel is the safest.
High-end projection: First-line Center/Wing
Low-end projection: Third-line Center
Risk Rating: 2/10
B-tier Prospects
5) Alex Vlasic
Vlasic has taken the most significant jump of any Blackhawks prospect. Vlasic is massive at 6'6″ and projects to be a shut-down defensive defenseman. The Wilmette, Illinois native played alongside Drew Commesso at BU before jumping to the NHL level to end the season. Although, when Vlasic came to the NHL, Derek King said he was "unplayable" by the end of it, Vlasic was playing top pair minutes and looking great doing so. This is also probably the last time Vlasic will make a "Prospect" kist as he could find himself playing a good amount in the NHL next season, maybe even becoming a regular.
Vlasic's long body allows him to cover huge chunks of ice. He is willing to get in shooting lanes and block shots. Once he adds some muscle to his body Vlasic will be a dominating force in his defensive zone. For a guy of his stature, he skates well. Vlasic controls the gap nicely. Where Vlasic needs to work on is his offensive game, he will need to improve on his ability to get his shot through. Vlasic does have an excellent first pass leading to easy breakouts. Vlasic will never be the most offensive guy, but he can be a dominating defensive force. Blackhawks fans can think about a bigger Hjalmarsson type. NOW don't think he's going to be as great as the Hammer but that style of shut-down defense.
High-end projection: Top four Defensive Defenensman
Low-end projection: Bottom Pair Defenseman and PK
Risk Rating: 4/10
6) Sam Rinzel
Rinzel only comes in behind Vlasic due to the risk factor. Rinzel's risk is also the reason he missed out on being an A-tier prospect even though he has all the skills in the world. However, he's the definition of a project. Rinzel has every skill in the world to be an insanely gifted puck-moving defenseman, but he is extremely raw. He spent most of his year playing high school hockey in Minnesota, where he scored great numbers (27Gp, 9G, 29A, +22). Rinzel got in a few USHL games (21 games) and scored two goals and eight assists. However, Rinzel did struggle to defend when he took the step up to the USHL.
Rinzel has good size at 6'4″ and is an excellent skater both in a straight line and laterally. He is just as strong as a skater backward as he is forwards. Rinzel has fantastic edge work pair that with his quick first step, and it's a perfect potion to walk the blueline and open shooting lanes. However, his shot is one of if not the most substantial part of his game. He has a cannon of a shot and loves to let it go, but this sometimes costs him shooting into the defender's shin pads. He has an excellent pass and can stretch the ice, but just like his shot, he will try to force plays again, turning the puck over. He has above-average hands that allow him to play with speed. Rinzel has an excellent transition game and loves to drive the offense. Once in the offensive zone, Rinzel can be a bit of a rover, jumping in the play and even finding himself behind the opposing team's net.
Rinzel is RAW and will take a lot of time and development before he even sniffs the NHL, but with patients and time, Rinzel could turn into a two-way stud defenseman that loves to shoot the puck. Of course, he's a massive risk and could never even make the AHL team, but with the skill set Rinzel brings to the table, it's worth the risk.
High-end projection: Top Pair Two-way Defenensman
Low-end projection: AHL Bust
Risk Rating: 9/10
7) Ian Mitchell
Ian Mitchell has had a roller coaster of a pro career. Mitchell would spend all but eight games in the AHL. The days of Mitchell being the next Keith are over, but Mitchell could still turn into a solid two-way middle-pair defenseman. In 57 AHL games, Mitchell scored 11 goals and 35 assists.
Mitchell is undersized, but this doesn't shu him away from the physical aspect of the game. For example, he will go into a corner, knowing he will take a hit to bump-pass the puck to his partner. Mitchell is reliable in his zone, and now he has had time to add muscle to his body. Mitchell should be able to showcase this at the NHL level. His offensive game also seemed to turn a corner this year. He is a solid skater who uses his edges excellently, transitioning in any direction. Mitchell was the power play QB and looked the part doing so. He stayed calm, cool, and collected, finding passing lanes or blasting shots on the net. Mitchell is prime to make the jump back to the NHL this upcoming season, and with this Blackhawks roster, he should get every chance to showcase his offensive upside.
Mitchell was once praised by he who shall not be named as the next big thing. Mitchell may never live up to that hype. He will still be an NHL defenseman with the upside to be a middle pair defenseman who can man the second power-play unit. Next season will be important in Mitchell's career at the age of twenty-three.
High-end projection: Middle Pair two-way Defenseman
Low-end projection: Seventh Defenseman
Risk Rating: 2/10
8) Paul Ludwinski
Ludwinski is a speedy two-way center with the "DOG" in him. He brings a competitive level that has been lacking in the Blackhawk's prospect under the previous regime. His speed allows him to cover the ice well, and his drive never lets him give up on a play in the defensive zone. He is just as relentless in backchecking. Ludwinski is just the type of player the city of Chicago will fall in love with. Ludwinski is more than just your typical speedy hard worker who just doesn't have the skill to take the next step. He brings the IQ and skill to make plays. Now, he doesn't have the most amazing hands in the world, but they are good enough to play in the NHL.
Ludwinski has the drive and the speed, but the Hawks will need to fine-tune and develop his expensive game more if they want him to be more
than a bottom-six player. If everything goes PERFECT, he could turn into a second-line center, but it's more likely he will turn into a third-line high-energy center.
High-end projection: Low-end Second line Center
Low-end projection: AHL top line FW
Risk Rating: 5/10
9) Wyatt Kaiser
Kaiser is another great skater and makes attacking forwards look like they hit a banana peel in Mario Kart before hitting a beautiful bank pass to his winger in stride. Kaiser has been impressive, to say the least, to start his collegiate career. He makes hard, crisp passes on the tape and brings a good transition game. His IQ is never on display more than when he's using the boards to make insane bank passes. His shoot is on par with NHL defenseman. But Kaiser's massive gain was made on the defensive side of the puck this past season. He learned how to use his skating ability to his advantage while not getting lost chasing the puck. Kaiser also loves blocking shots and is willing to get in front of anything thrown at his team's net.
Kaiser is similar to Mitchell in style and upside, But being younger, there could be some untapped potential. With the right coaching, Kaiser could be a smooth skating middle pair defenseman.
High-end projection: Middle Pair two-way Defenseman
Low-end projection: Seventh Defenseman
Risk Rating: 5/10
`10) Landon Slaggert
The 2020 79th overall pick (third-round) has been trending in the right direction over the past year. Slaggert also looked fantastic during development camp this season. The 6'0″ center/wing plays in South Bend for the fighting Irish. Last season, he played 40 games and scored 12 goals and 14 assists.
Slaggert is a power forward who loves to throw his body around. He isn't scared of contact and will bulldoze his way to the net. Slaggert is solid in the defensive zone and brings a responsible game. Slaggert does not have crazy upside and projects to be a third-line center, but his style of play fits the role perfectly. He is capable of scoring goals and showed that when he was with the USNTDP team. His powerful stride gives him deceptive speed, and his hands are good enough to allow Slaggert to play at top speed.
Slaggert could be the perfect third-line power forward for the third line. He will need another season or two before he is ready for a taste of the NHL. The Blackhawks don't have many physical prospects in the system, giving Slaggert an advantage. Slaggert has all the abilities to play a Dave Bolland style of play.
High-end projection: Third-Line Power Forward
Low-end projection: AHL Lifer
Risk Rating: 6/10
To Be Continued…
Season 2 Episode 10: Is Patrick Kane The Greatest Blackhawks Player Of All Time
–
Cue The Dagger
In this episode, we discuss if Patrick Kane is the greatest Blackhawks player of all-time, Lukas Reichel's one NHL game, and his unbelievable shootout goal. We also break down Seattle's chances of making the playoffs, is hitting and fighting making a comeback? and much more NHL news and topics  #Blackhawks #ALLCAPS #NHL #SeaKraken #LetsGoBuffalo