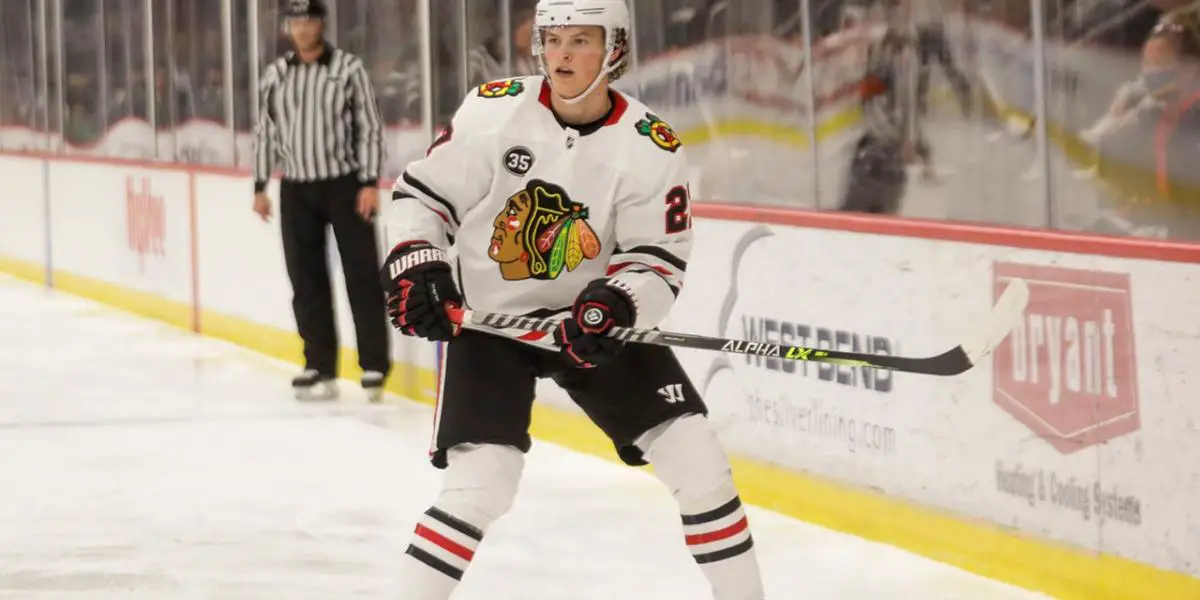 The Chicago Blackhawks rebuild has been in full effect for about an entire season, and it is going as perfectly to the plan as possible. The Blackhawks are tied with the Columbus Blue Jackets for last in the NHL. However, with only seven games back, the Blackhawks should be prime to land a top pick in the upcoming NHL draft has been labeled as one of the deepest drafts in the last twenty seasons. The Blackhawks are surely going to land a top prospect, only adding to their pool of excellent prospects that they already have. This season has been a fantastic season of growth among the current prospects. Let's take a look at the top prospects in the Chicago Blackhawks organization.
Number 1:
Kevin Korchinski
Korchinski was drafted seventh overall with the draft pick acquired in the Alex DeBrincat trade. Korchinski plays for the Seattle Thunderbirds of the WHL and has been one of, if not the top defenseman in the entire WHL. Korchinski was named to the WHL U.S. First All-Star Team. Korchinski is sixth among WHL defensemen in points, with 73 points in just 54 games (11G,73A). Korchinski is a smooth-skating defenseman that excels in transition and drives the play with his high-end passing abilities. Korchinski could join the Blackhawks as soon as next season.
Number 2:
Frank Nazar
Nazar was drafted thirteenth overall with the draft pick acquired from the Montreal Canadians in the Kirby Dach trade. Nazar is the hardest to rank out of all the Blackhawks prospects due to missing most of the season due to injury. Nazar is one of the fastest skaters in the NCAA and has an insane offensive upside. Some scouts have compared him to Brayden Point of the Tampa Bay Lighting. Nazar has played twelve games in twelve games and has produced seven points during that span. (2G,5A) Nazar and the University of Michigan are in the Frozen Four with a chance to win a national title. Due to Nazar's injury, he will likely return to college for at least one more season before joining the Blackhawks.
Number 3:
Lukas Reichel
Reichel has taken another massive jump in his development this season and has been a leader on the Rockford IceHogs, the Blackhawks AHL team. Reichel put up forty-six points (17G,29A) in fifty-one games before getting the call-up to the NHL for the entire month of March. Since being in the NHL, Reichel has shown that he deserves to be in the NHL and that his speed and hockey IQ can drive an NHL line. If Reichel were playing with better linemates, his number would look much better. With that said, he has ten points in nineteen games played. (5G,5A) Reichel speed scares the defenseman and makes them back off. You can expect to see Reichel as a full-time NHL player for the Blackhawks next season.
Number 4:
Drew Commesso
Commesso has led Boston University to the frozen four and has his eyes set on a national title. Commesso has had a few ups and downs this season, but he has found his game after a shaky start and has been lights out. Commesso is calm and cool in the net, not allowing a past mistake to throw his game off. Commesso was named Regional MOP during the NCAA tournament. In his thirty-three games played, Commesso has put up a save percentage of .914 and a goals-against of 2.41. It's not often that a goaltender is named a captain or assistant captain, but that is just the case. Drew Commesso has been wearing an "A" for BU.
Number 5:
Ilya Safonov
Safonov is a twenty-one-year-old playing in the KHL and has been having an excellent season for the Ak Bars Kazan. in sixty-four games. He has put up thirty-seven points(19G,18A). he has taken a massive step forward this season after only putting up twelve points last season in the KHL. It is uncertain with everything going on with Russia if he can join the Blackhawks, but it would be wise for the organization to bring him to North America as soon as possible. Safonov looks to be a diamond found in the ruff selected in the sixth round of the 2021 NHL draft.
Honorable mentions:
Gavin Hayes

Hayes has been way better than anyone could have projected and is having a breakout season in the OHL. He has eighty-one points in sixty-six games (41G,40A). Hayes is a player that all Blackhawks fans should be keeping a close eye on.
Alex Vlasic

Vlasic isn't going to be a player to put up eye-popping numbers, but he looks poised to be a shut-down-style defenseman. The Blackhawks have recalled him from the AHL to get a few NHL games, and he has looked great. Vlasic uses his long reach to break up plays. He could find himself in a more permanent role on the NHL roster next season.
Wyatt Kaiser

Recently signed Kaiser has shown that his skating ability is top-end and that he has the potential to be a top-four defenseman in the NHL. However, coming from the NCAA, he will need a season or two in the AHL to fine-tune his game before he is ready to be a full-time NHL player.
Other Prospects to Watch:
Ryan Greene, Arvid SoderBlom, Ethan Del Mastro, Sam Rinzel, Colton Dach, Samuel Savoie and Paul Lundwinski