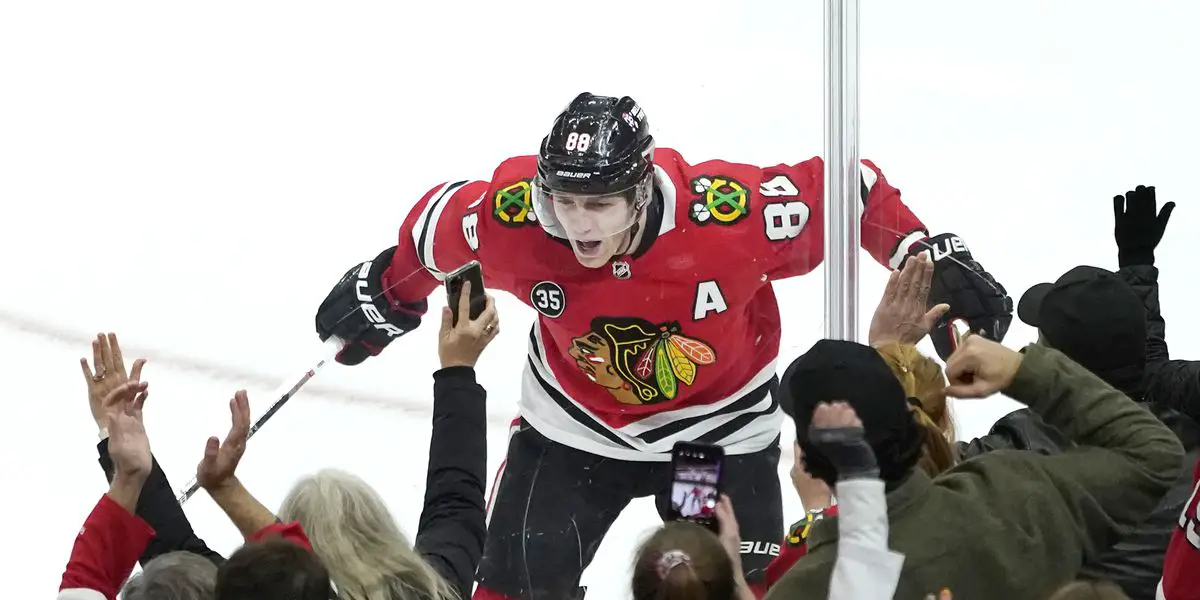 The Chicago Blackhawks have had a plethora of elite right-wingers throughout their history. It was hard to get down to just the top 5 right-wingers.
Number 5:
Alex DeBrincat:
Okay, I get he is still super young and only in his 5th NHL season. But I'm calling my shot. DeBrincat will end his career as a top 3 right-wing for the Blackhawks. DeBrincat has established himself as a top sniper in the NHL during his short career. The Cat has already scored 135 goals, coming in just 314 games. He's also got great vision and is not only able to put the puck in the net, but he's also able to be a playmaker at a high-end level. DeBrincat has collected 116 assists. He was totaling up 251 points. DeBrincat is already 46th on Chicago's all-time point list and 33rd in goals in franchise history. The most impressive thing about DeBrincat is that he is only 5'7″ and will throw his body around like he is 6'5″. DeBrincat has also been known to drop the gloves throughout his career. Fighting 4 times in his NHL career. DeBrincat plays an excellent two-way game and has improved his defensive zone coverage every year. He even kills penalties for the Blackhawks. DeBrincat has already had an NHL season with 41 goals and is on pace to be right around 40 again this season. DeBrincant comes in at number 5 this time. He will continue his climb up the ranks.(Yes he plays both wings I put him on the right-wing list as I felt it was the weaker of the 2 wing positions)
Number 4:
Tony Amonte:
After being traded to Chicago from the Rangers, Amonte would become a scoring machine. He had six straight 30+ goal seasons, twice breaking the 40 plateaux. 12th in points for the Blackhawks franchise, and 8th all-time in goals with 268. Sixty-eight of those would come on the power play. All 5 of his all-star game appearances would come in a Blackhawks sweater. The Massachusetts native was one of the best goal scores of his time. And just as a side note, let's not forget he scored the game-winning goal for Team USA versus Canada in the inaugural World Cup of Hockey. Amonte is an all-time Blackhawk. He's also one of the best American players to play the game.
Number 3:
Marian Hossa:
We are going to start with the non-flashy side of Hossa's game. Hossa was one of the best 2-way forward to ever skate on NHL ice. The amount of times Hossa comes back to stick lift and steal the puck from the opposing team is incredible. His ability to defend players on the perimeter went unmatched. Hossa was used in every way during his time in Chicago. He was on the power play the penalty kill and played alongside Toews on the top line matching up with the other team's superstars. While being one of the best defensive forwards, Hossa would be eclectic in the offensive zone. Hossa would only play 534 games for the Blackhawks before retiring due to health reasons. Hossa would score 186 goals during these games and 229 assist for 415 points. Hossa was also a core part of winning 3 Stanley Cups, which is why I have him one spot ahead of Amonte. Plus, just look at the fall off of the Blackhawks once Hossa hung up his skates. Hossa did all of this while being a class act and an overall fantastic human.
Number 2:
Steve Larmer:
Everyone knew Larmer would be on this list, and it was just a matter of coming in at 1 or 2. Larmer is not only one of the best right-wingers for Chicago, but he's one of the all-time great Blackhawks regardless of position. Larmer comes in just above Toews in points for the Blackhawks with 923 points. Of those points, 406 were goals putting him 4th just behind Kane for the Hawks. Larmer was an insane +181 during his time with the Blackhawks; that is not a typo. Larmer would score 40+ goals five times during his 13 seasons in Chicago. With a high of 46 in the 1984-1985 season. Larmer would also crack the 100 point mark once in 1990-1991 with 101 points. Larmer 2-way game did not go unnoticed, collecting votes for the Frank J Selke Trophy 5 times and finishing 3rd in voting in 1991. Larmer also received votes for the Lady Byng 5 times as well. He was a leader on and off of the ice for Chicago, garnering himself the "A" on his jersey. Should Chicago think about sending his #28 to the rafters? He sure has an argument for this.
Number 1:
Patrick Kane:
The Buffalo, New York native, was selected 1st overall in the 2007 NHL draft. This was the first and only time the Blackhawks have picked first overall. Kane has lived up to the expectations of a first overall pick. Kane is in his 15th NHL season and is already a lock to make the NHL Hall of Fame. Kane is well over a point per game on his career, playing in 1053 games while pilling up 1112 points. This is not counting his 132 points in the NHL playoffs. Kane is one of the main reasons the Chicago Blackhawks dominated the beginning part of the 2010s. Patrick Kane has won just about everything an NHL player can. Three-time Stanley Cup champion, 9-time all-star, Calder Trophy, Conn Smyth, Ted Lindsay, Art Ross, and the Hart Memorial Trophy. Kane is also the youngest American player to reach 1000 points. Kane is one of the most entertaining players ever, from making the Wilds goalie look bad in the shoot-out to screaming "ShowTime" after scoring in the playoffs of a backhand top-shelf. Patrick Kane has the best hands the NHL has ever seen. Patrick Kane is 3rd all-time in both goals and assists for the Blackhawks and will likely pass Hull for 2nd in points this season. When it's all said and done, Kane may land up leading the Blackhawks in points. Kane has broken the 100 point mark two times in his career with a high of 116. Kane also tied Larmer with 46 goals in the 2015-2016 season. Patrick Kane will go down as the greatest Blackhawk when he decides to hang the skates up. Oh, and let's not forget that Kane ended the 47-year drought with his Stanley Cup overtime game-winning goal in 2010 versus the Flyers.