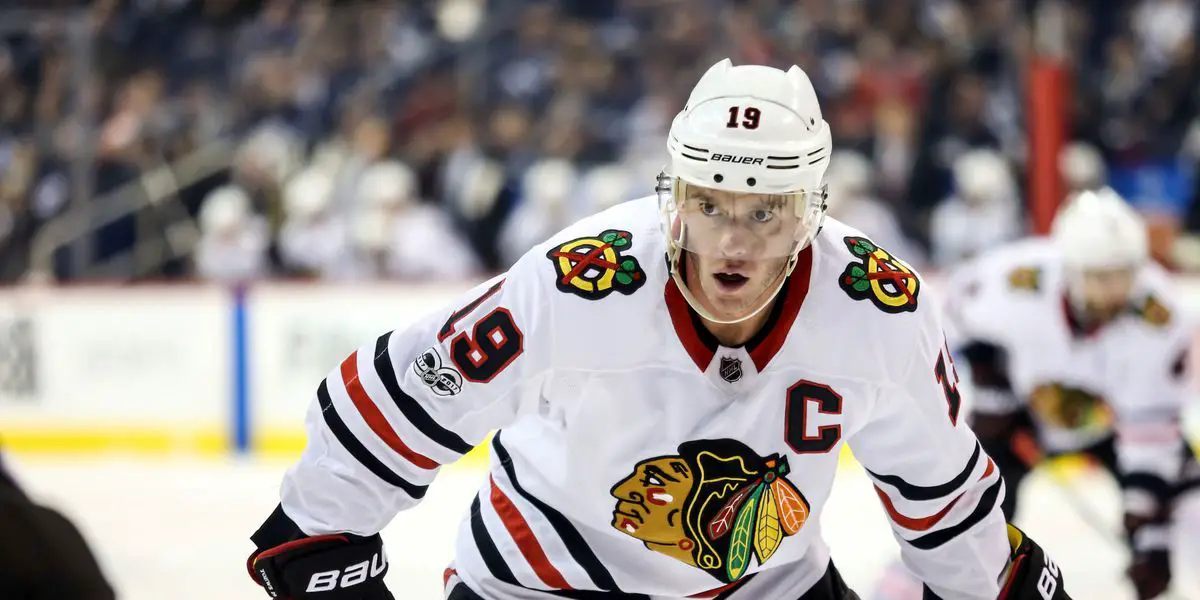 Founded in 1926, the Chicago Blackhawks have 95 years of history. Rich deep history at the center position in Chicago. With many Hall of Fame players sprinkled throughout their timeline.
Honorable mentions:
Hubert Jacques "Pit" Martin:
Yes, the Pit Martin came over in the lopsided Phill Esposito trade. Martin was the captain of the Blackhawks from 1975-1977. Pit was a solid player for the Blackhawks, ignoring who the Hawks gave up for him. He would play 740 games in a Chicago jersey and stands 9th on the franchise points leaderboard. Compiling 243 goals and 384 assist for 627 points.
Alexei Zhamnov:
Zhamnov was traded from Arizona to Chicago for no other than Jeremy Roenick. The Moscow native would play just over seven seasons for the Blackhawks before being traded to Philly. During his tenure as a Blackhawk, Zhamnov would score 424 points in 528 games. Zhamnov would wear the "C" from 2002-2004.
Tom Lysiak:
After being traded from the Atlanta Flames, Lysiak would play seven seasons in Chicago. During his time in the organization, he would lead the team in scoring one time, playing 474 games in Chicago and tallying 412 points.
Eddie Olczyk:
Eddie O's impact on the Blackhawks has been massive. The hometown boy who was born in Chicago would be selected 3rd overall by the Blackhawks in 1984. Sadly he wouldn't be in Chicago long-only playing 322 games in which he would score 77 goals and 132 assists. Eddie is amazing in the tv booth, but he's also a great ambassador for the Blackhawks and the NHL. I couldn't make a list like this and not bring up Eddie O.
Dave Bolland:
I wanted to show Bolland some love on this list. He had a significant impact on winning 2 Stanley Cups in Chicago. Bolland was not the most offensive player while in the windy city or well ever. Bolland did, however, play a style of hockey that is needed to win. His ability and tenacity to get under other teams' top player's skin were unmatched when Bolland had his mouth and game going. This is how he got his nickname "The Rat." Bolland is also forever sketched in the minds of all Blackhawks fans minds, throwing his gloves off after scoring the 2nd goal in 17 seconds. The Stanley Cup-winning goal versus the Bruins in 2013 Bolland would play 332 regular-season games for Chicago, tallying 70 goals and 98 assists for 168 points.
Number 5:
Troy Murray:
To start, we wish nothing but the best for Troy Murry as he carries out his battle with cancer. Murray was selected 57th overall by Chicago in 1980. The Calgary native would debut for Chicago in the 1981-82 season playoffs. Murray is 19th on the franchise leaderboard for points at 488. Even though Murray could score goals (197 in Chicago), he was known more for his 2-way game. Murray was even awarded the Frank J Selke Trophy in 1986. Murray, like Eddie O, would transition into being a great broadcaster following his great NHL career. His best offensive year came in the 1985-1986 season, where he would fall just short of 100 points finishing with 99(45G 54A).
Number 4:
Jeremy Roenick:
Roenick is not just one of the best Blackhawk players of all time but one of the Best American players of all time. The Boston, Massachusetts native was selected 8th overall by the Chicago Blackhawks in the 1988 NHL draft. As previously mentioned, Roenick would play in Chicago from 1988-1996, where he was traded to the Arizona Coyotes. Roenick was electric, and he would break 100 points twice as a Blackhawk. Roenick was one of those players who could score a goal; however, he wanted to crack 50 on two separate occasions. Roenick was also a mean, ruthless player on the ice. Allegedly, he crosschecked a player or 2 in the face and would fight just about anyone if he had to. Roenick would never shy away from any contact and loved to have friendly conversations with the other team. Roenick comes in 11th in points for the Blackhawks with 596 in his 524 games played(267G 596A).
Number 3:
Jonathan Toews:
It was never in doubt that "captain serious" would make this list. It was just a matter of what spot. Toews is the hardest of the 5 to place because his impact is so much more than just points. From the age of 20 years and 79 days, Toews was the third-youngest team captain in NHL history. Toews was selected third overall in the 2006 NHL draft and would return to North Dakota for one more season following that draft. Toews's rookie year would be the 2007-2008 season, and he would be a fan favorite from the start. After scoring highlight-reel goals like the one versus Colorado his rookie year, Toews made it known he can produce at the top level. Toews plays the game of hockey with such poise and is a relentless defender and one of the best defensive forwards of his era. Toews won the Frank J Selke in the 2013 NHL season and was considered a contender for most of the 2010s. Toews's leadership ability was never more evident than in the 2010 playoff run to win the Stanley Cup and ended Chicago's historic drought. Toews wouldn't only lift the Cup this season, but he would also raise the Conn Smythe Trophy (MVP of the playoffs). Toews 3 Stanley Cups as a captain makes him the greatest captain in Blackhawks history. Toews has played 973 games up to this point and has tallied 348 goals, 480 assist for 828 points and a +182 over that span. Toews is already 6th all-time in franchise points and has time to get into the top 5 and pass Steve Larmer. Toews is already a lock for the HOF and should have his #19 lifted to the rafter alongside the other Blackhawk greats.
Number 2:
Denis Savard:
Savard was selected third by the Blackhawks in the 1980 NHL draft. The Gatineau, Quebec native would go on to have a Hall of Fame career. Savard was a magician with the puck and even went on to have the spin-o-rama named the "Savardian Spin-o-rama" that Patrick Kane loves to use nowadays. Savard, who was on the smaller side at 5'10", would use his skating abilities and creativity to keep space between him and defenders. Savard would start his career with a BANG having three assist in his first game. Savard would go on to break the 100 point mark five times while in Chicago and his career-high of 131 (44G 87A) in the 1987-1988 season. Savard would be traded out of Chicago to the Montreal Canadians and then go on to sign with the Tampa Bay Lightning and then eventually traded back to Chicago for his two final seasons before retiring. His #18 hangs in the rafters and will never be worn in Chicago again. Savard is 4th all-time in points for the Blackhawks with 1096 ( 377G 719A).
Number 1:
Stan Mikita:
The Slovak native was made to play in the NHL. Mikita came in at 5'9," but that would not matter. Mikita would win the Stanley Cup with the Blackhawks in just his second NHL season, and his Hall of Fame career would be off and rolling. Mikita would lead the whole league in goals during that Stanley Cup run. Mikita would go on to lead the league in scoring four times throughout his career and even scoring a career-high of 97 points in just 74 games during the 1968-1967 season. Mikita was a nasty player early on in his career, collecting up to 154 penalty minutes. As Mikita grew older, his game would evolve so much that he would win the Lady Byng Memorial Trophy not just once but two times. Stan Mikita is Chicago's all-time leader in points with 1467, and it's not even close with a gap of 314 points between him and Bobby Hull. Mikita has also played more games than anyone has in a Chicago jersey, with 1396 games played. Mikita is an all-time legend, and his 21 is in the rafters alongside Savard and the other Blackhawk greats. When he finally hung his skates up, Mikita was a two-time Hart Trophy winner, four-time Art Ross winner, two-time Lady Byng winner, and the only player in NHL history to win all 3 in the same season.