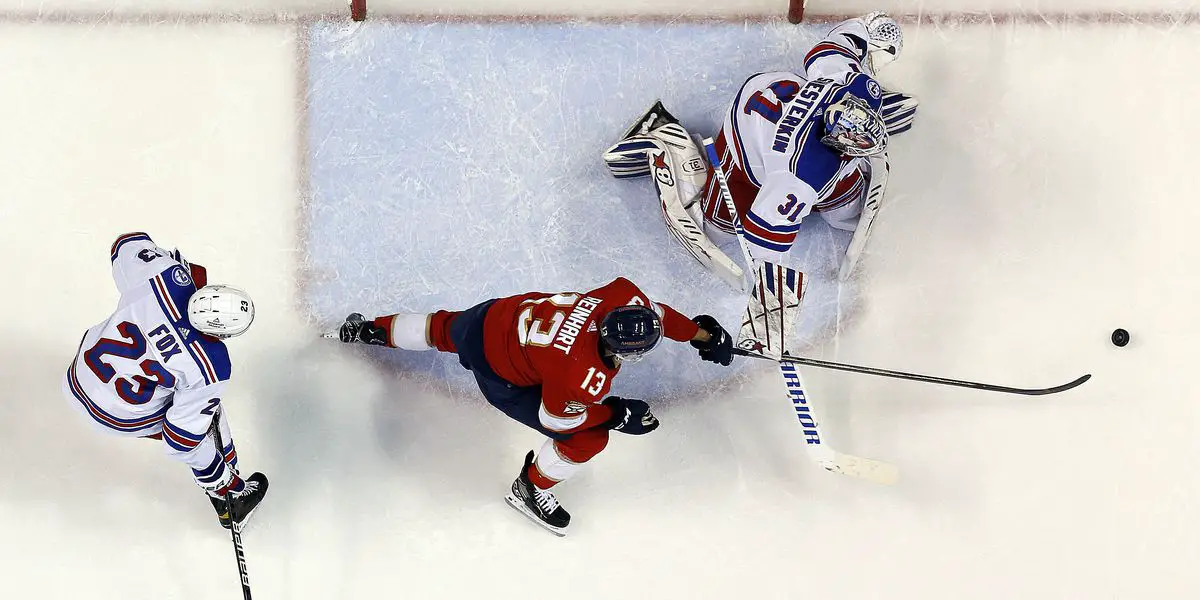 The NY Rangers defeated the Florida Panthers 5-3 last night in a game dominated by their top stars, both veterans and young talent alike. It wasn't a perfect game, but a lot to be pleased about, so let's break it down.
THAT'S GOOD!
THE STARS ALIGN
The Rangers have sometimes been "accused" have being a little top-heavy in their scoring distribution. So many times, last season especially, the offense was only coming from the same four to five players. Not that it's a bad thing if it happens consistently, but the feeling was that to reach the next level, there needed to be a more well-rounded offensive contribution. While that is still the case, it was still encouraging to see the stars come out of this game and dominate the score sheet. 
The reunion of Mika and Kreider continues to pay dividends (along with one other hopefully emerging star on that line, but more on that in a second.). Two goals (one on the last second of a power play) for Mika, plus a goal and an assist for Chris Kreider.   
In addition, Vincent Trocheck was all over the ice yesterday, including a fascinating sequence on the power play where he broke up a shorthanded chance in the defensive zone, only to storm back and score a goal on a beautiful feed from Kreider. It exemplified the hustle and talent of Trocheck and was a reminder of why the Rangers' acquired him.  
Add to that a big goal in the 3rd period from Artemi Panarin and the continued excellence of Adam Fox (two assists), who seems to get multiple points each game, and everything was humming. Granted, some of this might be due to the Panthers' wide-open style, constantly and easily giving the Rangers space to work, but the big guns still capitalized.
KAAPO KAKKO
If he plays like this all the time, we will start to include Kakko in the "stars" section. Two assists from Kaapo last night (including a beautiful feed to Mika for the second goal) as he continues to shine and look more comfortable playing with BFFs Kreider and Zibanejad. Effort and possession were always his strong suits, but now Kakko appears to be utilizing those gifts more as weapons that lead to chances instead of just fancy skills in low-danger areas. If he continues to employ this mentality, we might finally see his stats reflect his potential.
BRADEN SCHNEIDER 
We've been mentioning him a lot lately but with good reason. Admittedly, it was a slow start to the season for Schneider after his late emergence last year, but no more. Simply put, he's been an impactful FORCE these last 15 games or so, with an overall game that only seems to keep growing.   
That was no more apparent in a sequence during the 2nd period. After a Halak save that left a rebound sitting in the crease, in one motion, Schneider swept the puck away and flattened one of the Panthers. He wasn't done, though, as he joined the rush and set up a pass to Kakko, who facilitated that to Mika for the 2-0 lead. It was a perfect microcosm of the well-rounded player he is becoming in front of our eyes. Many had questioned moving Nils Lundkvist (even though the writing was on the wall). Still, clearly, Schneider is justifying why the Rangers were comfortable with who they already had in their arsenal.
THAT'S BAD!
WE NEED ROOM TO BREATHE
The Rangers hate comfortable cushions more than a great aunt who puts hard plastic over all her couches. To their credit, the team kept Florida from coming all the way back. However, the Rangers secured three two-goal leads throughout the game, only to let the Panthers cut the deficit back to one each time, sometimes almost immediately.
I realize it's not an uncommon trait throughout the NHL, as the team just scored upon naturally will have more jump. However, it's a bad habit that the Rangers can never shake as they constantly either give back the goal within the next two minutes or take a penalty that potentially sparks the other team.
They got away with it last night, but it would benefit this team if they developed a killer instinct and kept teams under their control when momentum should be on their side.
CAN I GO NOW?
Honestly was toying with putting Halak in the GOOD category, but I didn't love a couple of goals he let in, especially the Cousins one. That being said, he was actually very efficient most of the game, with some BIG saves when the Rangers needed them. The Rangers can win with this version of Halak in the net.
Again, I thought Kravtsov played well, and I'm hoping Gallant lets him live on the Panarin line for a bit. He definitely needs to gain strength at some point (we're seeing that constantly), but he's crazy active out there, and I feel like there's a next level coming soon.
Not much from Lafreniere after his one-game hiatus, but he seemed engaged. Let's see what the next few games bring.
We know what the next game brings—the Carolina Hurricanes. Tuesday night at the Garden is our first meeting with the blazing-hot Canes. Huge litmus test against a team we've developed quite the rivalry against. MSG will be a bubbling cauldron of energy so hoping the Rangers respond with some fire of their own to find victory.
In this weeks episode we have on Greg Kaplan from Blueshirts Breakaway. We discuss the Rangers, NHL growing the game, playoffs and a tad of the Mets.Thanks for listening! Please rate and review our show on your favorite listening platform. Check out our partner's website at www.insidetherink.com for all your latest hockey news.