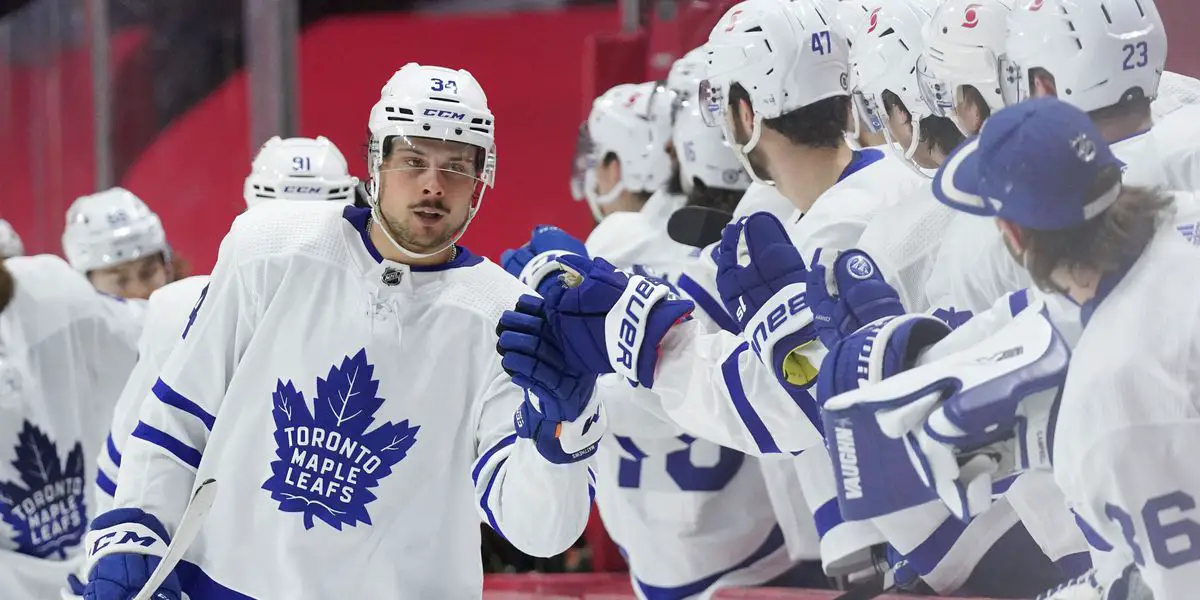 Here we are Leaf land, a third of the way through the 2021-22 season, and what a rollercoaster it has been. From a jersey tossed onto the ice to a 16-3-1 run that has the team sitting tied for 2nd in the league, a dominant motif through it all has been the term "regression to the mean," which means temporarily excessive numbers are falling or climbing back to where they usually sit. The percentages produced by the team's play were never going to be sustainable, and today we dive into some of those numbers. Now, usually, people do 1/4 season recaps, but exam season got in the way of that, so we're doing it in thirds; it is what it is.
The early season Leafs were somewhat unprecedented because they put up such extremely unsustainable numbers in so many aspects of the game. On the offensive side of things, the team sat comfortably in the top 5 of the league by expected goals but, for some reason, couldn't convert the chances they were creating into actual goals. Through November 20th, Toronto was languishing in dead last in goals scored above expected, a measure of finishing luck/talent. 
The team was dominant in terms of generating high danger scoring chances, just not burying the biscuit. But, with the shooting talent that comprises the Maple Leafs, including last year's Rocket winner, that was never going to last. Then came the vaunted west coast road trip, and the team's fortunes were reversed as their shooting percentage began to regress to the mean. Toronto rampaged through Cali, scoring an average of 5 goals/game, and never looked back from there, averaging 4.7 goals/game over ten games since the beginning of that trip. 
One thing is for sure, Toronto's goal-scoring regression could not be coming at a better time, as it hit just when their goaltending numbers began coming down to earth a bit. Jack Campbell had been giving the team downright historic goaltending hovering around a .950 sv% through 2 months of the season. However, December has seen his numbers dip a little with a string of 3 and 4 GA games after only giving up three or more three times throughout all of October and November. While Campbell's play has regressed from best-season-of-all-time numbers, he's still a rock in the crease for Toronto.
Soup still leads the league in goals saved above expected. He is tied for 2nd in wins, 2nd in shutouts, 1st in save percentage, and at this point, he has to be a favorite for the Vezina. 
Special Teams:
PP:
Toronto's powerplay this year has been a revelation.  Having assistant coach Spencer Carbery take over powerplay duties for Manny Malhotra has paid off in spades as heading into the holiday break, Toronto sits 2nd in the league at 30.6%. It wasn't a smooth ride to the top for their PP either. Heading into November, a 6-game scoreless drought had the team in the league's bottom half. But they are continuing the theme of regression, a top PP unit with as much talent as Toronto's was eventually going to figure it out. Sure enough, a December-long heater including a five-game multi-PP-goal streak has fueled the rise to the top.
PK:
Toronto's PK hasn't been amazing, it's been good and consistent. In the top third of the league all season, they've slipped a bit in recent weeks despite still sitting 10th overall. It's no coincidence that this slight dip coincides with an injury to Mitch Marner, one of the team's top penalty killers. That being said, the team is getting another top penalty killer, Ilya Mikheyev, back from injury, so that should help fill the gap.