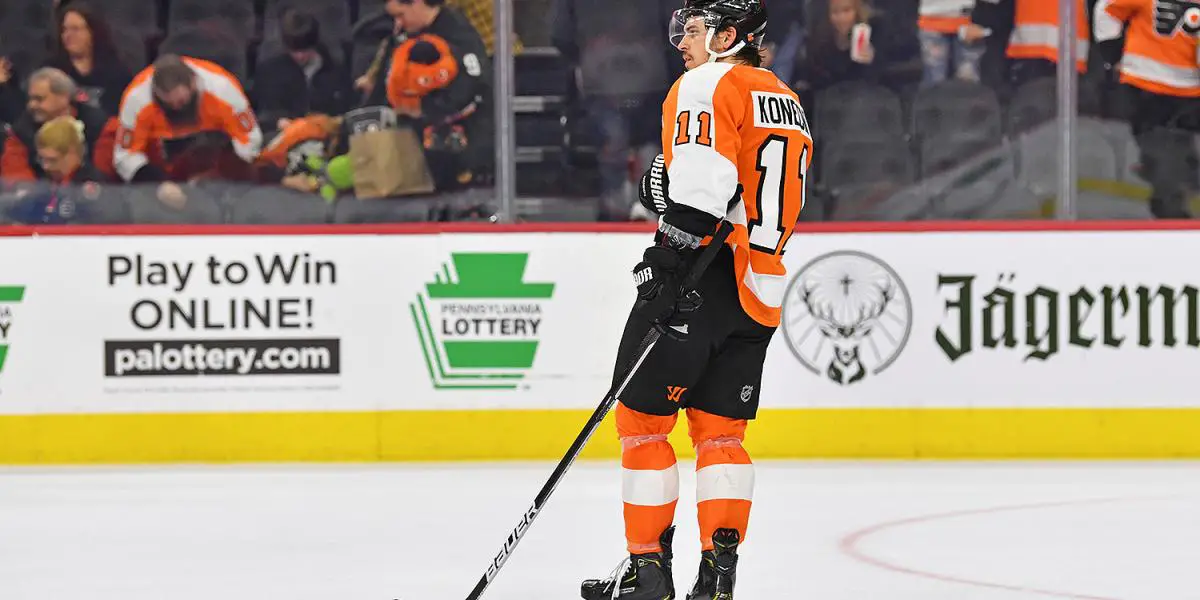 Kyle Dubas wants to make a "Kawhi-like move" like the Toronto Raptors did to put them over the top. In this article, we will take a look at some potential targets.
Forwards:
Travis Konecny:
Travis Konecny (25) is a more undersized forward who plays the game like Brad Marchad in the face of the opposition. He has three years left at 5.5 million AAV ( Average Annual Value), and his contract expires as a UFA (Unrestricted Free Agent) could be a smart move for the Leafs. Getting someone who plays like Bunting could compliment one of the top six lines, given the Leafs' bonafide top six. Konecny had 52 points in 77 games last year playing on a mediocre Flyers team. Getting someone with the term at a reasonable cap hit could set the Leafs up on the left-wing for years to come.
Tyler Bertuzzi
Tyler Bertuzzi (27) is a winger coming off a career year this past season, posting 62 points in 68 games with the Red Wings. Bertuzzi plays like his father, forechecks hard and hits. The exact kind of player the Leafs are lacking. The problem with Bertuzzi is that his vaccine status is still unknown, and he would not be able to play games in Canada. There is speculation that the rule may not apply next year, but until that is confirmed, I don't see the Leafs taking a chance on Bertuzzi if he can't play in the majority of the games. He has one year left at an AAV of 4.75 million.
J.T. Miller
J.T. Miller (29) would be the best "Kawhi type move" as a forward for the Leafs. He posted 99 points in 82 games last year with the Canucks. Miller played a vital role with the Canucks. Miller is a winger that can play down the middle. This is beneficial for the Leafs if they lose a top-six center. Miller has an AAV of 5.25 million, which expires next season.
Defence:
Jakob Chychrun:
Jakob Chychrun (24) is the only suitable Defenceman that I could see fitting the Kawhi-type move. Chychrun is 24 and can play both sides of the blueline. Chychrun had a down season compared to the shortened 2020 season, but he also played with a rebuilding team, the Arizona Coyotes. He has three years left at 4.6 million, which expires in 2024-25. I don't think the Leafs need a guy like Chycrun because of the young blooming stars in Rasmus Sandin and Timothy Liljegren.
Goalies:
Connor Hellebuyck:
Connor Helllebuyck is a 29-year-old goalie who has won a Vezina. Hellebuyck had a mediocre season last year, posting a .910 SV% with a 2.97 GAA with the Winnipeg Jets. Hellebuyck has two years left at 6.1 million. He would be 31 when the expires. Hellebuyck has a negative record in the playoffs but has a respectful GAA and SV%. Posting a 2.46 GAA and an SV% of .921. The Leafs have not had a Vezina caliber goalie since the 1960s, and I think Hellebuyck would return to his known form in front of a better-built team.
Carter Hart:
Carter Hart has yet to live up to his potential in taking control of the flyers' net. Hart has struggled in his career so far. The 23-year-old has two years left at 3.97 million. When the deal expires, he will become an RFA. I think the reason Hart has yet to live the potential is because of the team he has in front of him. The Flyers fail to bring an excellent defensive structure in front of him, and he is left out to dry in net.
John Gibson
John Gibson (28) has five years left at 6.4 million. Gibson has had a tough couple of years tending the goal for the Ducks posting a .913 SV% and a 3.04 GAA in 56 games. I would like to think that the Ducks are the reason he has struggled recently, but I think he is starting to lose his game. A move could re-spark it. Elliotte Friedman said earlier in the off-season that "The Leafs and John Gibson are a failed high school relationship." What he means by that is the two parties have an interest in one another, but there's an obstacle blocking them from connecting. Which the Ducks, Gibson has been put onto the trading block and shopped around before, but the price was astronomical high that made teams stay away. I think it could come down now that his play has struggled, but it would be a hefty cost to get him out of the Ducks organization.