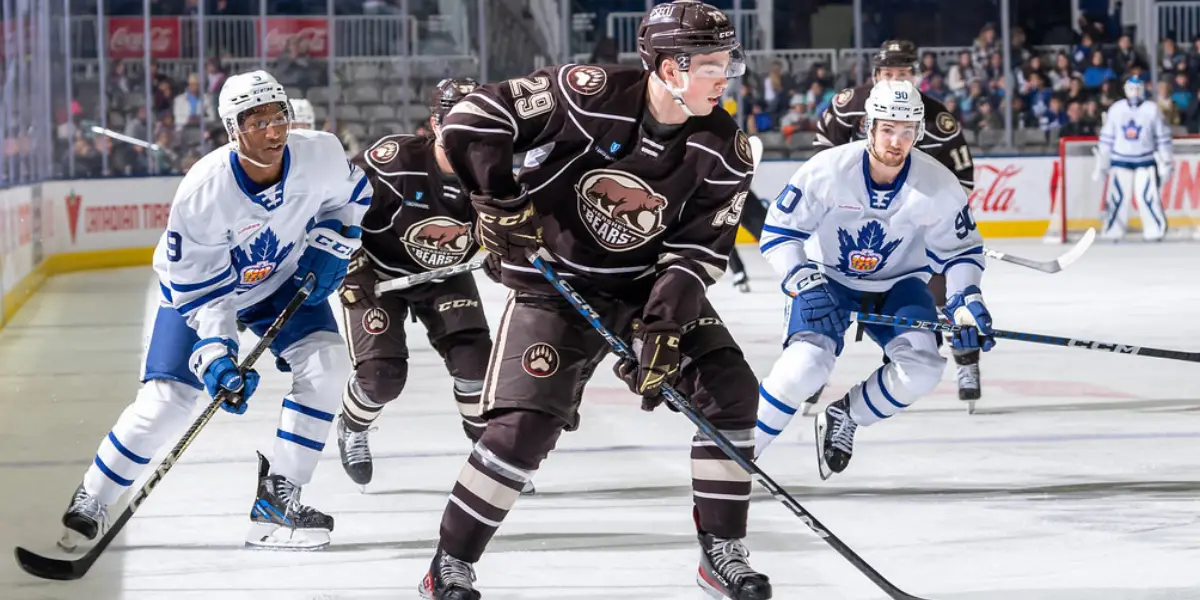 The Toronto Marlies lost their matchup against the Hershey Bears on Wednesday and have now lost six in a row. It's their longest losing streak of the season.
Toronto has not won a game since March 12th, when they beat the Rochester Americans 6-3. Since then, the Marlies have gotten outscored by a 20-5 margin. No matter which goaltender the Marlies use, no one seems to be stopping the puck lately. During this recent slide, Joseph Woll is 0-2-1, Erik Kallgren is 0-2-0, and Keith Petruzzelli is 0-0-1. It is by far the worst stretch of the season for Woll. He had a 16-1-0 record before losing his past three games.
An even bigger surprise than the goaltending is the lack of scoring. A team will not win many games with five goals in a six-game span. Team captain Logan Shaw leads the Marlies in scoring with 19 goals and 44 assists for 63 points in 62 games, but he has one goal and two points in his last five games. Others like Alex Steeves and Nick Abruzzese have zero goals in their last five games. Top goal scorer Bobby McMann was with the Toronto Maple Leafs but got injured in Toronto's 7-2 loss to the Islanders on March 21st. His goal-scoring will be missed as the team tries to find a way to get back into the win column.
What's next for the Toronto Marlies?
The Marlies' next matchup is a home-and-home series against the Belleville Senators on April 1st and 2nd. There are only seven games left in the Marlies' regular season schedule. Hopefully, they can win a few of them and remain on top of the AHL's North Division. Toronto currently has a record of 40-20-5 and is leading the division with 85 points. The race for second place is still too close to call. For now, the Utica Comets are in second with 71 points, but the Syracuse Crunch and Rochester Americans are right behind them with 70 points each.
One good thing about winning the division will be the bye week for the first round of the AHL playoffs. Any players dealing with minor aches and pains will get time to recover before going full throttle in the hopes of winning the 2023 Calder Cup. The Marlies are getting some defensive help for the stretch run and playoffs from Toronto Maple Leafs prospect Topi Niemela. He recorded eight goals and ten assists for 18 points in 58 games this season for Karpat in Liiga (Finnish Elite League). Joining the Marlies is his first step in adapting to playing in North America. He will likely be a regular on the Marlies blueline next season.
WELCOME BACK TO LEAFS LATE NIGHT! Presented by Inside The RinkRoscoe / Galaxy Biehn – Dubas Out?!?- Remember All The Good Times We Shared- I Don't Love Our Options- Matthews Next Deal?- Keefe's Fate- AI MascotsSPORTS! IS FUNMERCH IS AVAILABLE!JOIN OUR DISCORD!Remember to follow us on Twitter @LeafsLateNight & IG @LeafsLateNightCheck out Mike, Josh, and Nathan's articles on the Leafs + many more! insidetherink.com