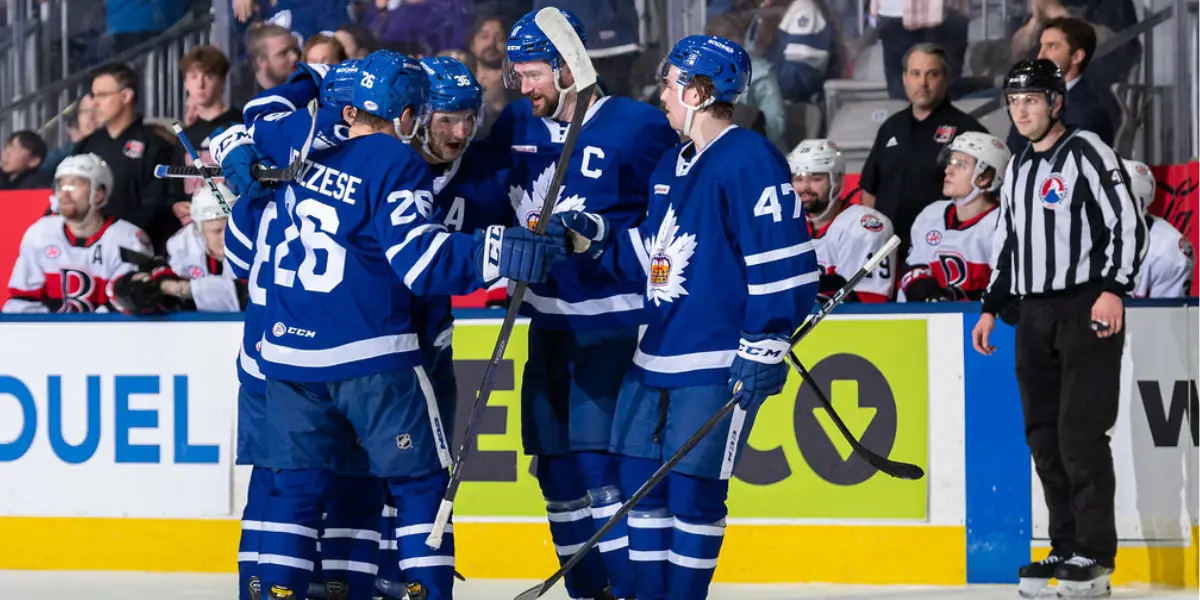 The Toronto Marlies hosted the Belleville Senators in back-to-back games on the weekend. Belleville won Saturday's game 7-2, but Toronto responded with their own 7-2 win on Sunday. An exciting way to close out the 2022-23 regular season. The Marlies finished the season with a 42-24-4-2 record.
Game Summary
First Period
Sunday's first period saw 12 penalties handed out, totaling 50 minutes. The first penalty of the game went to the Senators. Egor Sokolov got called for roughing at 03:29. Twenty-four seconds later, Jacob Bernard-Docker received a double minor for high sticking at 03:53. At 08:02, Graham McPhee served two minutes for Senators bench minor (too many men). Pontus Holmberg of the Marlies received a slashing penalty at 08:20.
At the mid-way mark of the first period (10:00), Belleville's Jacob Larsson and Toronto's Joseph Blandisi and Kyle Clifford all received roughing penalties. The Senator's Lassi Thomson got two minutes for slashing at 13:46. Twenty-two seconds later (14:08), Belleville's Graham McPhee received a ten-minute misconduct, along with Matthew Wedman receiving a ten-minute misconduct for abuse of officials.
The Senator's Egor Sokolov got called for cross-checking at 19:26 and then received a ten-minute misconduct for continuing the altercation. Toronto would score on the power play with a goal from Joseph Blandisi at 19:49. Logan Shaw and Nick Abruzzese picked up the assists.
Second Period
The second period had fewer penalties and more goal-scoring. At 00:20, Bellville's Ridly Greig received two minutes for tripping. At 01:57, Toronto's Kyle Clifford received five minutes for charging and a game misconduct. Belleville's Jacob Larsson got called for tripping at 02:36. Marshall Rifai of the Marlies got called for hooking at 08:52.
While killing off the Rifai penalty, the Marlies scored two short-handed goals. The first short-handed goal came from Marc Johnstone at 09:01 with an assist by Logan Shaw. Joseph Blandisi scored the second short-handed goal at 09:51 with assists from William Villeneuve and Marc Johnstone.
Toronto lit up the goal light two more times in the second. Alex Steeves scored at 13:41, assisted by Logan Shaw and William Villeneuve. Nick Abruzzese scored at 15:25, assisted by Carl Dahlstrom. The goal would give the Marlies a 5-0 lead. Toronto's fifth goal forced Belleville to pull their goalie (Mads Sogaard).
Third Period
The Senators finally scored on Erik Kallgren at 00:20 of the third period with a goal by Rourke Chartier. His goal was assisted by Dillion Heatherington and Angus Crookshank. Toronto's Semyon Der-Arguchintsev restored the Marlies' five-goal lead with a goal at 02:00, assisted by William Villeneuve and Pontus Holmberg. At 04:20, Belleville's Graham McPhee received two minutes for holding. Fifteen seconds later (04:35), Semyon Der-Arguchintsev got called for hooking. Ridly Greig scored for Belleville at 05:37, assisted by Roby Jarventie and Jacob Bernard-Docker.
The rough stuff continued to boil over in the third period. At 10:54, Ridly Greig got called for cross-checking. Then, at 14:21, Belleville's Graham McPhee and Toronto's Marshall Rifai each received two minutes for roughing and 10-minute misconducts. Rifia also received two minutes for high-sticking. At 19:59, Radim Zohorna scored right before the final buzzer to give the Marlies a 7-2 victory.
WELCOME BACK TO LEAFS LATE NIGHT! Presented by Inside The RinkRoscoe / National Biehnographic- Ketchup With Us- Willy Up The Middle- Game 1+2 Standouts- Stamkos Ain't HappyNEW MERCH IS AVAILABLE!JOIN OUR DISCORD!Remember to follow us on Twitter @LeafsLateNight & IG @LeafsLateNightCheck out Mike, Josh, and Nathan's articles on the Leafs + many more! insidetherink.com