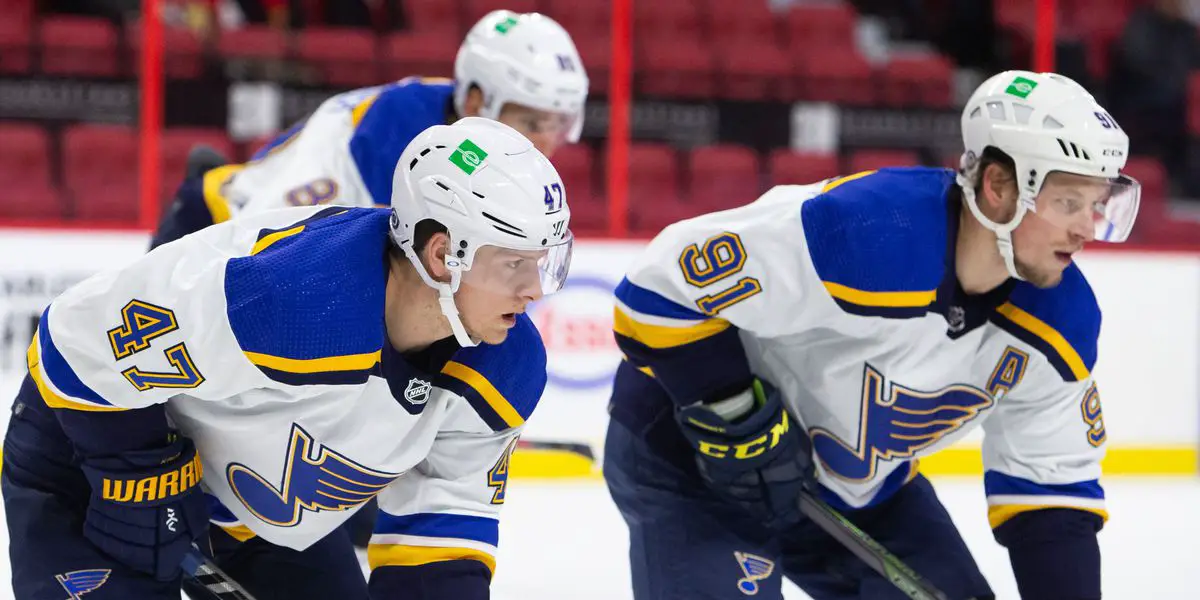 After winning the Stanley Cup in 2019 over the Boston Bruins, the Blues haven't had much success getting back to the grand stage. Now talks are swirling that they will move on from two critical pieces of their current roster. As the Blues look to get younger and dump cap space, they will be looking to trade some key veterans as they look to bring in assets for the future.
Tarasenko
Team Captain Vladimir Tarasenko requested a trade last off-season, which the team still hasn't honored, and Tarasenko hasn't rescinded. The star forward struggled with injuries for two seasons before returning to form last year, leading the team in both goals (34) and points (82) while being a big part of their postseason success. In the playoffs, he recorded six goals and nine points across 12 games.
The 30-year-old proved he still has what it takes to be an elite winger in the league as he just recorded his sixth 30-goal-plus campaign. There will be a lot of buzz surrounding Tarasenko as he is the perfect fit for a contender. He has one year left on his contract and carries a $7.5 million cap hit for next season.
A team like the Carolina Hurricanes would be a perfect fit for him as he would slot into the top line alongside Sebastian Aho and Teuvo Teravainen, creating one of the best lines in hockey if he stays healthy. Tarasenko would also be a good mentor for Carolina's young right-winger Seth Jarvis who just completed an impressive rookie year.
The Hurricanes have been open to trading 23-year-old right-winger Martin Necas who is an RFA this off-season. If the Blues are looking for a young NHL piece in return, Necas could be that guy, as both teams would benefit from the swap.
Krug
At 31 years old and carrying a cap hit of $6.5 million over the next five seasons, moving on from Krug is clearly a cap dump. Since coming to St. Louis after departing Boston, Krug has not had the same offensive success as his days in Beantown. In his first season in St. Louis, he recorded career lows in goals (2), points (32), and games played (51). Krug got back on track last season as he showed off his offensive skill set that earned him the $6.5 million annual deal in the first place. In 64 games, he scored nine goals and tallied 34 assists for 43 points as he had the best plus-minus of his career at plus 23.
Even with his age and contract status, many teams will be interested in Krug as he can produce points and quarterback the power-play unit. A few teams come to mind as they either need defensive help or have a young defenseman who could use a veteran figure to help them progress. Two teams are the Detroit Red Wings and New Jersey Devils, as they both have the cap space to take on the contract, have the assets to get a deal done, and could use his services.
Detroit has been interested in a veteran defenseman to pair with the reigning Calder Trophy-winning Moritz Seider, who is coming off an awe-inspiring rookie season. Detroit has a little over $36 million in cap space, and with Marc Staal a UFA, Krug would be the perfect replacement to bring in and slot next to Seider on the top pairing.
The Devils have a little over $25 million in cap space and need a significant upgrade on the defensive side, as it was a glaring weakness last season. The Devils just drafted Simon Nemec last night with the 2nd overall pick in the draft. The Devils are determined to improve their defense and Krug would be a good start as he could slot next to another former Boston Bruins player in Dougie Hamilton.
The third possible option for Krug and one that most likely won't happen is a reunion in Boston. Krug chose to leave the Bruins in free agency after the 2019-2020 season joining the team he lost the Stanley Cup finals to in 2019. While many would love a Torey Krug reunion in Boston, his age and cap hit make no sense for a Boston team that is teetering the line between rebuild and contention moving forward. The Bruins already have serious money locked up on defense with Charlie McAvoy ($9.5 million), Hampus Lindholm ($6.5 million), and Brandon Carlo ($4.1 million). The Bruins will have to create cap space for an aging Krug if they want to bring him back.
Krug has a full no-trade clause in his contract, so at the end of the day, he has to give the green light wherever he ends up. This could complicate a deal if GM Doug Armstrong can not find a team Krug is willing to accept a trade, causing the Blues to settle on a lesser return if they are genuinely all in on clearing his contract off the books.
The boys are back after a long break but have plenty to talk about as the playoffs are in full swing. We go series by series, looking at how teams have fared so far and who will come out on top. Thanks for listening! Please rate and review our show on your favorite listening platform. Check out our partner's website at www.insidetherink.com for all your latest hockey news.