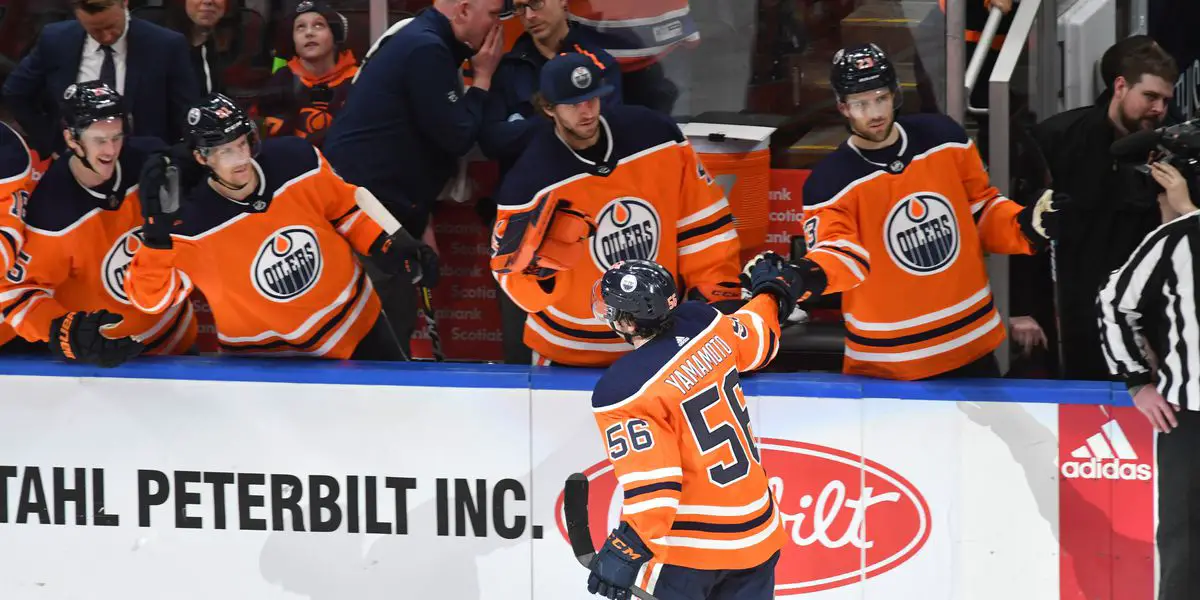 According to a source close to the situation, the Boston Bruins are currently talking with the Edmonton Oilers over trading Jake DeBrusk and Kailer Yamamoto. This trade scenario is not being talked about as a one-for-one trade; however, we are looking at the Bruins adding a sweetener in this trade.
Both Yamamoto and DeBrusk have been struggling on their perspective teams over the last one to two years, including DeBrusk requesting a trade out of Boston during the off-season. Yamamoto has found himself falling in the Oilers depth chart as he is not living up to a top-six talent as the Oilers hoped. That's where I see a good fit for trade. Both sides have a player who isn't living up to expectations and looking for a fresh look. There has been no doubt that Edmonton has been lurking around DeBrusk with the hometown glasses on, but is that enough?
Jake DeBrusk is in the final year of his contract with a base salary of 4.85m and an AAV of 3.675m. These numbers are significant in the context of DeBrusk being traded. While the Oilers would be adding the 3.675m against the cap this season, resigning DeBrusk to his QO will be a significant increase to 4.41m. This would be a substantial cap relief for the Bruins, who are looking to add Tuukka Rask back into the fold, along with pursuing defensive depth for a potential playoff run.
Before the Covid impacted seasons the last two years, Jake DeBrusk was a 0.5 point per game player or better through his first three seasons with the Bruins, including 16 playoff goals in 59 games. JDB was vocal about his struggles mentally/emotionally during the pandemic seasons, which makes total sense for the lack of production on his part.
Kailer Yamamoto is on a one-year deal with an AAV of 1.175m, leaving him an RFA at the end of the year. Yamamoto does not qualify for the multiplier on his QO and could be QO'ed at 1.175m again this offseason. Yamamoto has played through the top three lines on an offense-first Oilers squad yet still hasn't produced offensively. Some connected to the situation believe that playing on a team with Connor McDavid and Leon Draisaitl has stunted some of the growth for Yamamoto, a center playing the wing.
Potential Trade

To Bruins:
Kailer Yamamoto

To Oilers:
Jake DeBrusk
2021 3rd round pick
Overall this trade will address some issues on both sides. The Oilers are looking for a more proven winger who can score, especially in the playoffs. DeBrusk fills that void; a change of scenery, especially going home, will push DeBrusk to be more of himself again. At the same time, Yamamoto could slot in with the Bruins in the center position, which has been sorely lacking since the departure of David Krejci. Whether he slots in for the second-line center void or third line, this would be an improvement on a Bruins roster that is devoid of talented center depth for the future.
Episode 51: Interview w/Jack Ahcan Episode 51 is back in action talking about the New York Paingers ITR bet, Can Buffalo Sabres make the playoffs? Is Vancouver in the wrong on the Boudreau treatment? Is Tocchet the right guy? Is Daryl Sutter the last Dinosaur in the NHL?YouTube: https://www.youtube.com/@insidetherinkTwitter: https://twitter.com/CueTheDuckBoatzFacebook: https://www.facebook.com/Cuetheduckboats/Thanks for listening! Please rate and review our show on your favorite listening platform. Check out our partner's website at www.insidetherink.com for all your latest hockey news. Also, catch all of the games in this year's NHL season by signing up for ESPN+ at Insidetherink.com/ESPN